99 jpgs under the cut.
Last Update:
People are passing out like it was their lifetime wishes; more hates between the kids, especially Collette and Carlos; Pico the bird died; and Carlos was blowing his birthday candles, but I'm so not original and left you with a birthday cliffhanger.
And here he is as a teenager. Cute, right?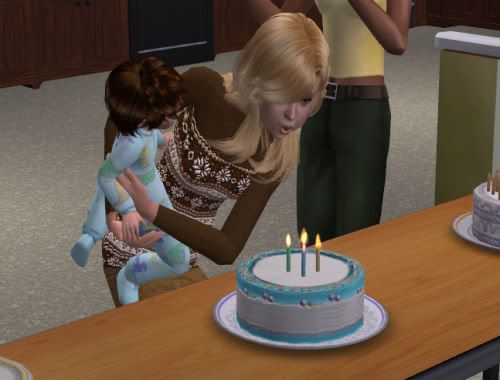 It wasn't only him though, the twin boy also are growing up.
Badly.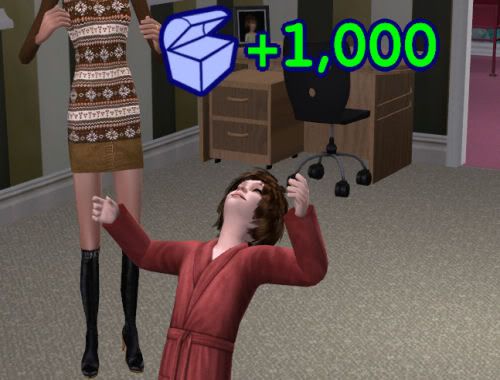 Well, at least one of them is not made of fail.
Liz:
I'm deeaaaddd!
All life will end someday, Lizette, you just happen to be the first one in this legacy.
Anyway, here's the boys after makeover.
First is the big brother, Carlos.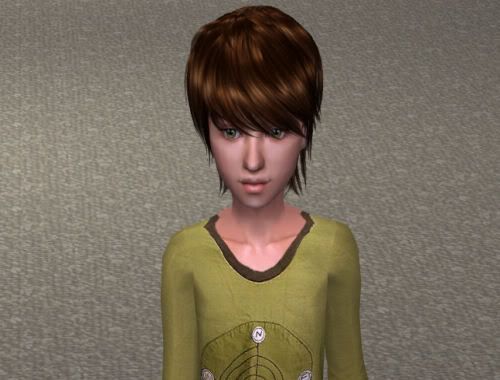 Here's Lukas, with his girly looks.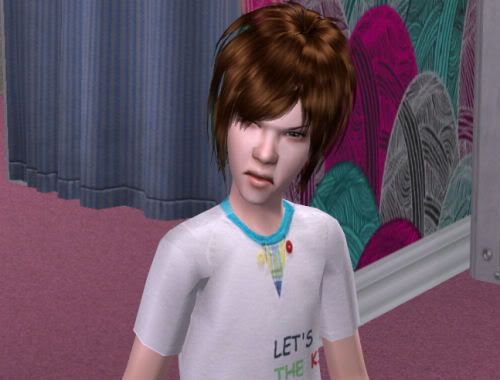 And Russell. Despite growing up well, he's the one showing bitchy face every now and then.
Of all the people in the house, you have to pick the one that was starving! She was just about to eat! You could at least wait, Lizette!
Or pick the one that was sleeping! Can't you find someone else to scare?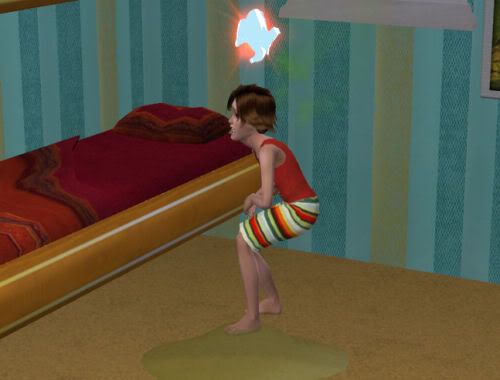 There goes my score.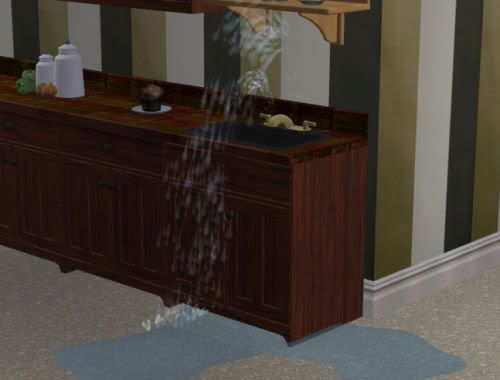 Grr! Who did this?!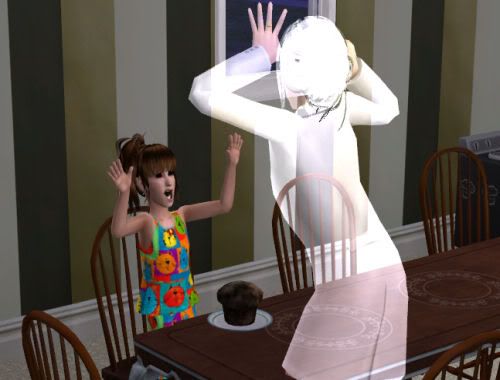 Stop it Lizette!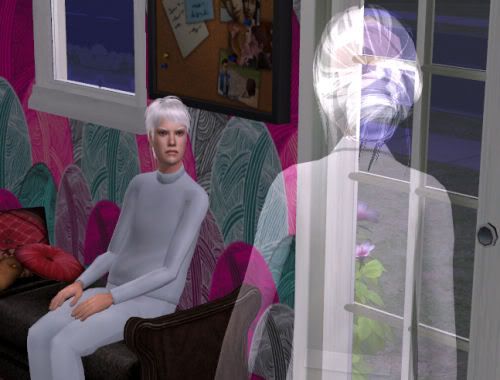 Leon:
Stop scaring the kids.
Liz:
Shut up. I'll scare whoever I want.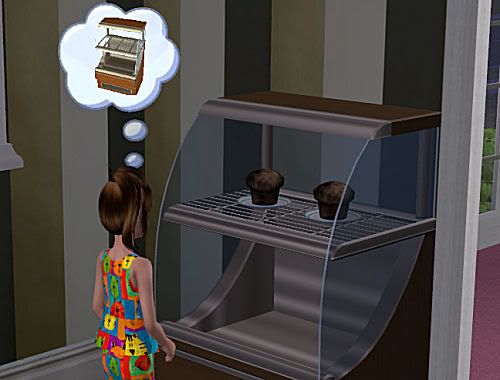 Collete:
Since when did we have this shelf?
Well, I bought it to place your muffin, we don't have enough kitchen counter for your un-eaten muffin.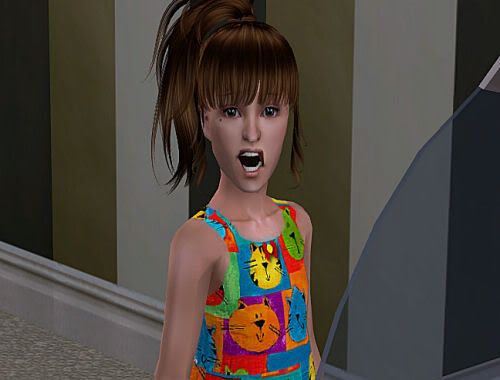 Collete:
Bu-but ... It's not like I don't want to eat it! If only grandma didn't scare me ...
Now what's wrong with you two.
Lukas:
He pokes me!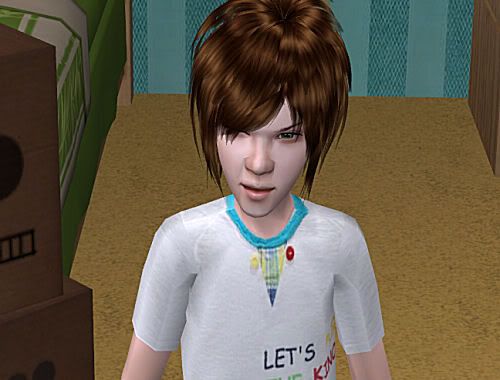 Really Russell? I thought that since you grow up well, you'll behave?
Russell:
Shut up. It's in my blood.
He only have 1 nice point by the way, nothing shocking, it's in this family since the beginning.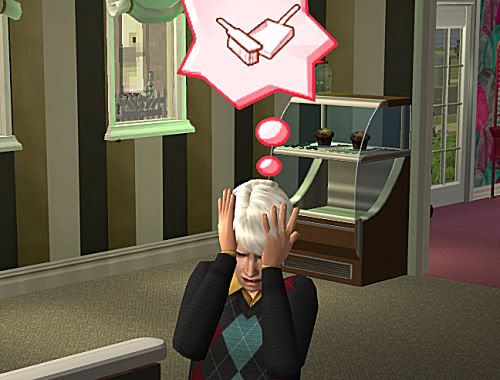 Leon:
WHY IS THIS PLACE SO DIRTY! CLEAN IT UP!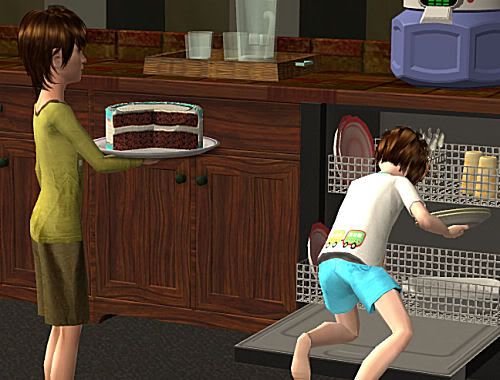 There goes cleaner no. 1!
Lukas:
Here, take this cake too.
Russel:
Do it yourself.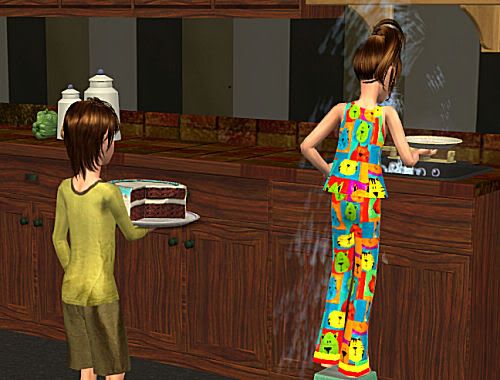 And here's our cleaner no. 2!
Lukas:
Sis, the cake ...
Collete:
NO.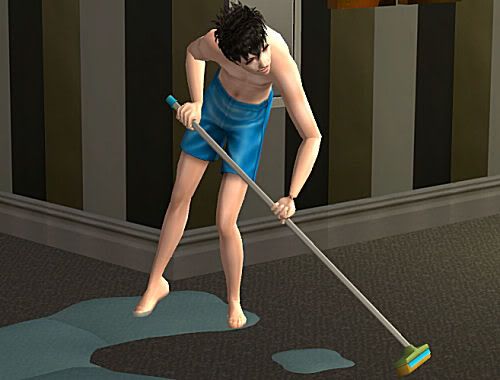 Not to forget our master cleaner!
Carlos:
I don't mind :D :D
Uh-huh, I understand your OCD but maybe you should fix the sink first or it will be neverending-cleaning.
And another cleaner join the band!
At this point the sink is still broke but the water animation are no longer appearing. Even the sink is tired of being broken that long.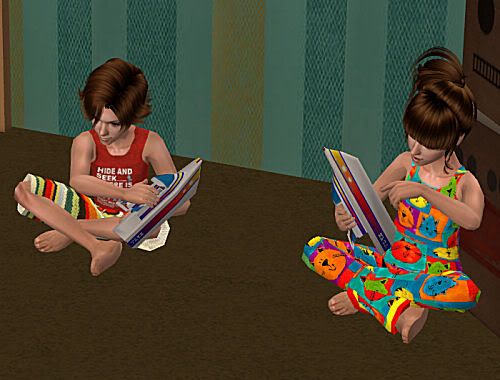 Aww~ I'm glad you two are playing together :D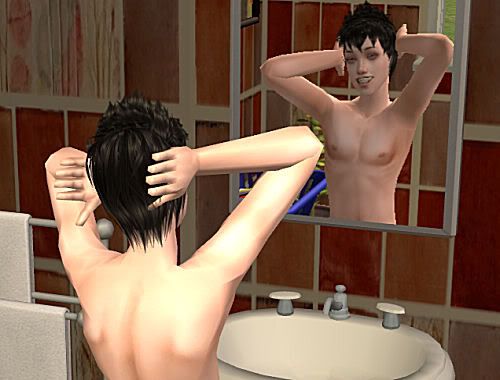 Carlos:
Man~ I'm so sexy~
Why, yes you are :)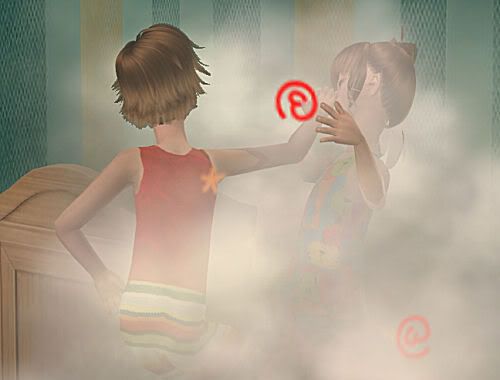 WAIT! AREN'T YOU TWO PLAYING PEACEFULLY JUST A MOMENT AGO?!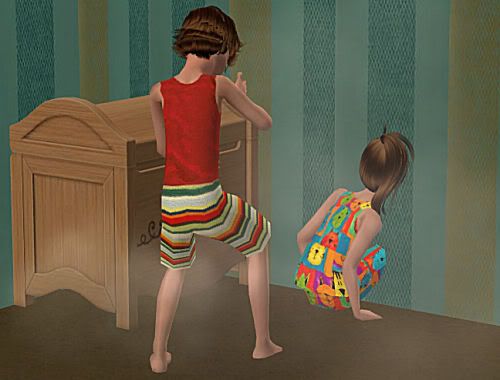 Micah:
That's what you get for insulting my boat.
Collete:
I'm just saying that boat does not make a car sound!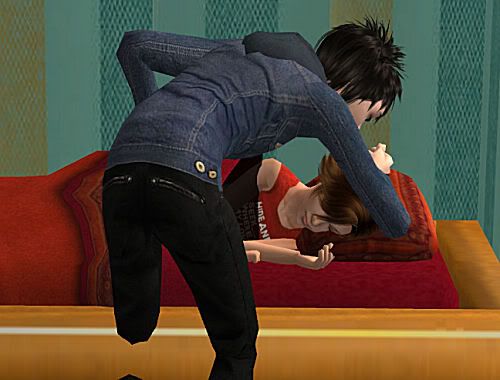 Playing big brother now, Carlos?
I don't want Rosalind to become elder before all her kids turn teenager, so I let her drink the elixir ...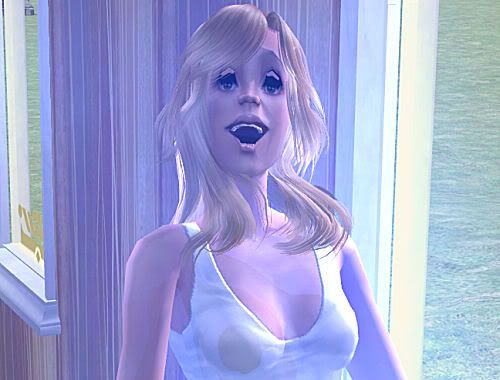 And by drink I mean, all of it!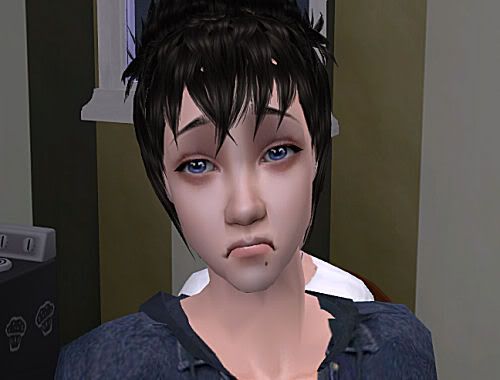 Why are you making that face?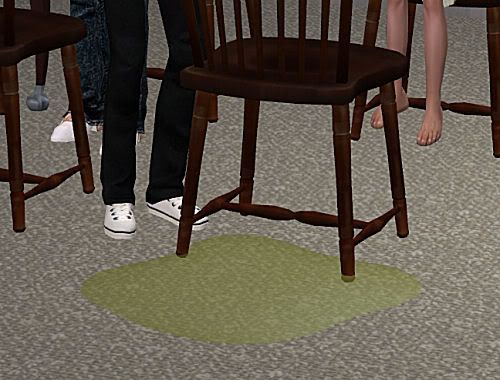 Oh, I see ...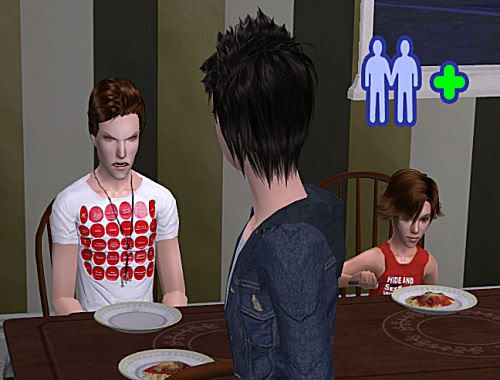 Hudson:
How dare you pee while everyone is eating! Have you no manners?!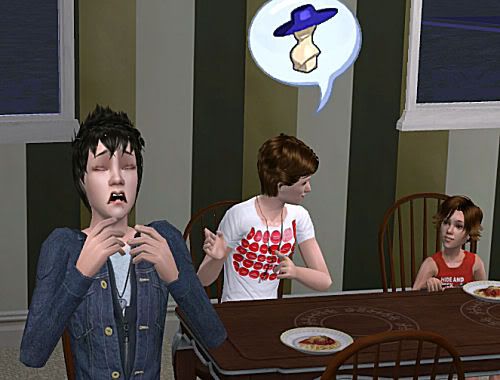 Carlos:
Bu-but, it was an accident! *cries*
Hudson:
The next time he pee, I'll buy a blue hat written "I pee myself" and let him wear it for the whole day. How does that sound, Micah?
Micah:
Hmm ... It suits his clothes at least.
Carlos:
How could you, daaadd! *cries*
Rosalind:
Tch. I can't believe I gave birth to someone who can't even control his bladder ...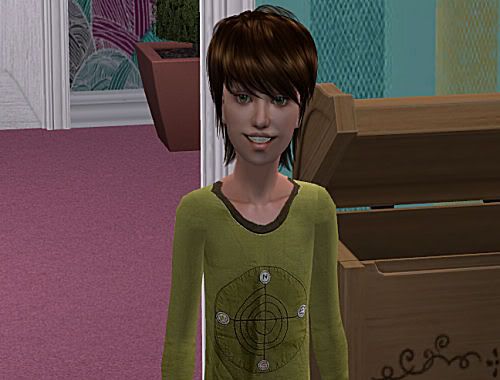 This is the only kid born into this household with 9 nice point. I have high hopes for you, Lukas. Keep being cute with your smile :)

Now, who's making booty call?!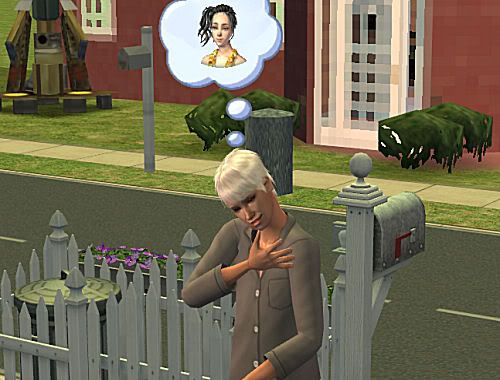 Leon! It's you?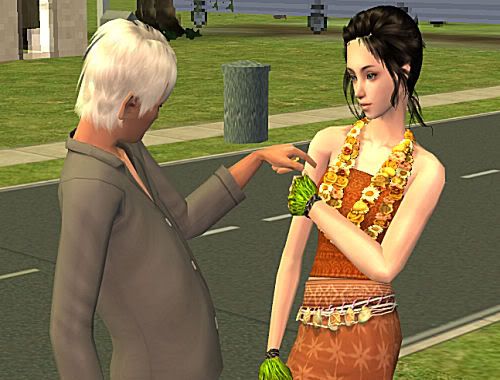 I don't even know what to say.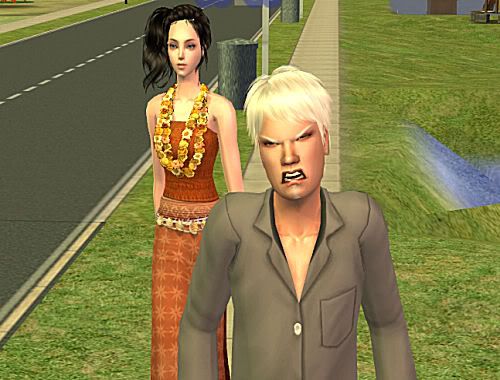 Leon:
Well, I didn't get any since my wife died!
Alright then ...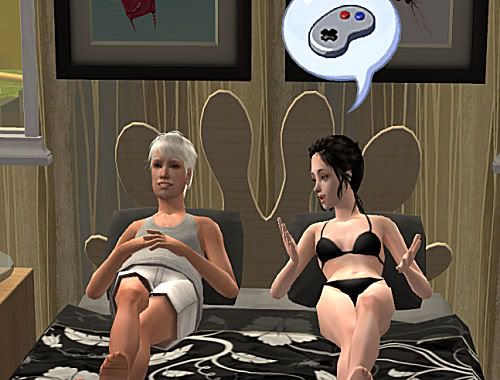 Booty:
So what kind of "game" do you prefer?
Leon:
Awesome. Even my wife never ask me that before :D :D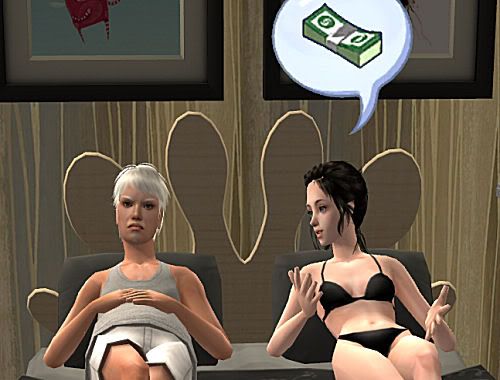 Booty:
Oh, and one more thing, the dirtier the game is the more you have to pay.
Leon:
Damn.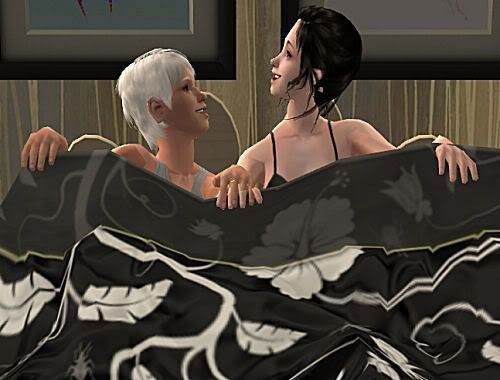 Ah well, at least he's getting some.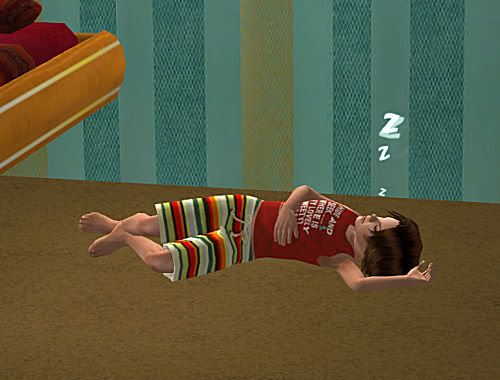 You're almost there, Micah. If you just hold on a little bit, you'll probably end up on your bed and not on the floor.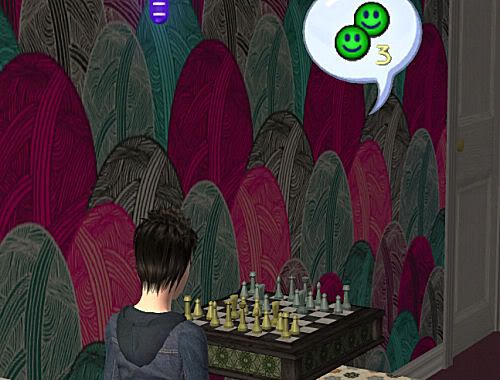 Meanwhile, the friend that followed Carlos home from school suddenly turn invisible! What's wrong with my game?! ;_;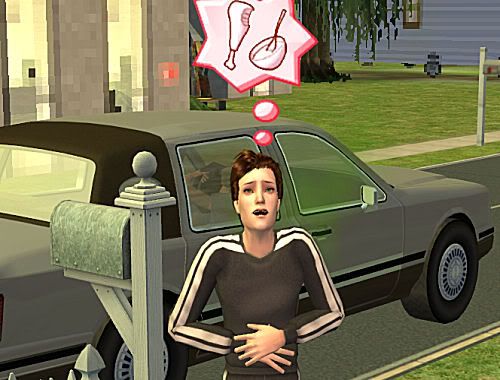 Hudson:
So hungry ...
Then go eat something!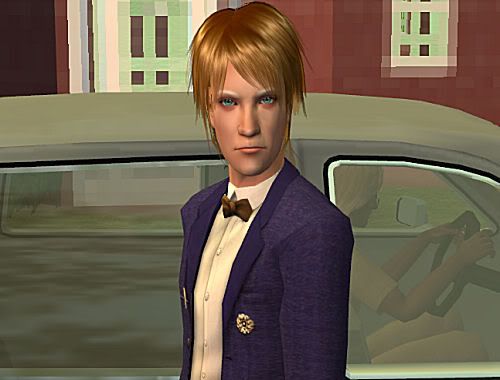 Anyway, the headmaster was invited for a visit.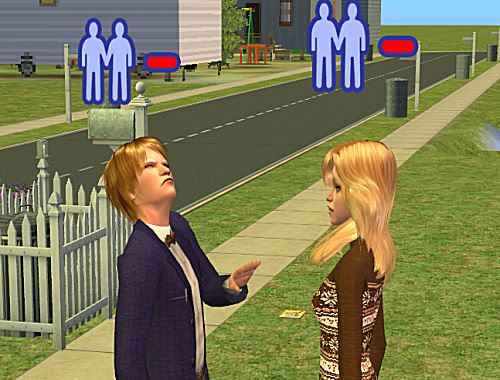 Though he isn't interested anyway.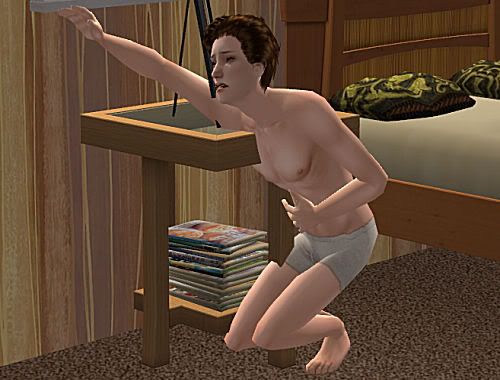 Hudson?! WTH!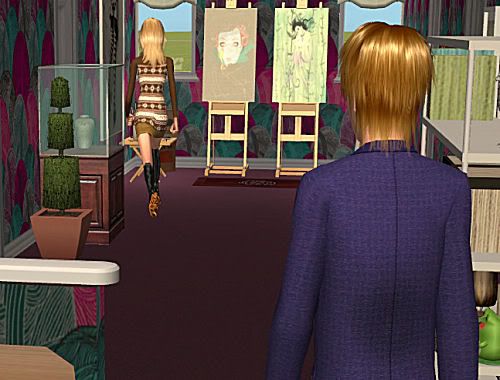 Rosalind:
Excuse me!
Headmaster:
Wait! What about the tour?!
Rosalind:
Hmm ... nice ass grim :D
This isn't the time for that! BEG FOR YOUR HUSBAND LIFE!!
Thank goodness he was saved.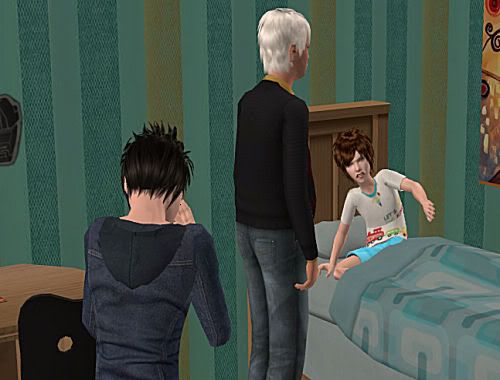 BUT ANOTHER DEATH WAS ON THE WAY!
Carlos:
NOOOO!!
Russel:
Oh come on, grandpa! Do you have to die right before my bed?!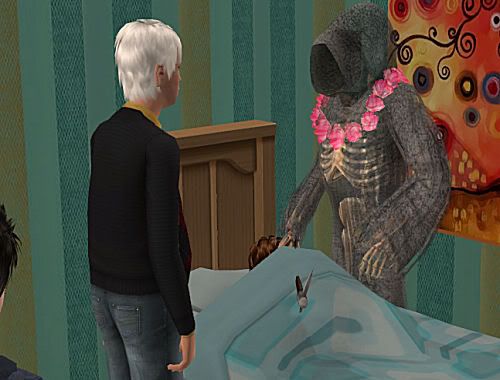 Russel:
Whatever. *goes to sleep anyway*
Nice to know Leon was being fair with his inheritance.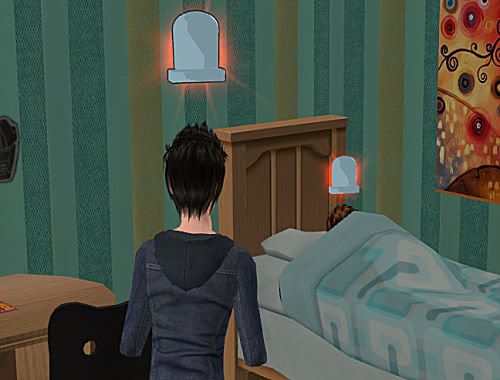 Carlos:
How could you sleep! Grandpa just died!
Russel:
Shut up and get out of my room.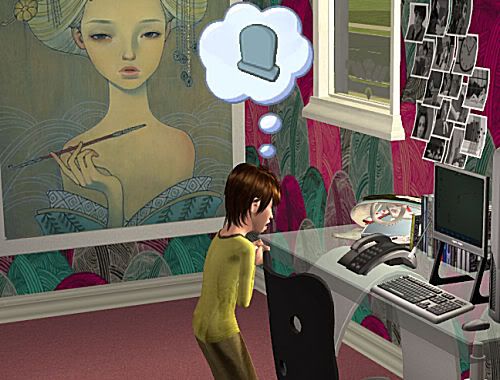 Carlos was not the only one though ...
All the kids cry except Russel.
R.I.P Leon. I'm gonna miss you ;_;
Rosalind:
Shall we continue? :D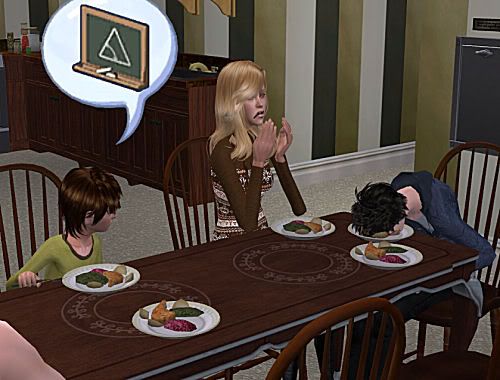 Rosalind:
Oh wait ... dad just died *cries*
Lukas:
Mom, could you at least pretend to be happy just for the sake of our education? The headmaster is watching.
Meanwhile, I found a pee puddle lying around ...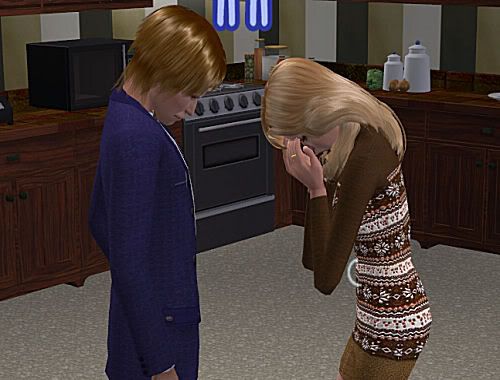 Rosalind:
Bawww ... please let my children into your school ... their dad almost died and my dad just died! Have some sympathy!
Headmaster:
So what. I don't have any sympathy for you. What else do you want to show me to prove your worthy? >:[
Definitely not that. Damn Lizette.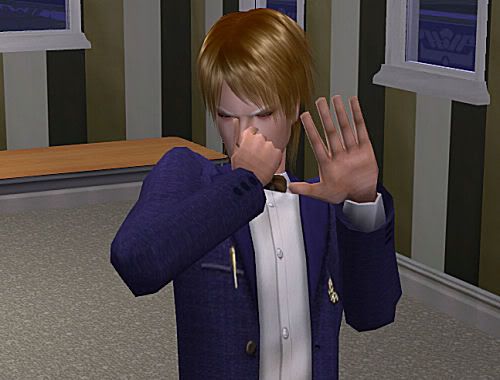 And he's cleary not impressed.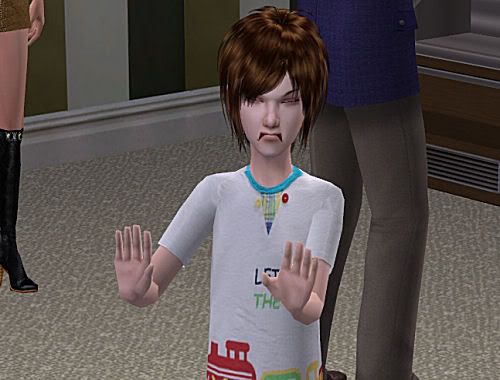 Russel:
Seriously Lukas?! WTH are you doing?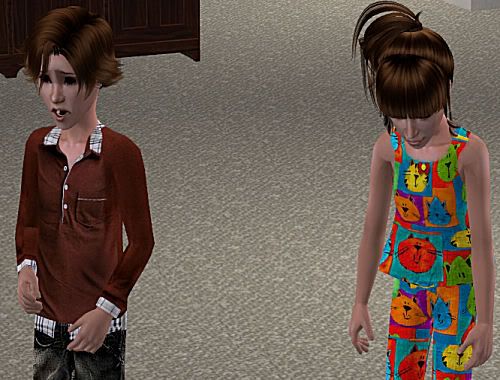 Micah:
*is shocked*
Collete:
There goes our chance to go into the school *sigh*
Oh well, we could always try next time.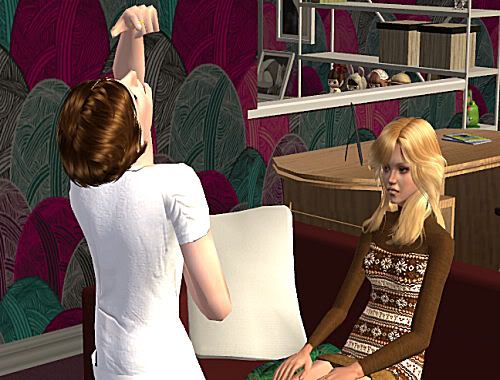 Hudson:
Hungryyyy!! Feed mee!!
Rosalind:
I don't see anything, I don't see anything, I don't see-
Hudson:
Are you kidding me?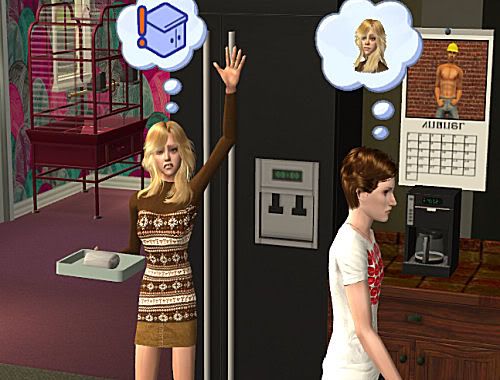 Rosalind:
EXCUSE ME I CAN'T FIND ANY EMPTY COUNTER HERE!
Hudson:
Why did I even bother asking her to cook.
Yes, you're sexy. I know.
This is a
repeat of the last update.
But we are missing one person.
Oh, there he is!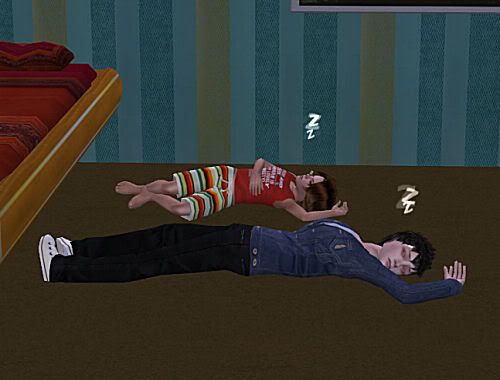 Plus one more!
It seems like the only girl among the sibling is the only one wise enough to find a bed.
One less kid for me to worry about getting taken by social worker.
You grew up well and yet you cry? I don't understand.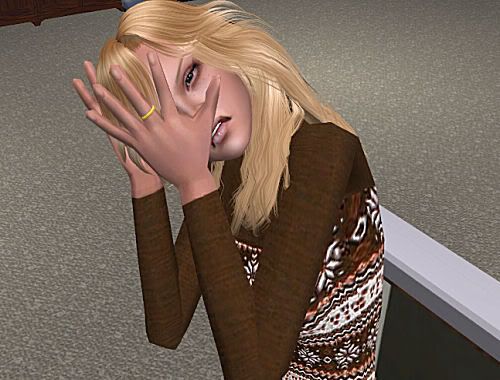 Rosalind:
What's wrong with her?! Ugh! This makes me so tension!
She can't even wait for me to take her picture after I gave her makeover.
Guess who win?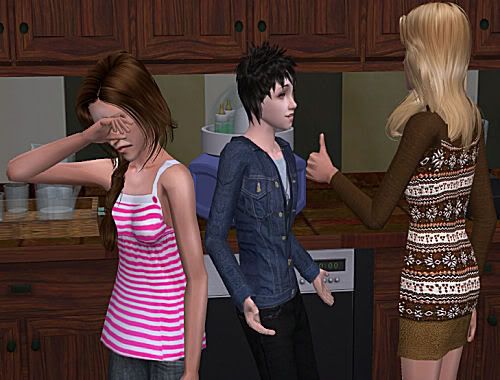 Rosalind:
Congratulations for beating your sister. I'm so proud. *thumbs up*
Best mother of the year.
Micah:
Oh, hi mom!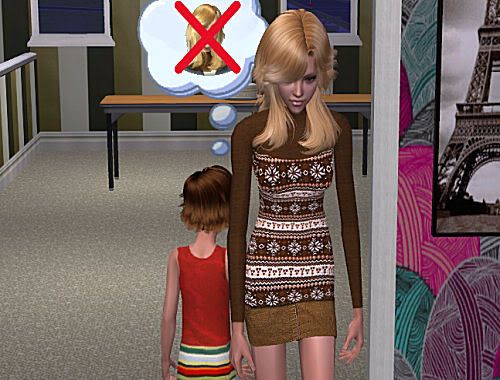 Micah:
To be honest. I don't really like you, and Carlos too.
I don't understand this family.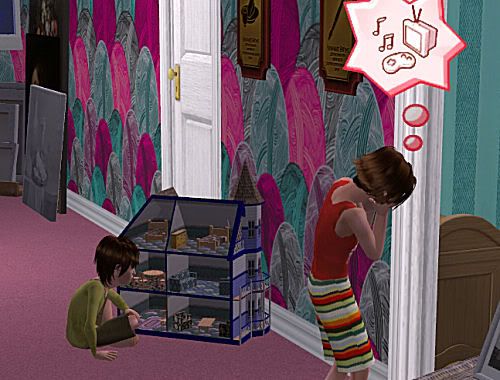 Micah:
Ugghhh! I'm so boring!!
Lukas:
Here, you can have the dollhouse. I'm already finished playing.
Micah:
Fuck dollhouse! I want the rocket!
Russel:
Go find your own rocket. This one is mine.
And then he took the horse out, and complain it for being boring.
Micah:
Can't you share?
Russel:
What do you want me to do? Break it into two?
Rosalind:
Why won't you share your toy with your brother? Do you need a hug?
Russel:
NO! Don't touch me!
I don't know why the kids hate their mother.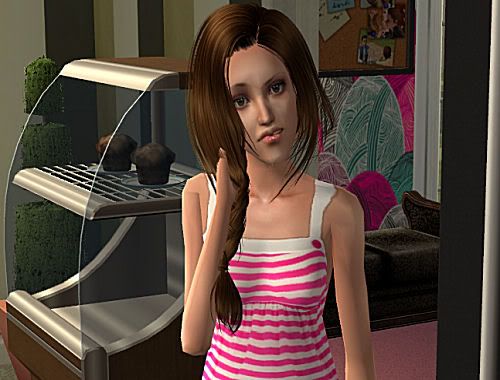 Here's a better picture of Collete.
Collete:
I can't believe this.
What?
Oh, I see.
No, this is a different picture from before. He really passed out again in the same spot.
So I used his one command to make him sleep on the bed.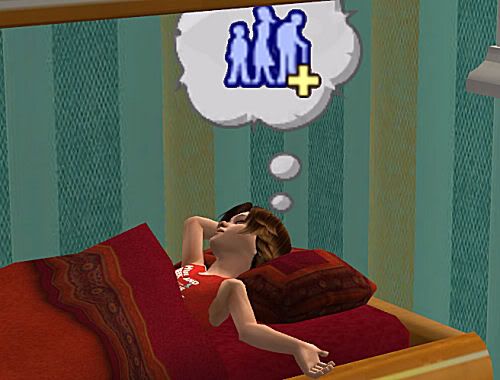 And of course he's having nightmare about being born in this family.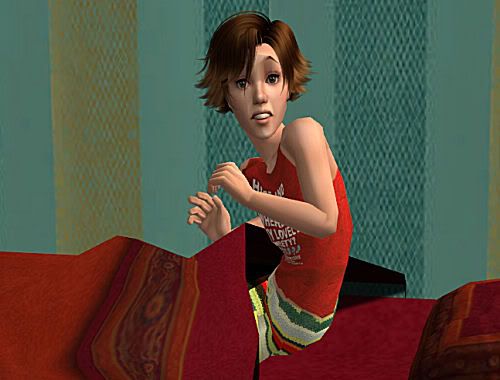 Micah:
Where am I?! Don't tell me I'm still in the same house.
Yes, yes you are. Accept your fate.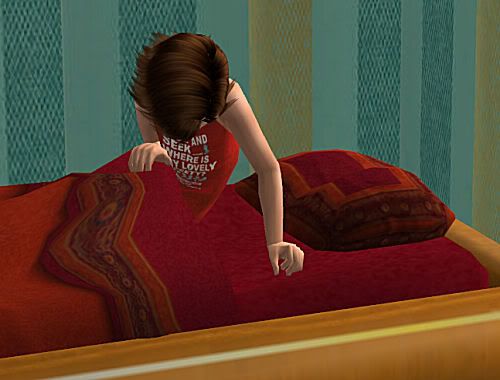 Micah:
Why can't this all be a dream.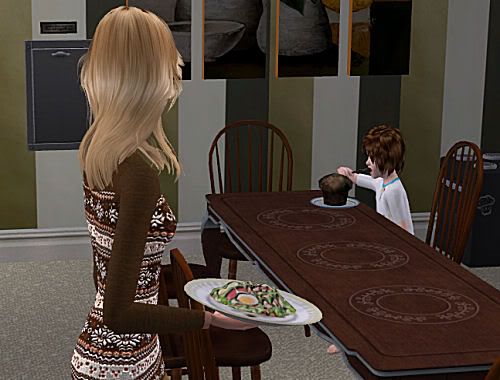 Rosalind:
Stop eating that muffin, there's a perfectly cooked salad here.
Russel:
I don't want it.
Rosalind:
Ungrateful kid >:[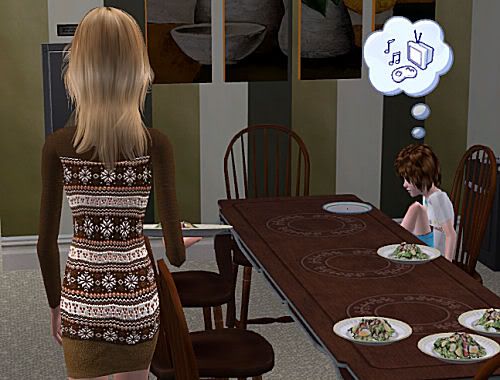 Russel:
Nothing personal mom, but seriously? Salad? It's boring.
I didn't ask you to do anything! Go watch TV or something! Geez.
Aand ... That's all for now ;)
Current Legacy Stats:
Torch-Holders(founders/heirs): 2
Perma-Plat Sims: 1
Shrink Visits: 7
Social Bunny Visits: 4
Fires: 4
Self-Wettings: 18
Pass-Outs: 28
Fights: 37
Deaths: 2
Social Worker Visits: 0
Alien Abductions: 0
Thanks for reading!
Current Mood:

cold

Current Music:

Nami Tamaki - Brightdown