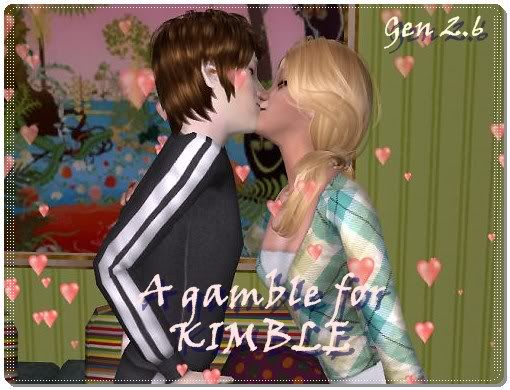 77 jps under the cut.
Last update:
Lots of passed out. Lots of urn abuses, which cause me to lose ONE urn! And the last 3 boys grew up into teen.
Like I said, they got a new house, in a new neighborhood, and a new appearance. So before we proceed to the actual legacy update, let me show you their almost-maxisfied looks. It's "almost-maxisfied" because everything is maxis, except for their skin and eyes and a few maxis hair that were replaced with a default.
And I admit that I broke the ISBI rules to never control them, but screw the rules, all I did was controlling them to pose for the camera!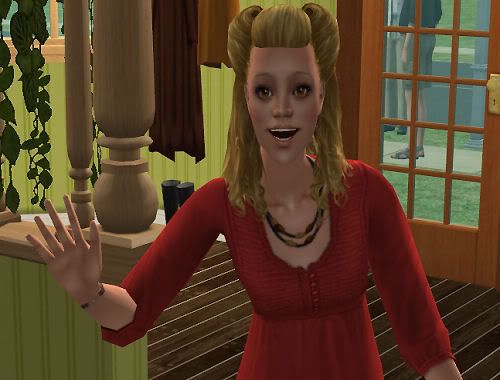 First is our Generation 2 Heir, the wife of the fail french fries mascot, and also the mother to a bunch of troublemakers. Rosalind actually looks pretty good in the maxis clothes, but the hair doesn't suit her IMO.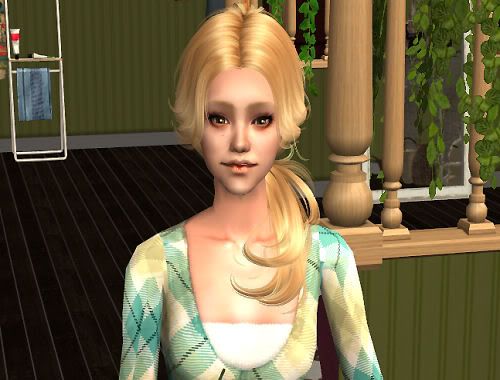 So here she is after makeover, as pretty as ever!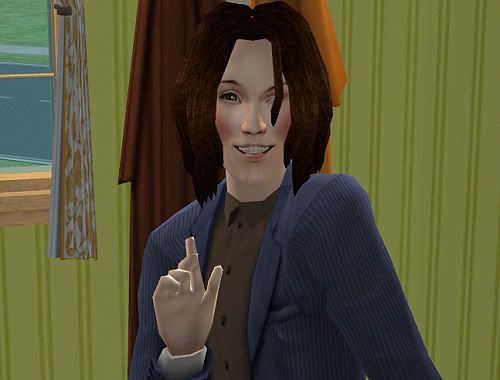 Next is Rosalind's
french fries
husband. Oho ... I don't know why did he have a pink blushes on his cheek, I swear that I never gave him any makeup before. And that pose suits him in that appearance XD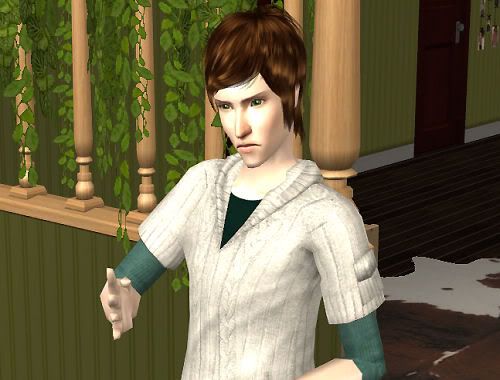 And here he is with a new look. I love his hair very much, though I think it didn't make that much difference with his appearance before, but nonetheless it's looks good on him.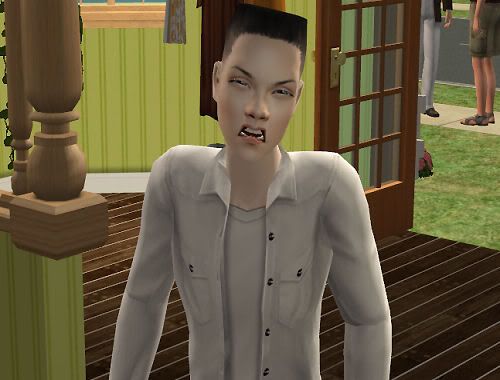 Moving on to the troublemakers!! The first one, whom is also the first child born in this generation (though he's not Hudson's) is a very angry, angsty, and ungrateful Carlos. He also widely known as the king of troublemaker.
Carlos:
WTF is this house! WTF is with my hair?!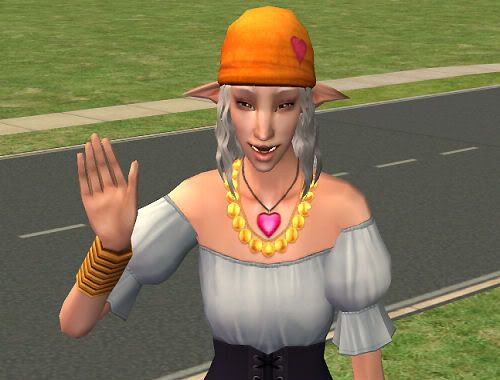 We break the unpleasant moment with some nice greeting from a very elfy gypsy! *love*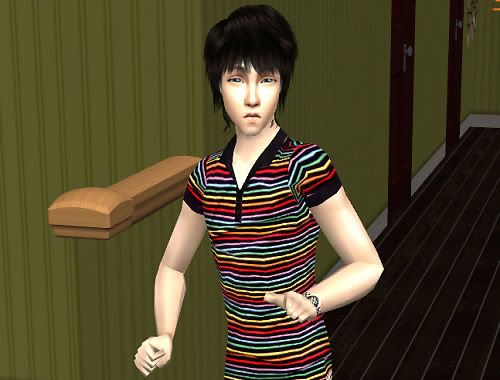 I was tempted to give him the same hair he had before as it was the only one that actually looks good on him, but I also desperately want to give him a new look and all, so ... there.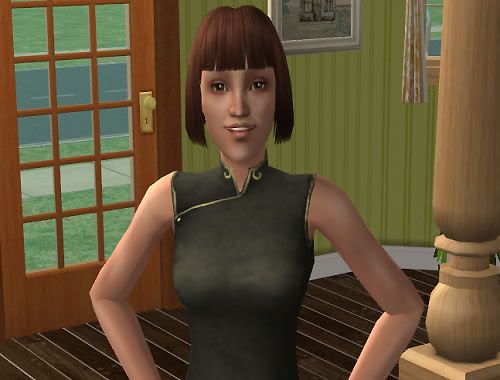 If we has a king, we also has a queen of troublemaker. Meet the only girl in this generation (not counting Rosalind), who was kicked, punched, and slapped a thousand times by her brothers but still can manage a smile in a pretty traditional chinese-style looks, Collete.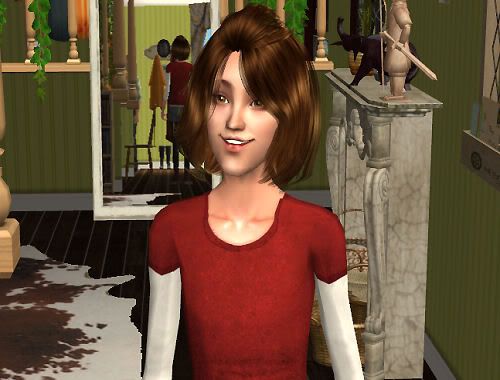 I gotta say that I AM MOST SATISFIED WITH HER MAKEOVER!. Soo pretty!
The third child, another troublemaker, though not as violent as Carlos is Micah.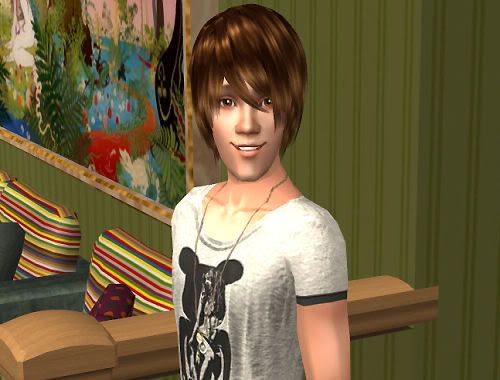 And he cleans up nicely! Nothing like what I thought he will be. Though I'm having quite a bit of trouble while choosing his clothes, because I don't have that many choices in teenage boy outfit.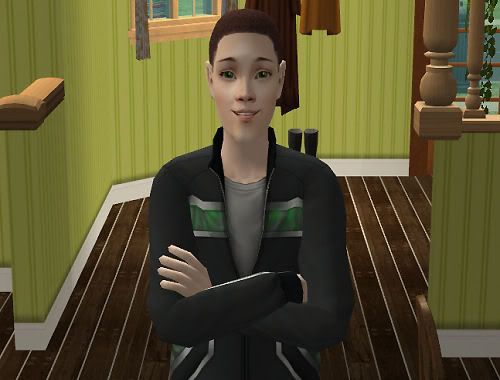 Moving onto the twins! Born a few seconds earlier, is Russel. Nothing interesting happen to him, except for a few fail every now and then. Quite a boring one, this one is. But he does inherit the delicious elf ear from Hudson!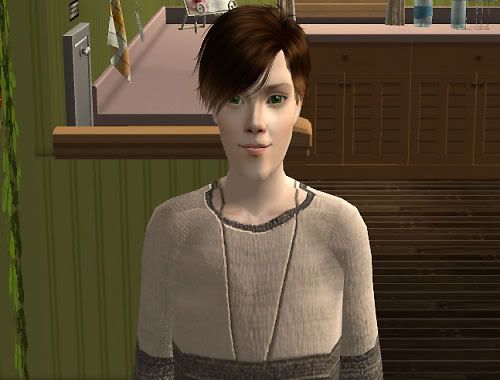 He looks a lot better than before, but maybe it was the hair that helped covering his awkward long face, and long chin.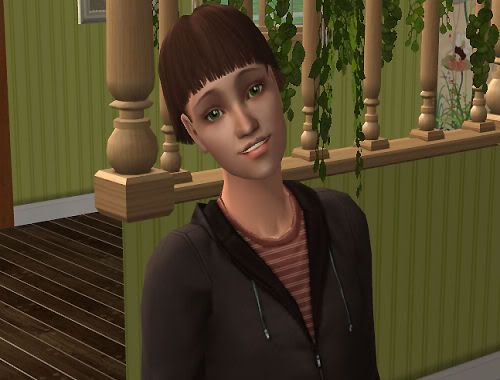 And the last child, is Lukas. He actually has the potential to become my favourite, because he's the cutest of all! And he has a freaking 9 nice point! But because of his lack of personality, he become a boring sim. Or maybe it was me that is getting used to all the mean sims (Pretty much everyone, except for Hudson and Lukas).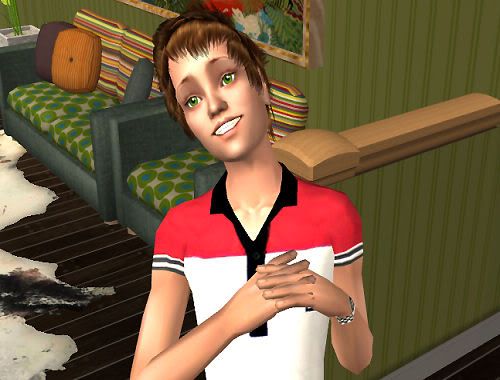 Oh Lukas, if only you become as interesting to watch as Carlos and Collete and Micah, I'll probably love you even more!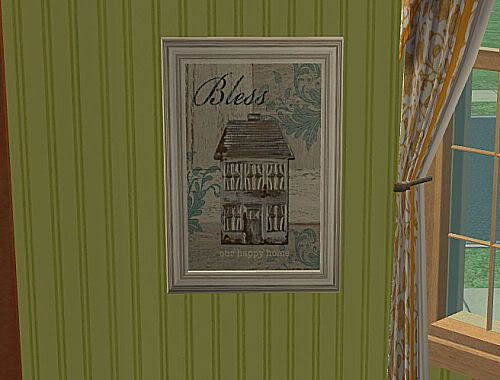 And ... uh, no house picture, because I wasn't really satisfied with how it looks. I'm still trying to tweak it's roof to actually fit to my liking and looks pretty on the house, but it was really hard! T_T
But anyway, I left you with this painting of "Bless Our Happy Home", with the hope that the blessing will actually works.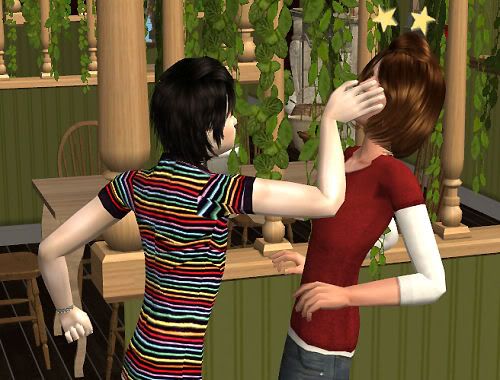 But of course not. This is seriously their first choice of action when I turn on their free will.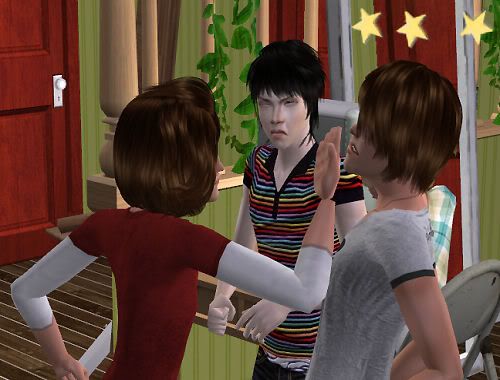 It's like a triangle-of-slappingfest.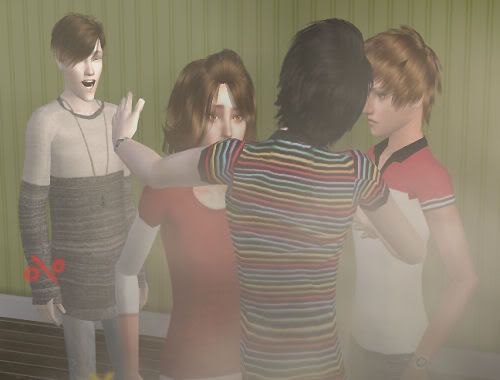 Which quickly turn into a fightfest.
Russel:
*is enjoying it*
Lukas:
*stand so close so he can actually looks like he was
involved
in the fight*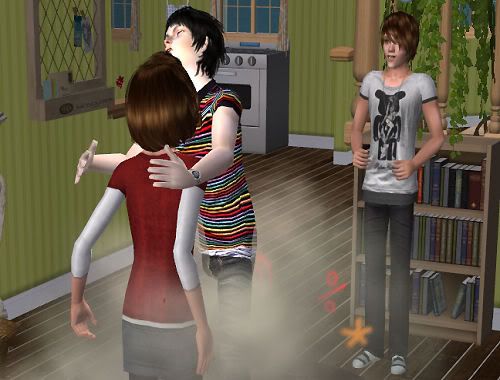 One round is not enough for them, round two is ALWAYS NEEDED. Behold the majesty of the KING AND QUEEN OF TROUBLEMAKER!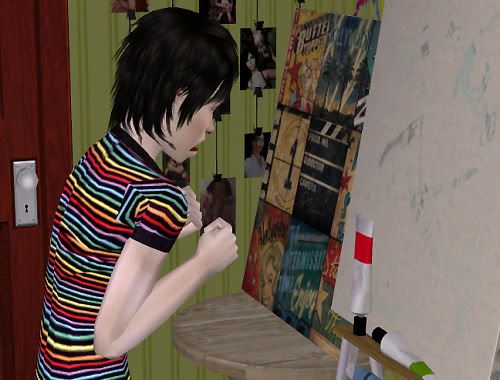 Well, if one lose, then it's CRYINGFEST timez!
So I sent Rosalind to hug Carlos for me, but for some unknown reason he has to look all confused and uncertain while receiving the hug. I demand a smile!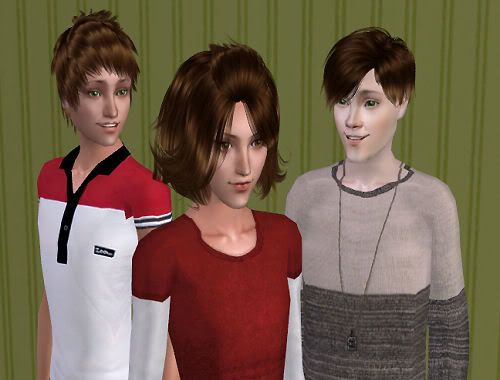 Twins creeping together on their pretty sister is really creepy ...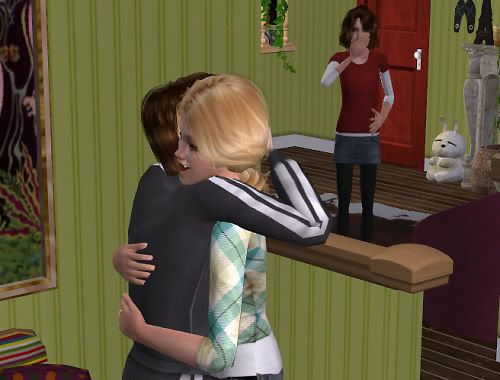 Rosalind & Hudson:
*hugs*
Collete:
Ugh ... Eww ...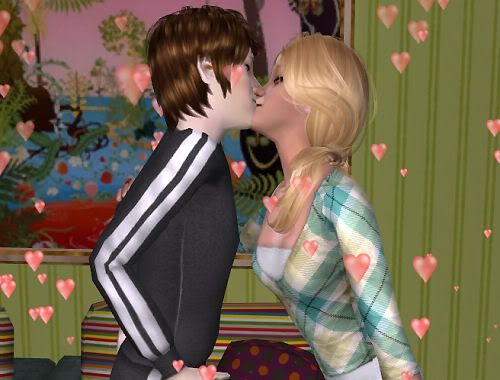 Because I deleted their first kiss memory via the magical SimPe, they're having their first kiss again ...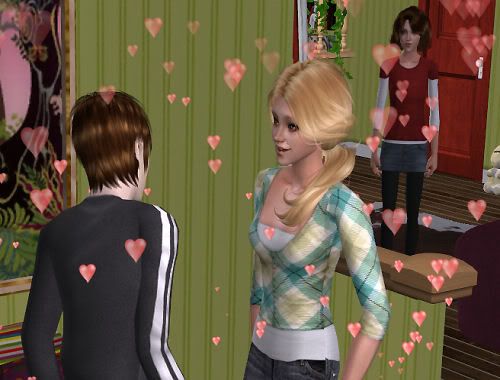 Rosalind & Hudson:
*done kissing*
Collete:
*stareess*
Oh. So a hug is disgusting for you, but a kiss is OK??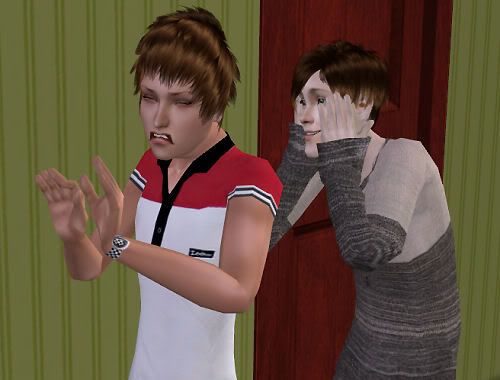 The twins also has their own opinion about this matter.
Lukas:
Eww ... get a room!
Russel:
OHLOLOLOL! Kissing!!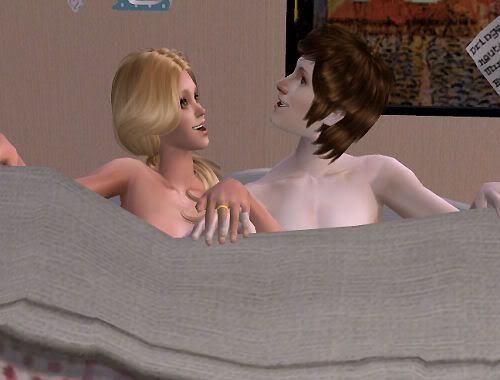 So their second first kiss makes them remember about their first night together. Not that I mind, I'm just worried it will cause an accidental pregnancy. But, I'm glad it doesn't happen. *phew*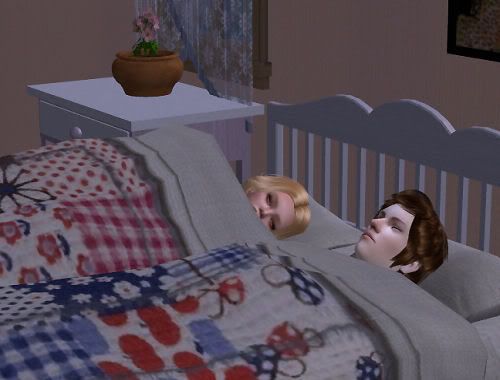 Despite the intimate moment, they don't even hug each other while sleeping =_=
I don't get it.
Meanwhile, Carlos is spending some mirror time to practice his "bitchy face" to show to Collete.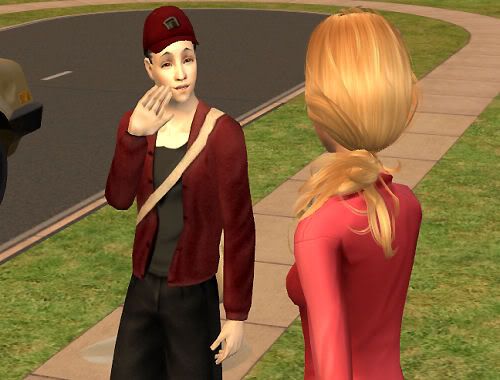 Since I moved them to this new hood, their LTW has change. Rosalind now want to become the law, instead of woohoing 20 sims, so of course I let her have it. It's much easier to complete though I'm not sure if I can help her to achieve it before the I pass the ISBI torch to one of the kids.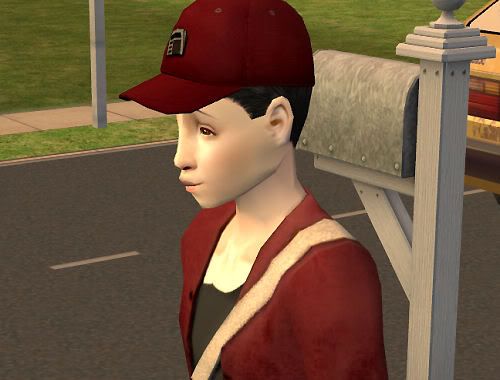 By the way, my paperboy has the cutest pouting-face ever!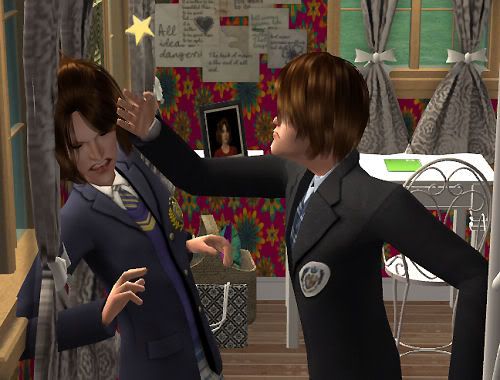 Kids? Shouldn't you go and check whether you have any homework that need to be submitted tomorrow and do it instead of continuing the slappingfest?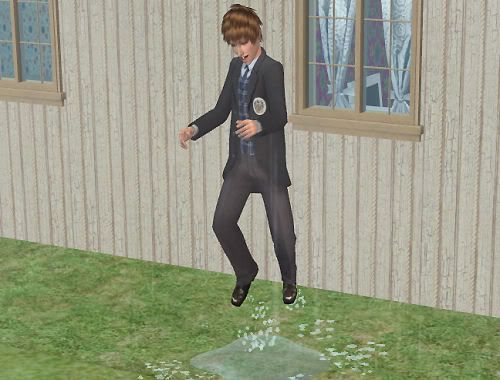 Oh, Lukas, you should be glad you're living in sims world where laundry doesn't exist or I might just pinch you in the ear for purposely dirtying your school uniform in the rain, in the puddle!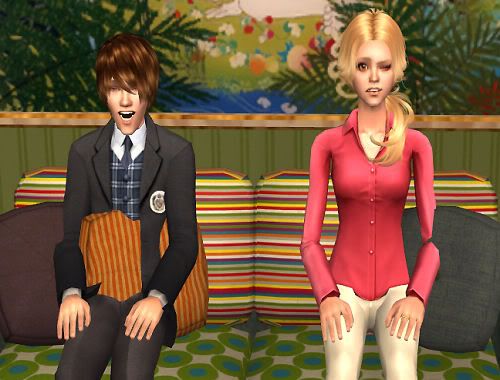 Custom seat is pretty and all, but I HATE IT when the pillow is stabbing through the sims like this. Ugh.
Go make some real food will ya?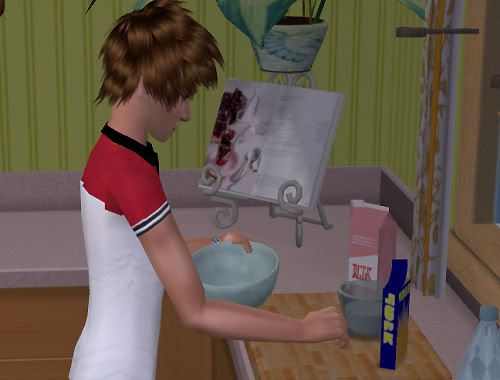 Uh, eww ... Is that the same milk carton you're using for that cereal?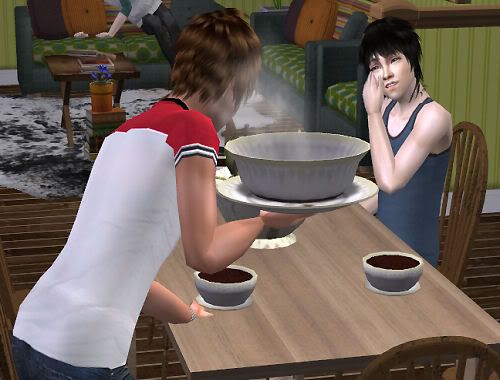 Carlos:
Ah-hehehe ... what is this funny taste?
Probably because the charcoal cereal is mixed with a bit of Lukas saliva. Ew.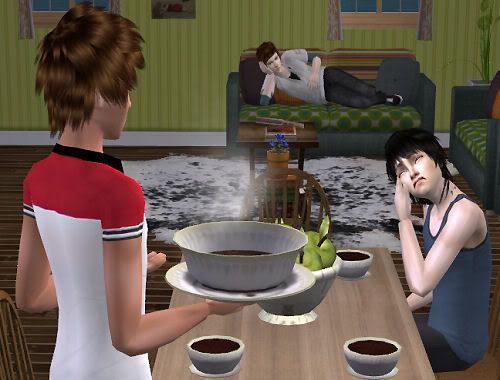 Carlos:
Like ugh ... What the- *is disgusted*
Lukas:
Stop eating if you don't like it.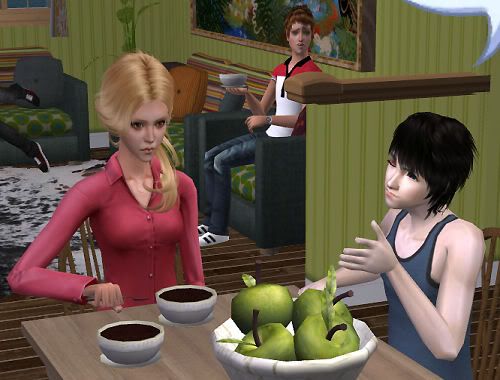 Carlos:
You know mom, I can actually cook this perfectly even with one of my eyes closed.
Lukas:
Hey!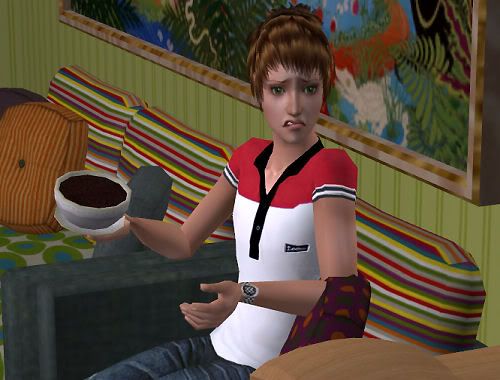 Lukas:
It's my first time! And why are you eating if you don't like it?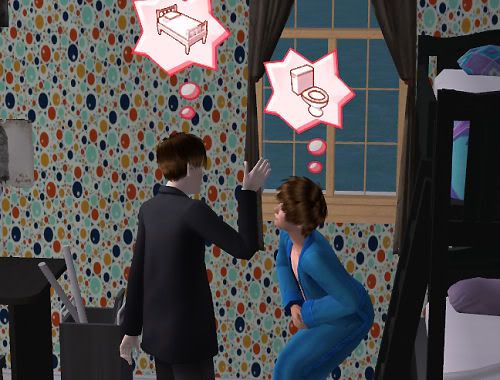 Lukas:
I need to pee!
Russel:
Yeah? I need to sleep. GTFO the way so I can get to my bed.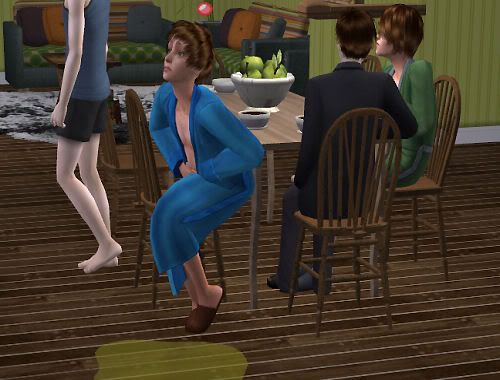 As expected.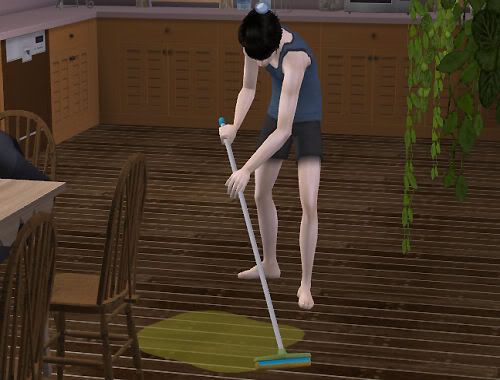 Being a 10 nice points sims, I'm sure Carlos will be furious of Lukas after this.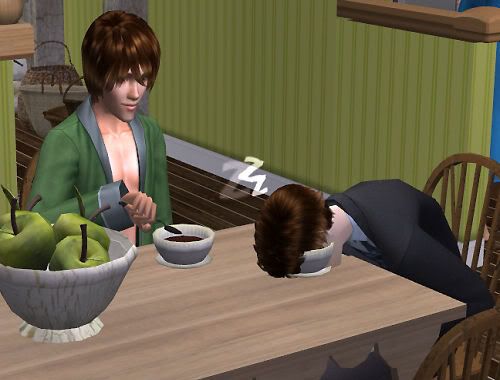 The twins are pretty much failing in their life 80% of the time TOGETHER.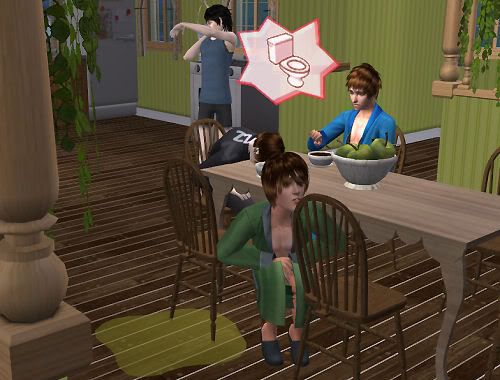 Next time, use the toilet before you eat!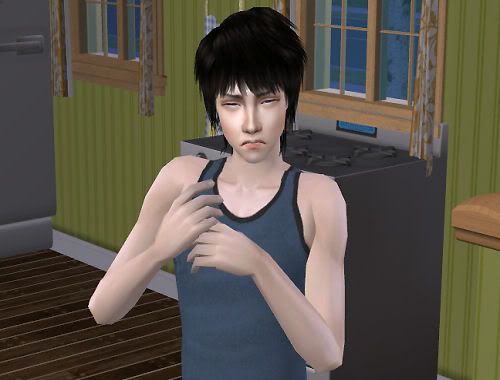 Carlos:
Don't tell me I'll have to clean that one too.
Well, who else?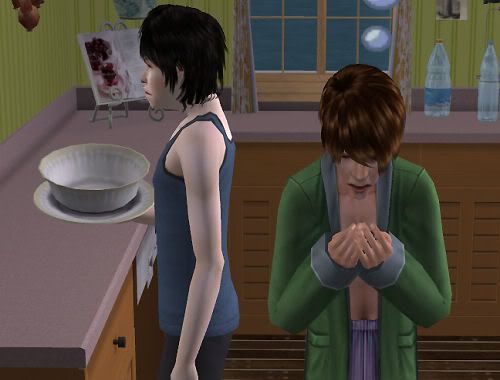 Micah:
*bawl*
Carlos:
Don't make me shove this plate of bowl right onto your face >:[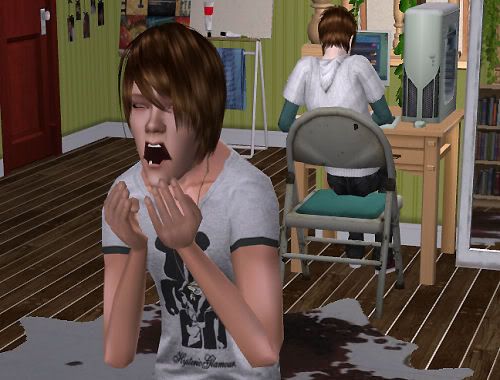 So he bawl somewhere near his dad. Give it up boy, your dad won't care either.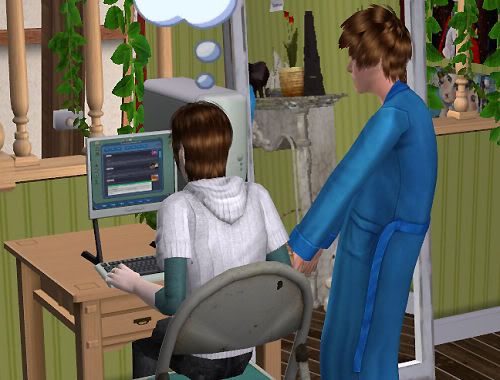 Especially when he's getting hold of the computer, which is everyone favourite object in the house.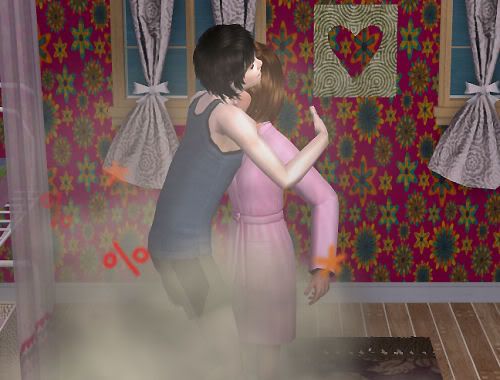 Their morning greeting is pretty brutal.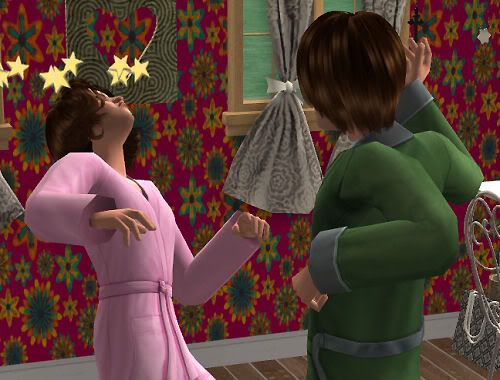 Really brutal.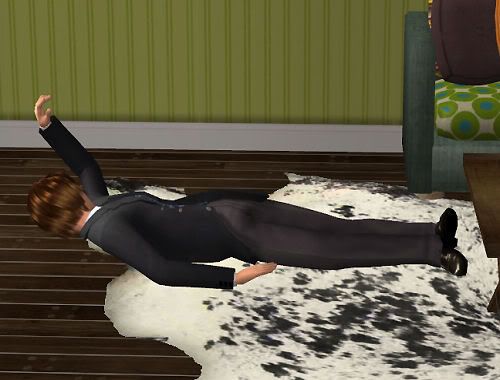 Oh.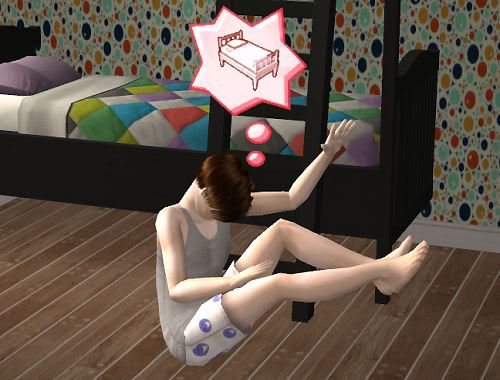 Double oh.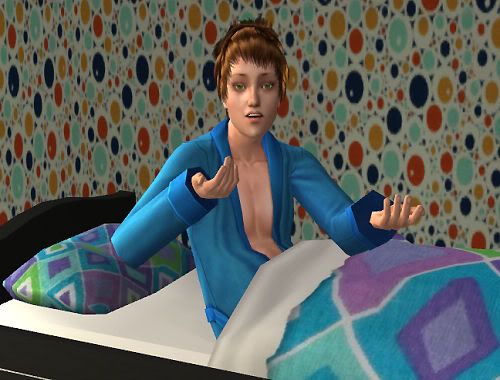 Lukas:
Yeah, "oh" my ass. Now will someone please wake him up? I can't get off the bed like this.
Wait until your mom comes home from work.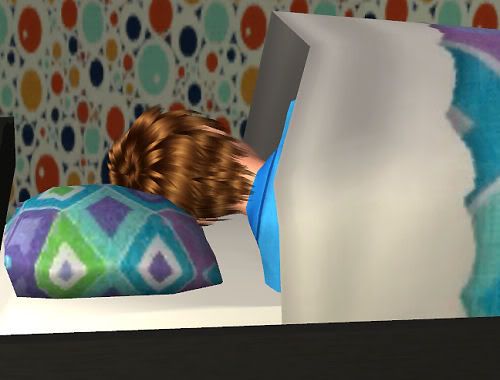 Lukas:
Fine. I'll just sleep some more.
You lazy-ass!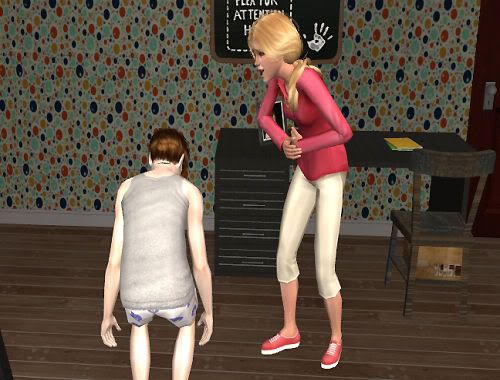 Laughing at her passed out children.
It never gets old for Rosalind.
The time for the kids to go to college is finally here!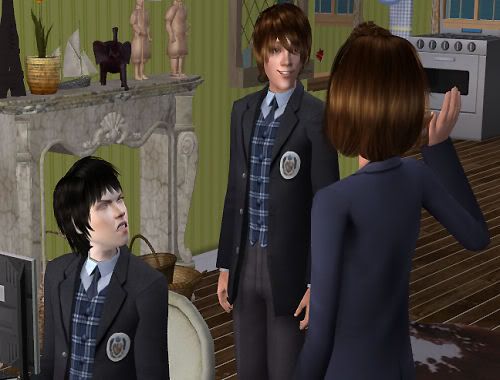 The first one to go is Carlos.
Carlos:
I SO CAN'T WAIT TO SEE YOU IN COLLEGE *death glare*
Micah:
Lol. I can't wait for you to gtfo this house *smile*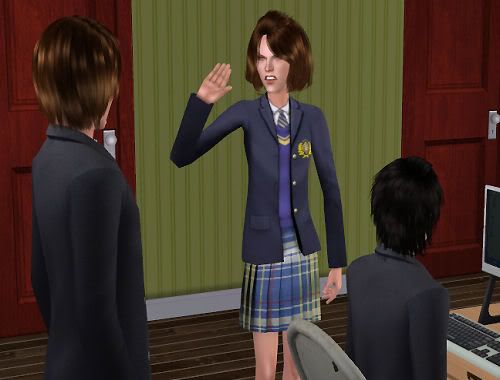 Collete:
WE'RE ALL GOING TO COLLEGE TOGETHER, YOU SMARTASS.
Micah:
WHY IN THE WORLD DO WE HAVE TO GO TOGETHER?! WHAT IS THIS LIFE?!
Also, a peek at Russel's side profile.
Their college life will be posted on the next update, probably in a few days, if not it will be on this weekend or on Monday. For now, I'll entertain you with a few pics of their dorm. It's not really that great though, I'm still a beginner in building things and decorating it. Hope you enjoy it anyway :)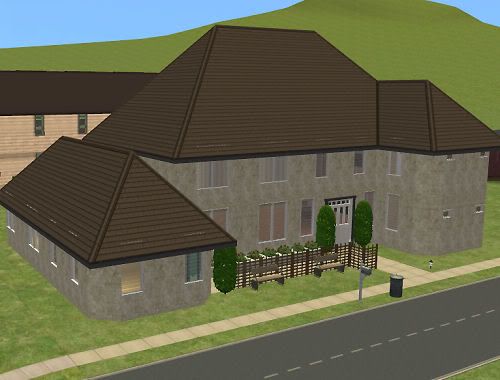 The dorm. Yeah, it's pretty generic though I might change the wallpaper and the roof.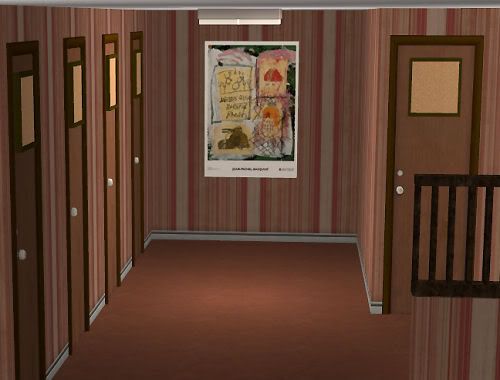 The dormie's room. It doesn't have any furniture, and it was really small as they don't really have any use for spacious space anyway.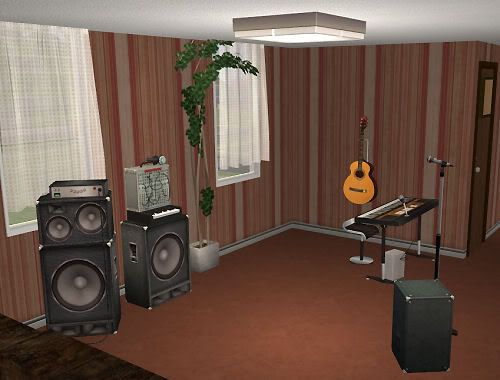 The "studio", which I'll bet will be abuse by everyone.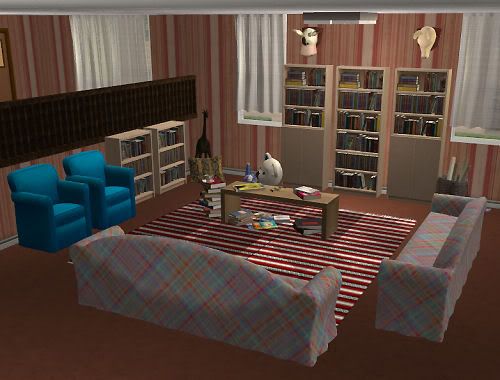 The study area.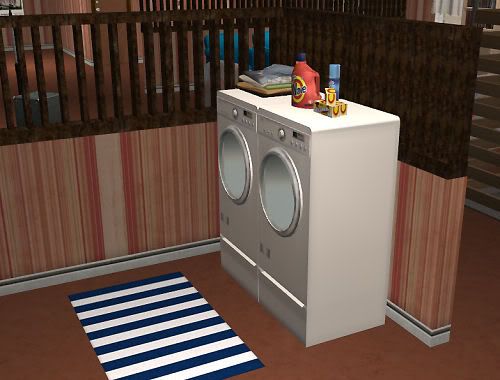 The laundry, located in front of the bathroom.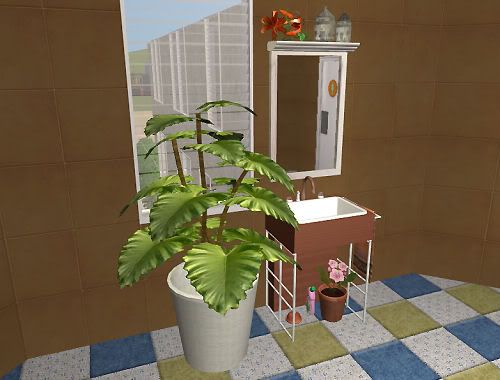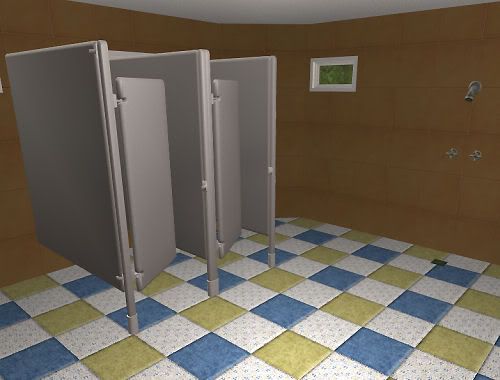 The bathroom. I only took screenshots for the boy's bathroom, but the girl's bathroom have almost the same design anyway, only with a slightly different decoration.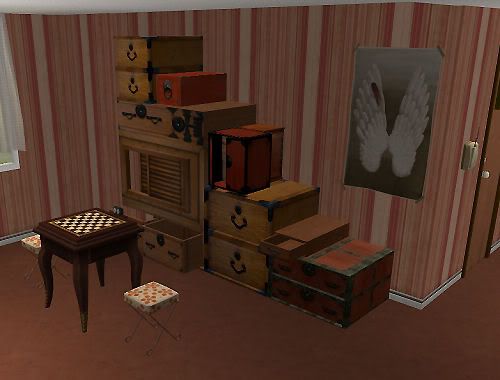 The stairs. Though I really hate that it doesn't reach all the way to the top, but as long as it still functional, I'm not going to complaint, because I love it very much.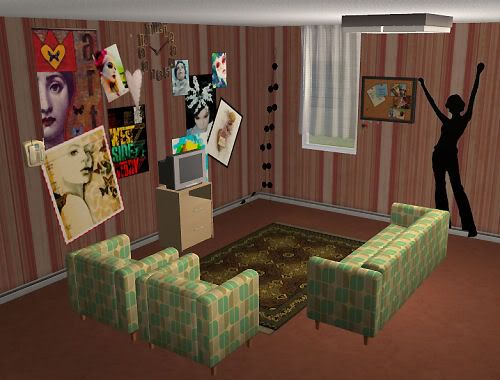 The living room.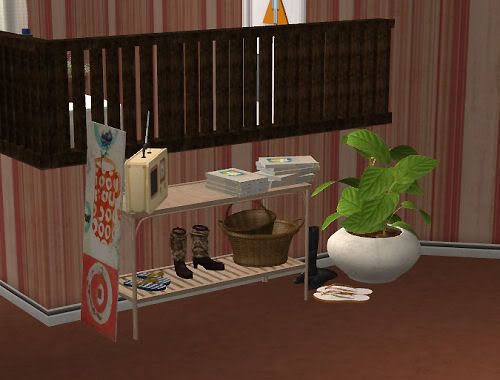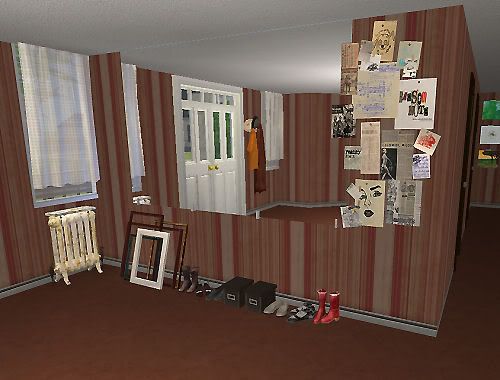 The hallway.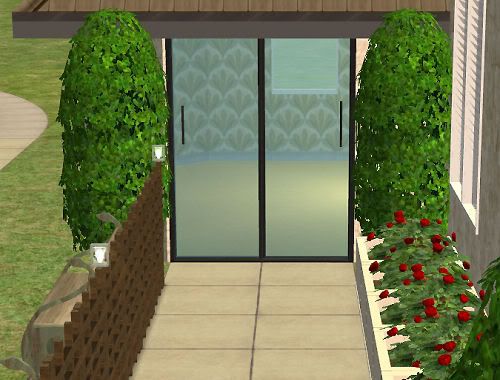 The entrance to the cafeteria.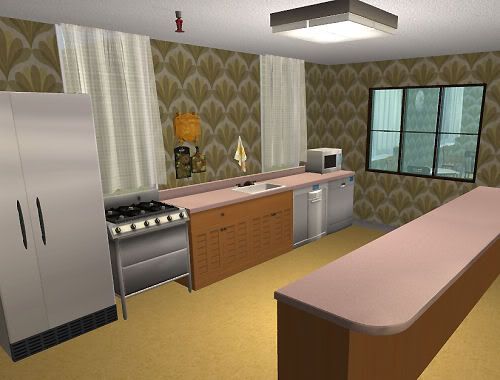 The kitchen.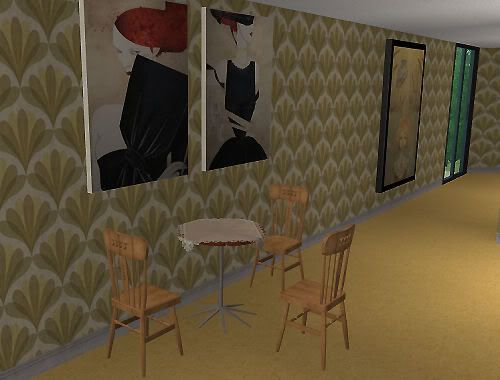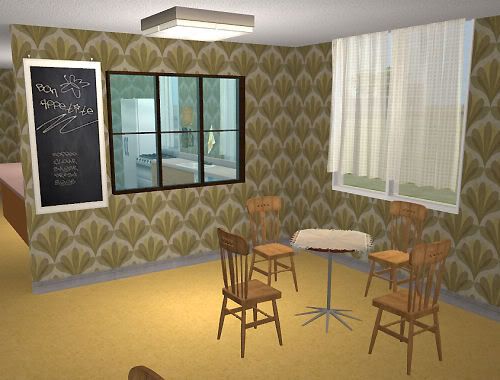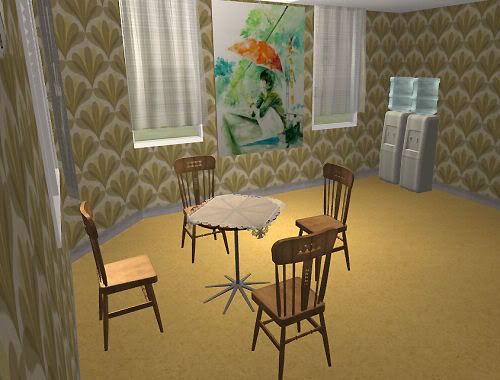 And the dining area.
It's not as pretty as other awesome dorm made by other awesome sims' writer, but I love it anyway, and I hope you'll like it too.
That's all for now! Thanks for reading :)
Current Legacy Stats:
Torch-Holders(founders/heirs): 2
Perma-Plat Sims: 1
Shrink Visits: 7
Social Bunny Visits: 4
Fires: 4
Self-Wettings: 24Pass-Outs: 34Fights: 50
Deaths: 2
Social Worker Visits: 0
Alien Abductions: 0
--------------------
And by the way, I have some question for you:
As you know, I use JPG format for every image in my legacy, and I'm planning to change it to PNG, because the image look really pretty in that format. But it has quite a big size (250kb+) compare to 45kb+ in JPG format.
So tell me, sp you want pretty image or faster loading time to view my legacy?
Thanks is advance for considering this matter, and for answering! :)
Current Mood:

weird

Current Music:

Leona Lewis - Whatever It Takes