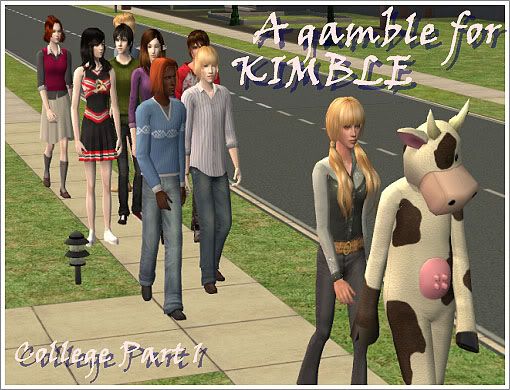 134 jpgs under the cut.
Last Update:
The kids blessed their home with a very "happy" fighting and slapping, and everyone were sent to college!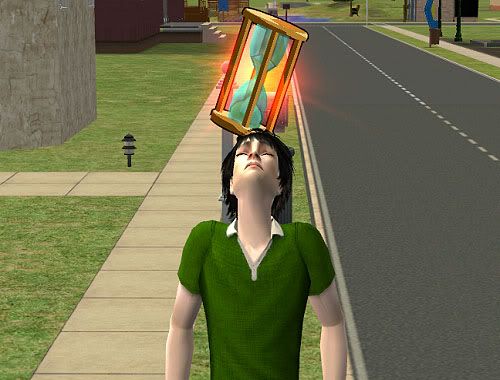 We start this update with Carlos inhaling the air of his own failure.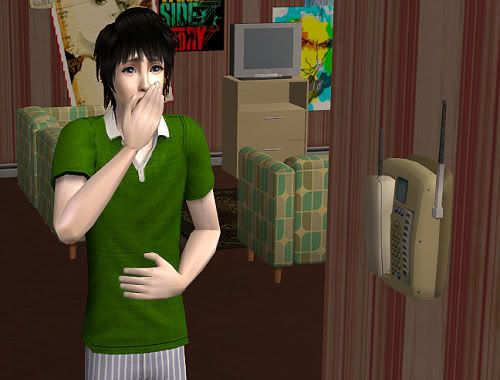 And then he go all the way inside just to complaint about the cheap phone. It's not like you'll be using it 24/7 like everyone in real life nowadays!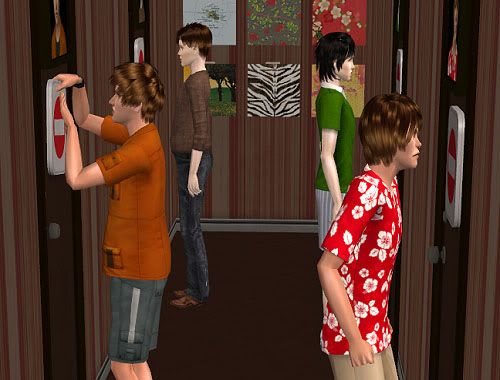 Here's the boys' room.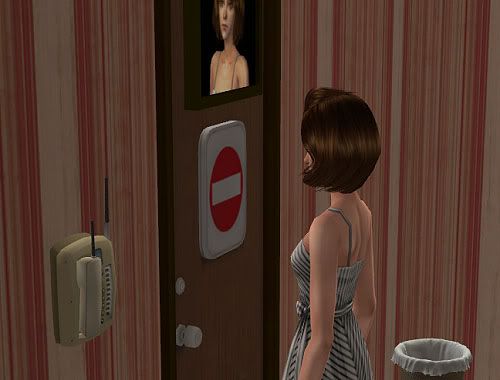 And Collete got the room located in front of the male bathroom, so she can peeping on other delicious boys while they're taking a bath.
Moving on to the kids makeover!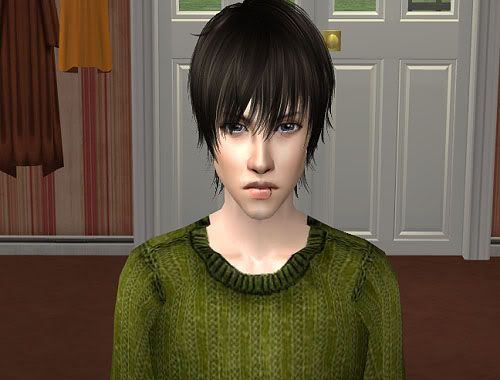 Here's Carlos, as the Gen 3 heir.
I can't decide between him and nicefreak!Lukas, but Carlos's genes is quite different than the others, so after a lot of thinking and pulling daisy petals one by one, I chose him.
And while Collete was getting a makeover, he was making angryface behind her.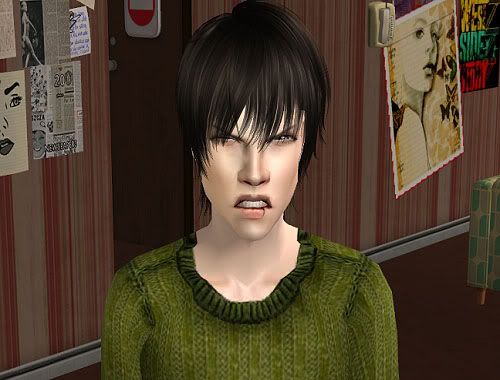 Carlos:
So she thinks she's pretty now? >:[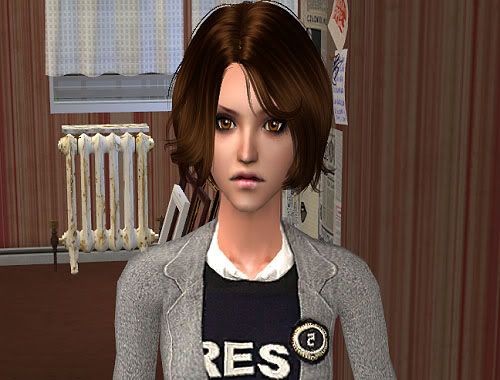 But ... YES SHE IS! *love*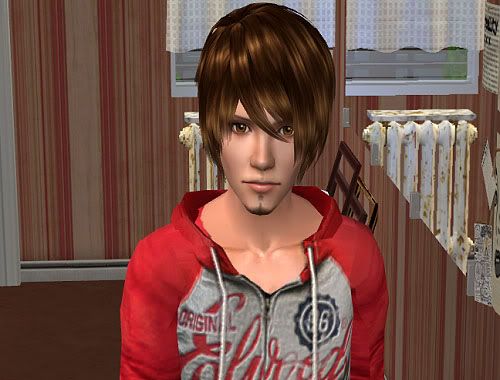 Micah got a facial hair, because it looks good on him.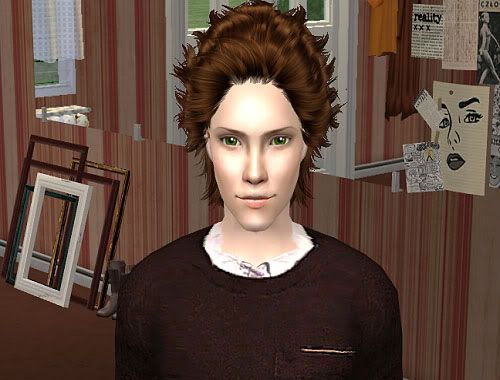 Ooo ... Russel has definitely got rid of his awkward long chin.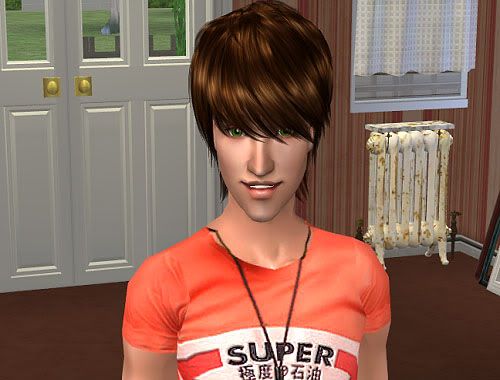 And Lukas is still Lukas *love*
Onward to their college life!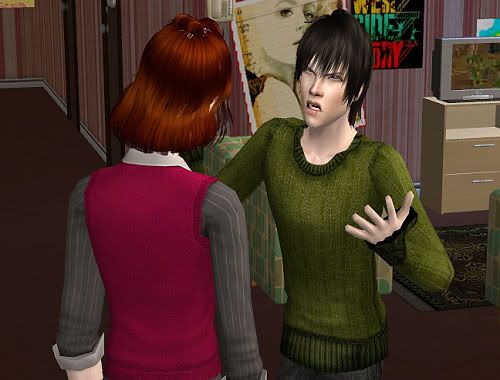 Carlos was pretty much having argument with ALMOST any sims he met.
Micah:
Excuse my brother, he just love to argue about pointless things because he thinks it's cool *laughs*
RedHair:
And I thought he was weird, turns out he really is! *laughs*
Carlos:
Tch. Haters. >:[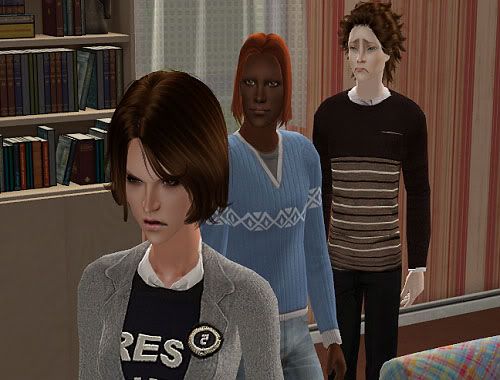 A nice line of facial expression is shown here. I don't even know what's going on.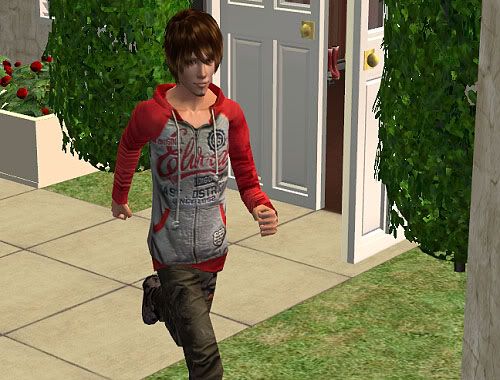 I rarely have any of my sims run to class, so when I saw one, I was really excited.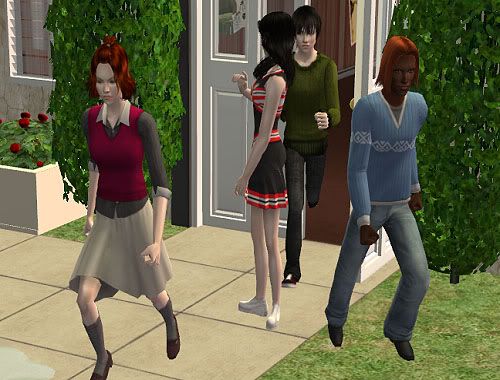 Except that it's not only one, but EVERYONE is doing it!
Cheerleader:
Oh hey, why is every-
Carlos:
Can't talk now. Busy running. Kthxbye.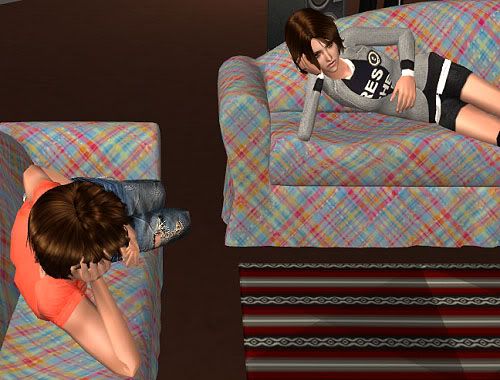 Except for this two who skip class and waste the time by doing nothing.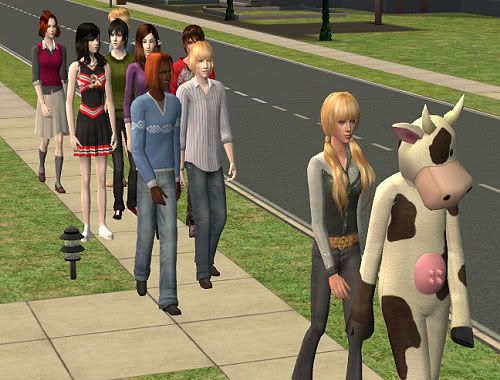 I like to imagine that the crowd is a kindergarten children following the cow mascot who'd promise them to show something fun to see.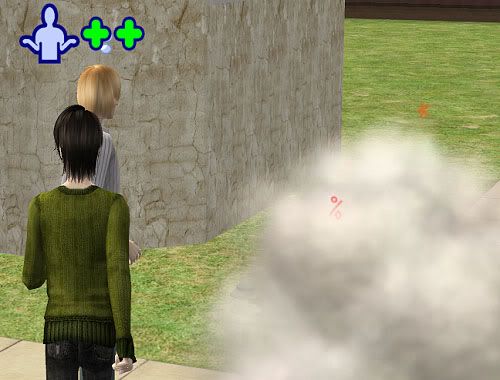 Unfortunately the "sightseeing" was ruined by a random fight.
Carlos:
Ohh, this is what I call education! *college grade increase*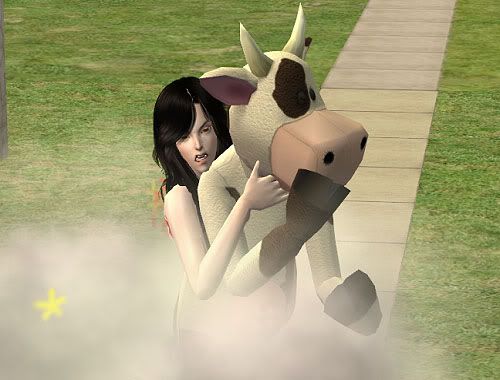 I'm not surprised.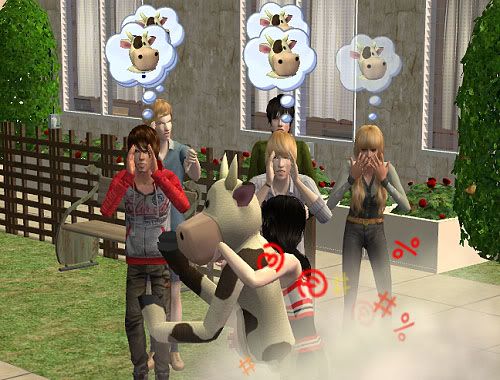 Evidence of my game spawning evil: 6 mean sims and 1 nice sims in one picture.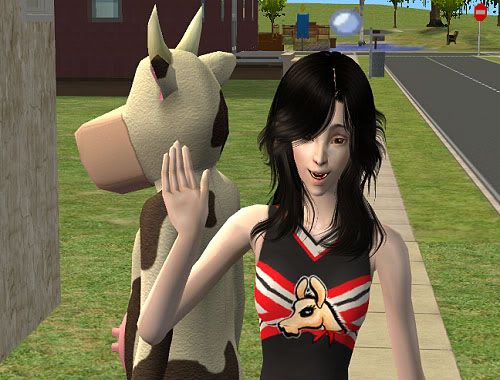 Cheerleader:
No worries everyone, your favourite cheerleader is the winner and unharmed! *waves*
Cow mascot:
*curses under the suit*
Spotted: RedHair swooning over Micah.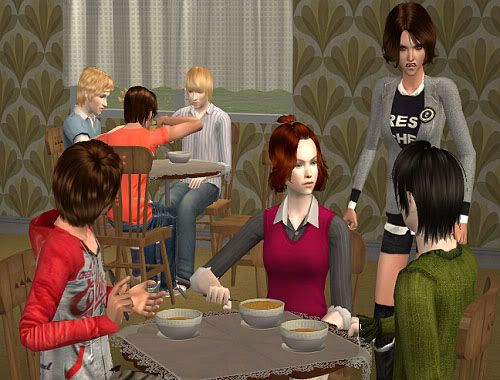 She then join them during lunch only to feel an aura of angryface behind her.
Collete:
SINCE WHEN DID YOU BECOME POPULAR WITH THE GIRLS?!
Carlos:
Because I'm awesome. Look, even the sloppy Lukas have someone to sit with.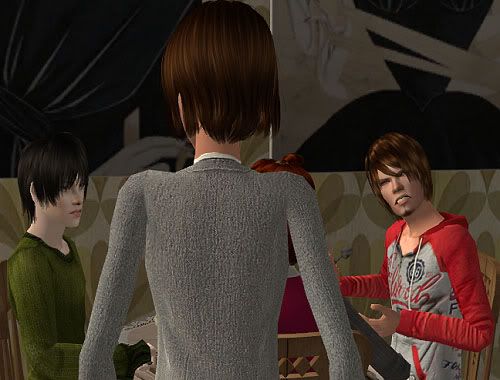 Micah:
Will you stop showing your angryface in front of me? It's contagious!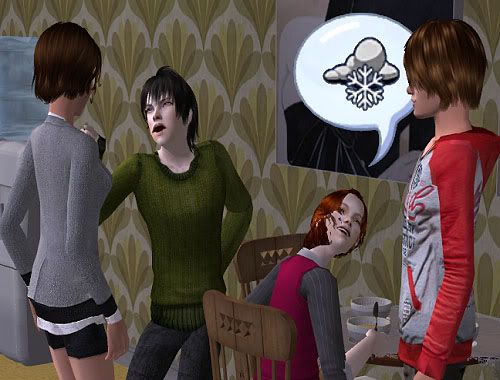 Too late. The angryface virus has already infected Carlos.
RedHair:
The way you siblings acting cold to each other is so cool!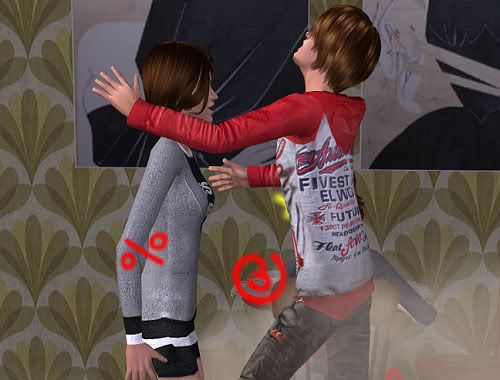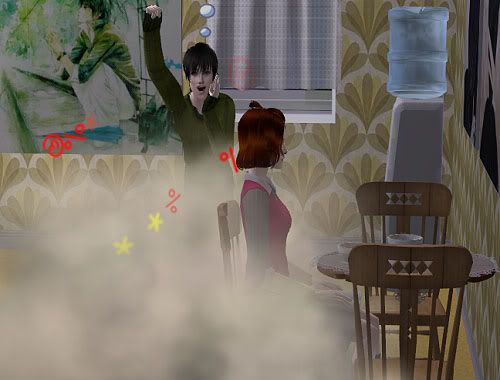 Is that still looks cool to you? Hope you enjoy your dusty lunch, Miss RedHair.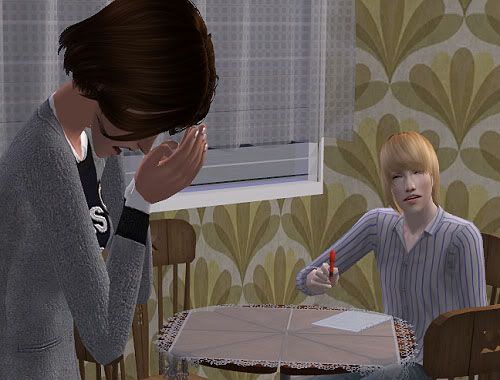 Collete:
BAWWW!
BiebClone:
Uh, excuse me. Would you mind crying elsewhere? I can't focus with my homework.
Collete:
*sad face*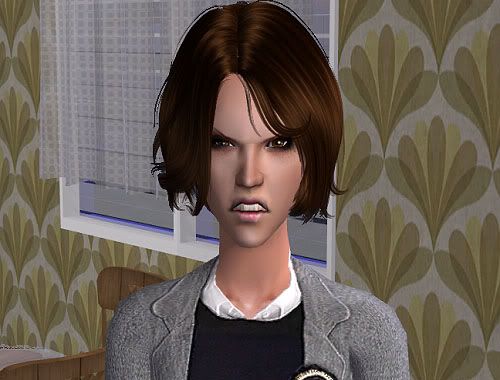 Collete:
*angryface*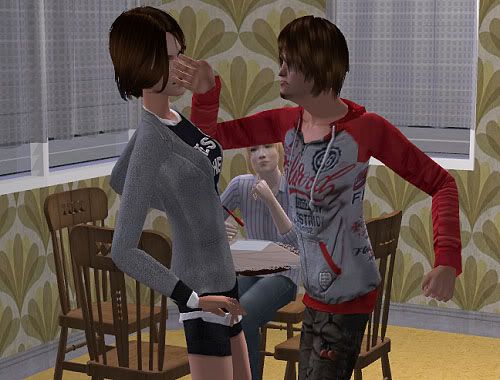 Micah:
I told you to STOP making that face! *slaps*
BiebClone:
Um ... guys.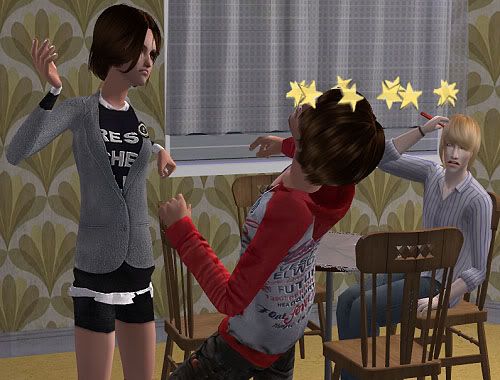 Collete:
Eat those goddamn stars!
BiebClone:
If I can't finish this tonight, I rather stabs myself with my pen rather than finding other peaceful place to do my homework.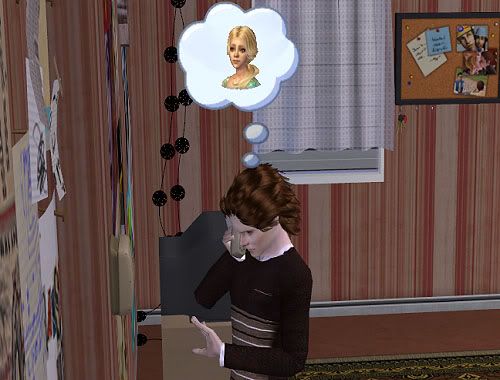 Meanwhile, Rosalind call them for any juicy news regarding their life there.
Russel:
Same as always, fighting and stuff, nothing new really. *checks nail* And I think I need a manicure, mom.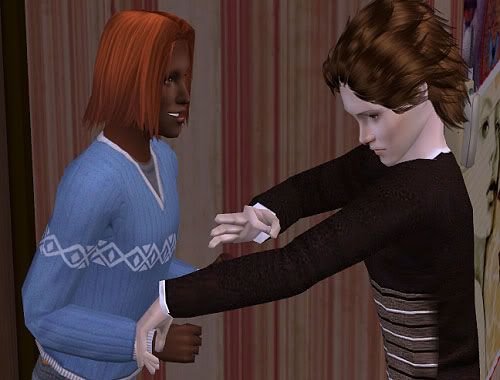 BlueSweater:
Did you just talk about manicure with your mom? What did she say? Did she know any good place for it? Bring me too, please!
Russel:
Oh look, there's a dust on my clothes.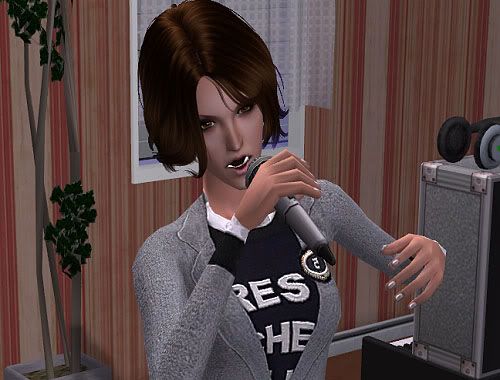 Upstairs, I found this.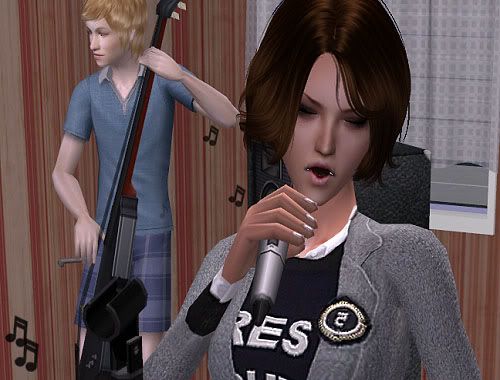 As pretty as she looks while singing, her voice is awful.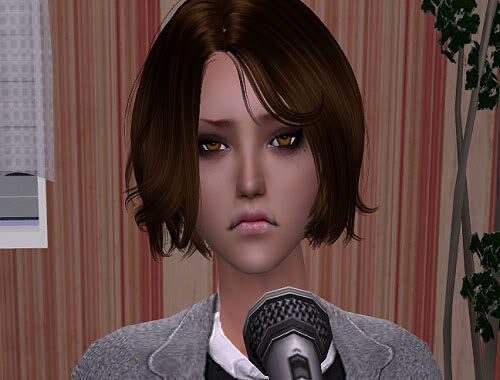 Just a spam because she's pretty.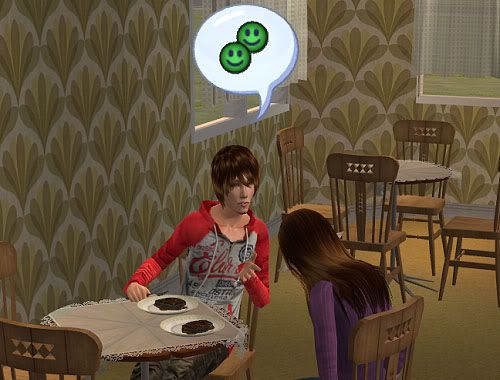 Micah:
So, do you want to be my best friend?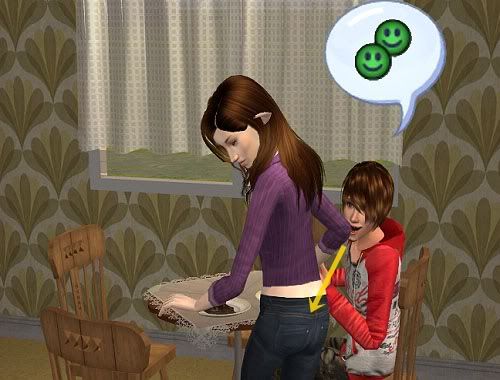 Micah:
Y'know, with benefits! *checks ass* Oh, that ass looks wonderful!
ElfEar:
No and goodbye.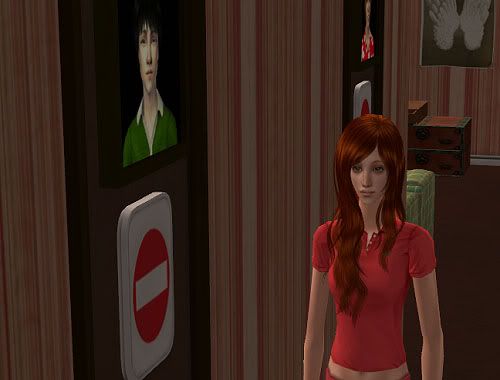 This girl looks like she's interested in Carlos. She was standing there, waiting for Carlos for hours.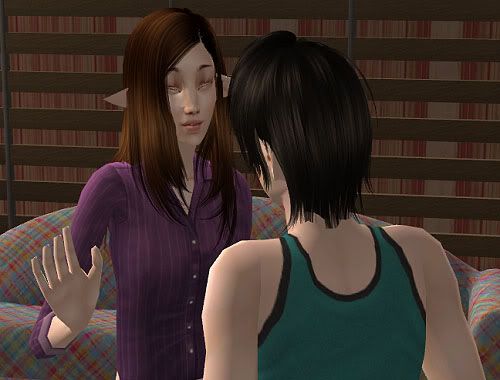 So I sent Carlos to talk to the elf-ear, which didn't end up well.
ElfEar:
I'm not interested in you. A man who let a girl waiting for him for hours? Definitely a no-no.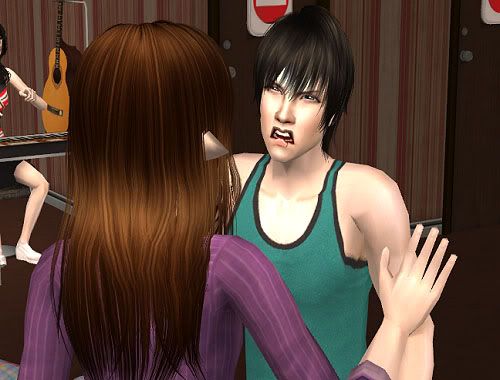 Carlos:
HOW DARE YOU REJECTED ME AFTER I WALK ALL THE WAY HERE FROM DOWNSTAIRS! I EVEN WEAR MY PRETTY GREEN PAJAMAS! LOOK, STARE, WANT ME!!
ElfEar:
Just ... stay away from me.
They still run everytime they go to class. It's cute.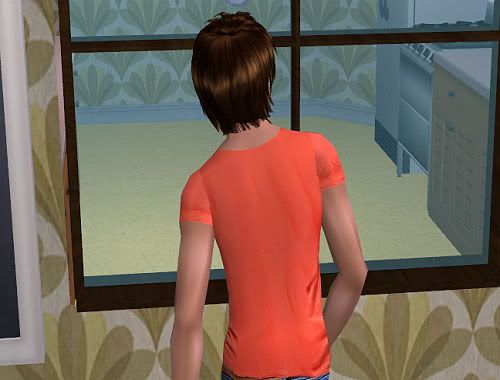 Oh Lukas, if you want to make sure the kitchen is clean, you can just go there and check it out rather than peeping through the window.
Yeah, he's been cleaning dishes and counter and sink and practically anything dirty in the kitchen. He's the GUARDIAN OF THE KITCHEN.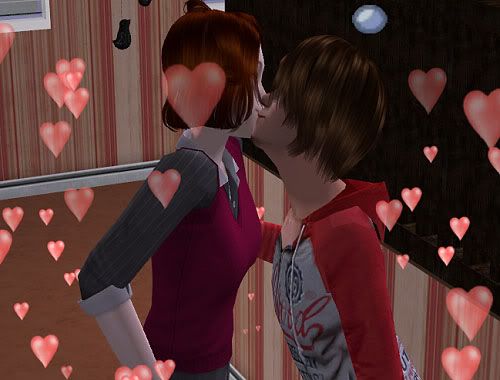 ACR finally decided to step in and playing cupid in the dorm.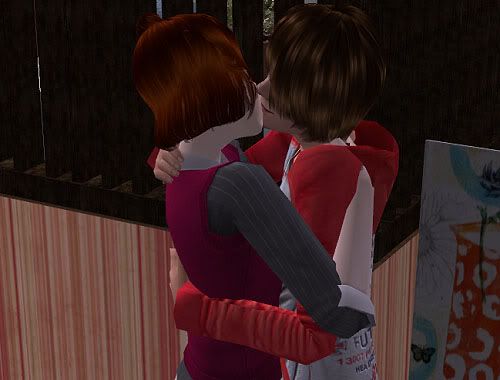 They'll make a cute couple. Only if they're able to stay loyal to each other till the day they graduate though.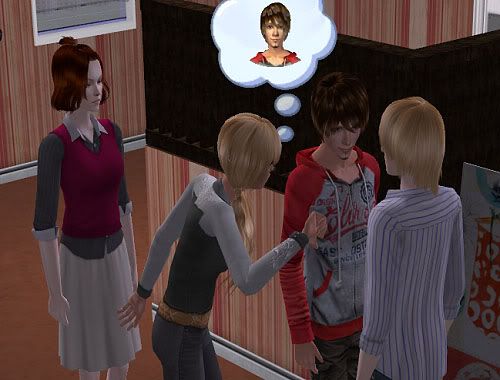 Thank you for your opinion, blondie. I'm sure Micah will appreciate it, getting thumbs down right on his face.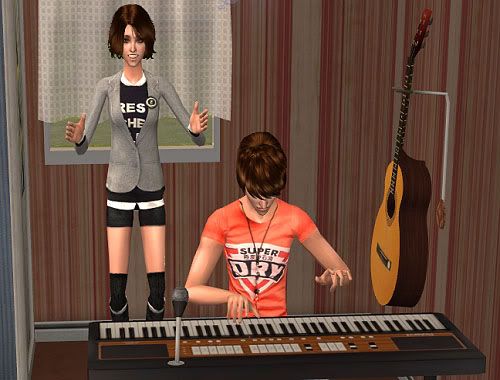 I just thought this was cute.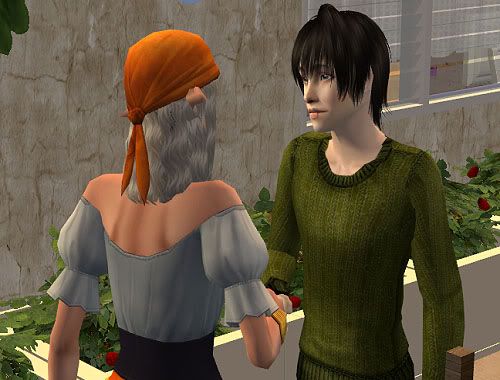 Better get started finding a spouse for Carlos!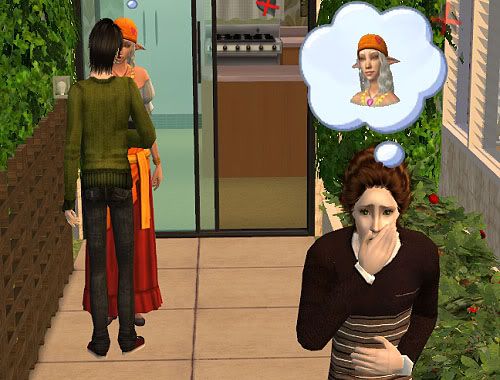 Russel:
Ugh. Don't tell me he's going to date the matchmaker. Disgusting. I'll never approve.
Carlos:
Hurry up and give me someone! I don't want everyone to think that I've been dating you!
Matchmaker:
Just think of the money. Yeah, the money.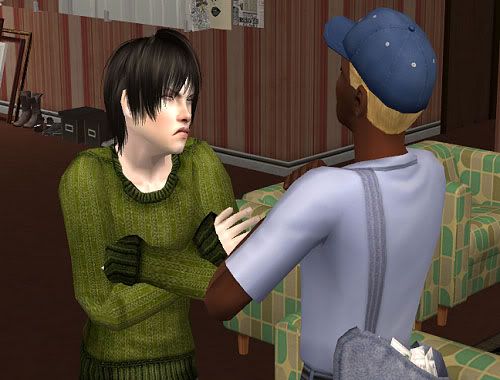 Aannd she gave Carlos the mailman, which didn't amuse Carlos at all.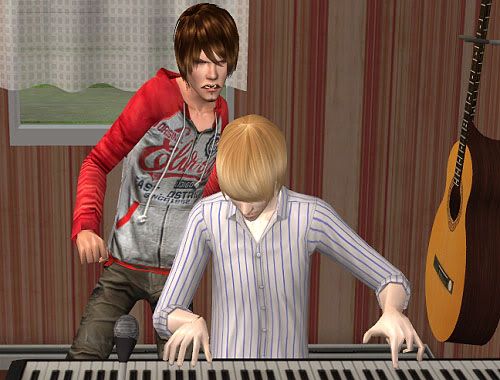 Meanwhile, upstairs, BiebClone tries to improve his piano skill, so he can become a real superstar without having to impersonating Bieb anymore. Too bad, Micah doesn't think well of it.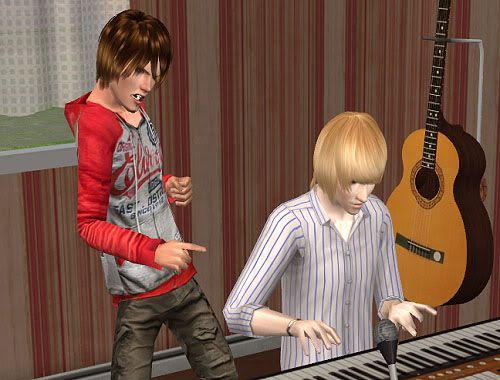 Micah:
The tune is wrong! Look at the script, it says G key! Not A!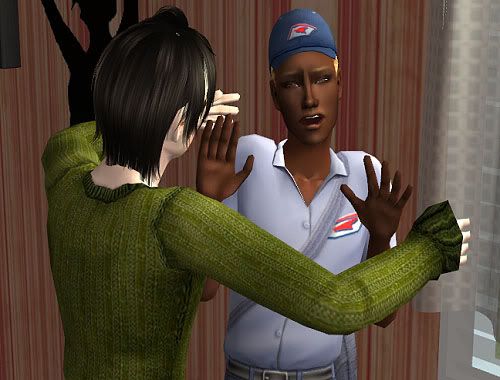 Back to Carlos's date. It still didn't go well. Damn you ACR, where were you when I need you?!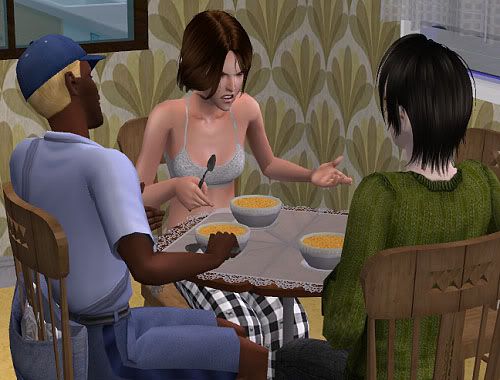 Collete:
NOW YOU'RE EVEN POPULAR WITH THE BOYS? OH SO FUCKING GREAT.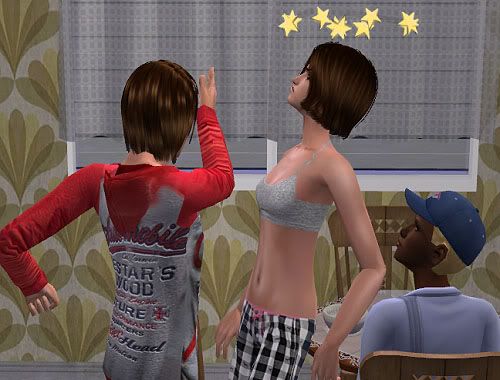 Fun fact: Everytime Collete makes an angryface, Micah will be there to slap the stars out of her.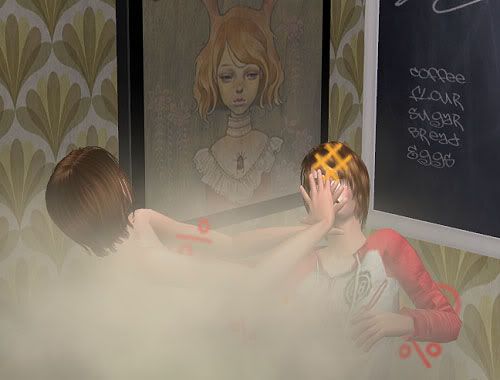 Collete & Micah:
*fightingfest*
Audrey's painting:
FML.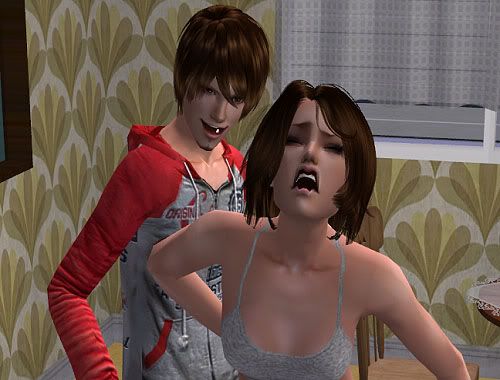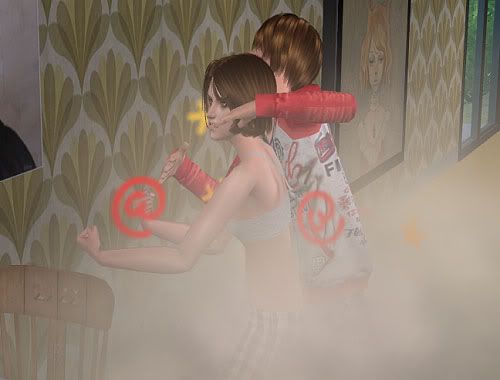 There goes the second round.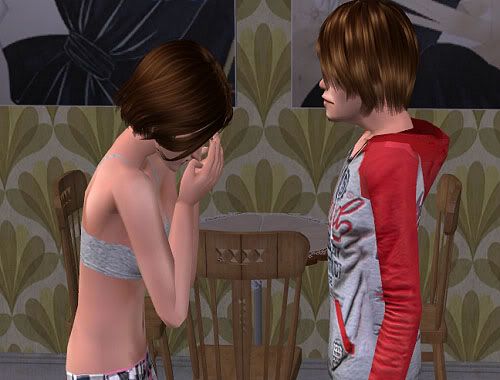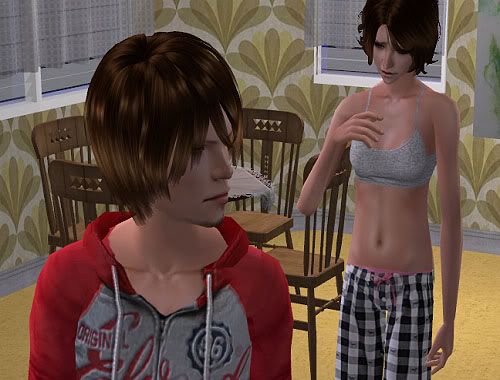 Only when she cried that he finally stop fighting with her. Tears. It's a woman's best weapon.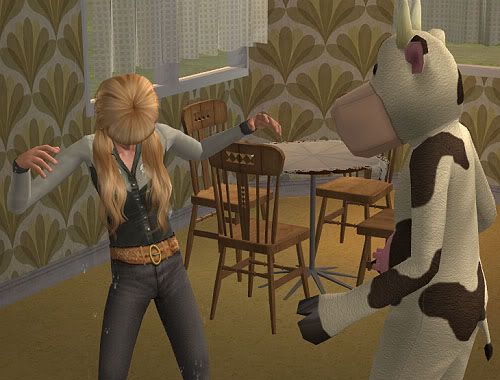 The cow mascot is back, and he didn't waste any moment to play prank on everyone.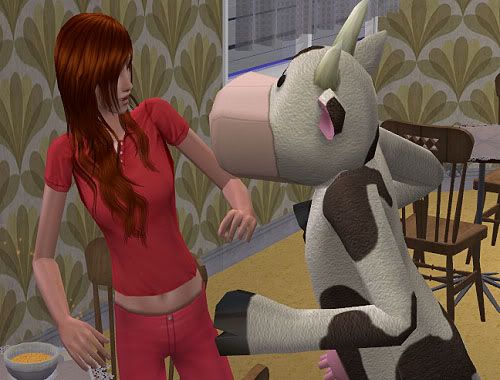 As well as picking a fight with them, especially the girls. Such a bully.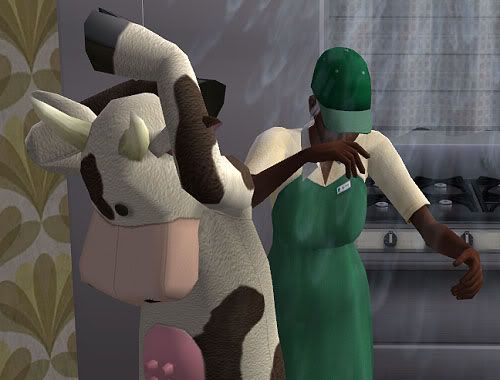 Also, bullying the cafe lady at the kitchen. I swear, he love to annoy the girls in the dorm.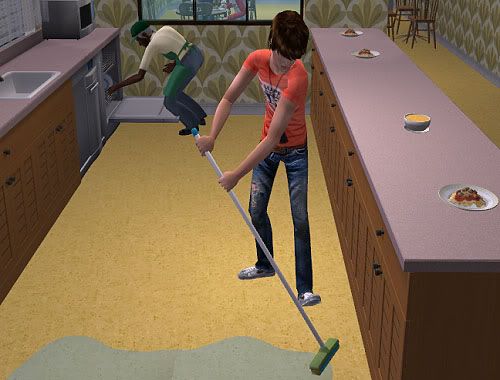 At least, Lukas the kitchen guardian is there to clean up the mess.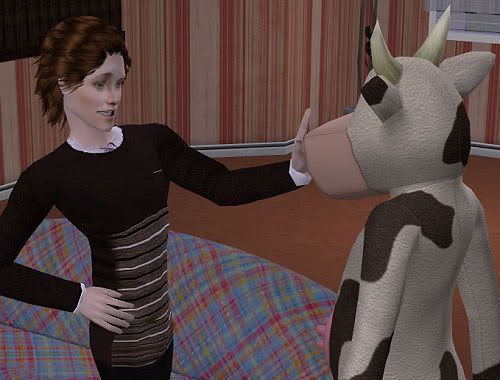 Now you know why he only annoy the girls, it's because he has the things for guys. Though his flirting attempt was rejected by Russel.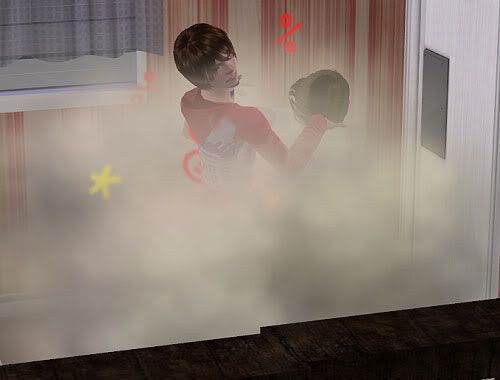 Nothing new here. Moving on.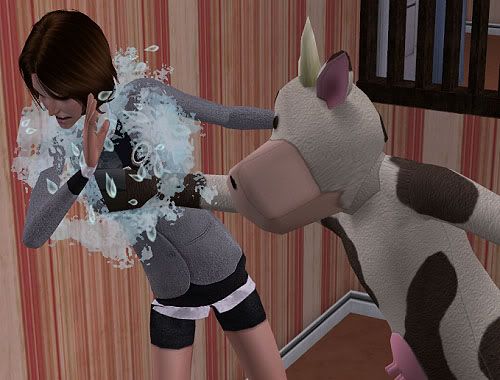 You probably don't want to mess up with Collete, she's the fiercest girl in this dorm.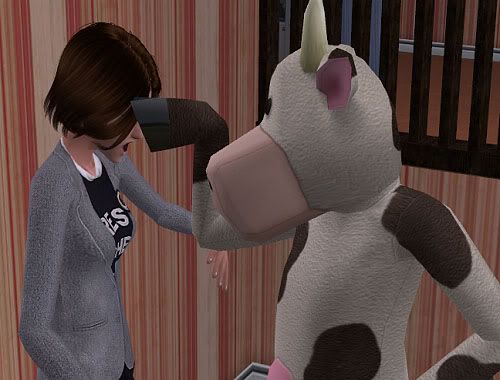 Cow, you're so going to regret this later.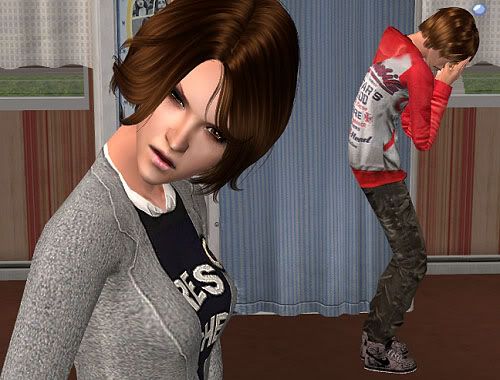 Collete:
A man his age. Crying? Tch. A disgrace to our family.
BlueSweater:
Oh, are you here to study? I know a good book to-
Collete:
Shut up. You disgust me so much I can't even look at you. Stop talking to me.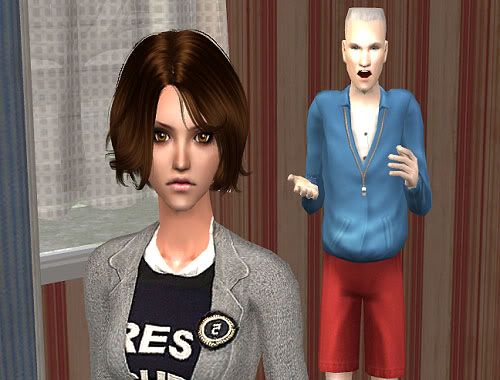 And then the coach came and told her to work out, though Collete didn't care and just walks away.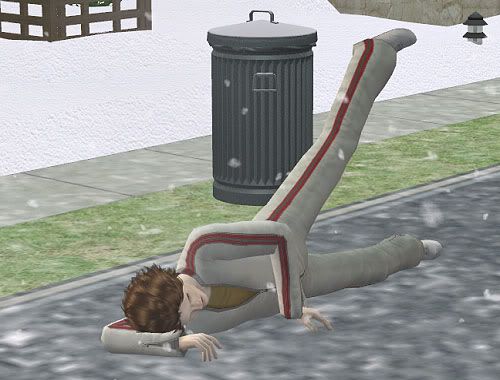 However, he managed to caught Russel and told him to exercise outside. On the road, while it's snowing.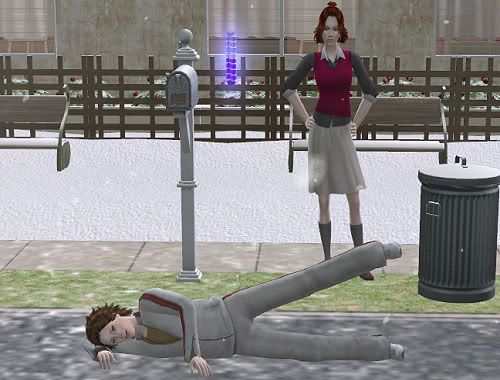 The coach then left, and he'd asked RedHair to keep watching over him.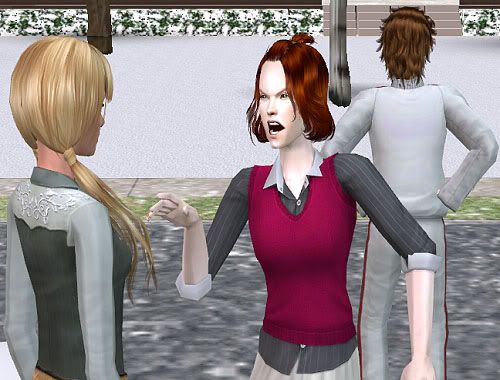 Blondie:
Hey, I want to-
RedHair:
NO! I WILL NOT ALLOW ANYONE TO TALK TO HIM!
Blondie:
But ... It's snowing.
RedHair:
IF HE'S A REAL MAN, A LITTLE SNOW WON'T DO HIM MUCH HARM. NOW GTFO.
You know, you should really be worry about yourself, seeing that his clothes looks more comfortable for snowy environment than you. Just saying.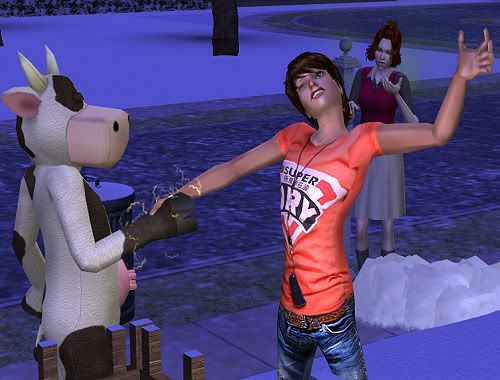 The cow mascot finally accept the fact that boy = girl, so he's starting to annoy them too. And RedHair does not approve, she even lectured him for that mischievous behaviour.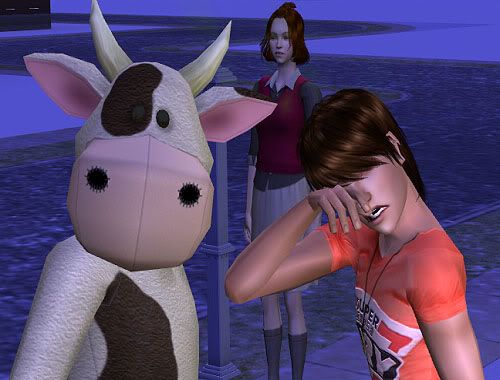 HOW DARE YOU MADE LUKAS CRY!!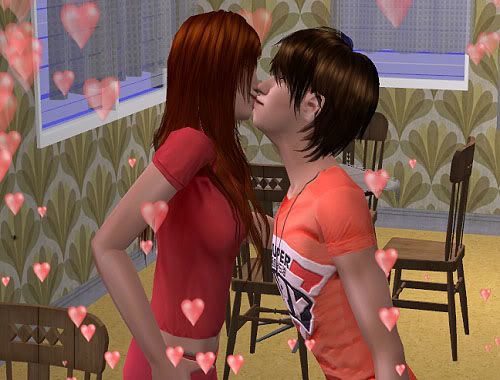 At least, he's been comforted by a kiss from the RedLady.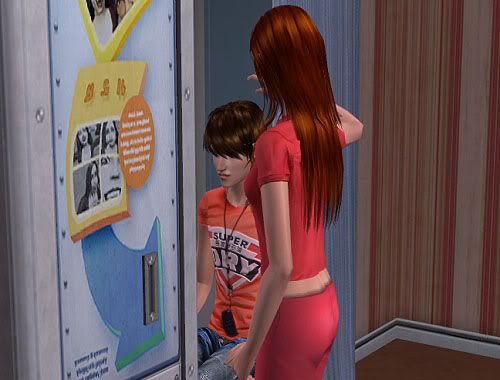 As well as by her body.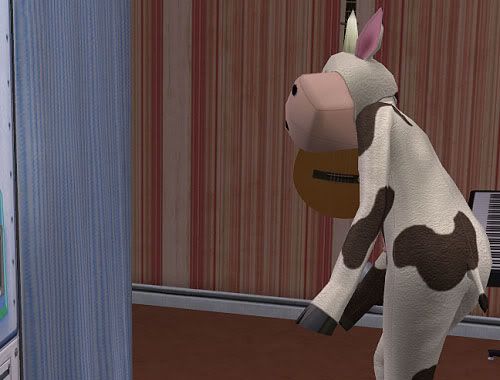 Cow mascot:
... I should've brought a video recorder.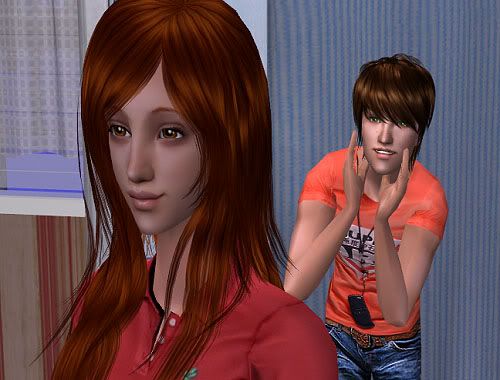 Their feelings: happy and proud.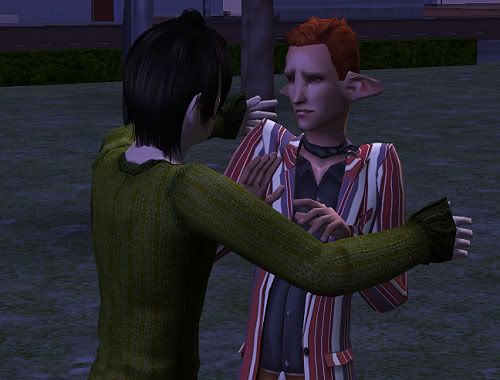 Meanwhile, Carlos is trying to become friends with this delicious elfie, though he didn't looks like he wants to. But yeah, if I were him, I wouldn't want to be near a random guy who's trying to hug me out of nowhere.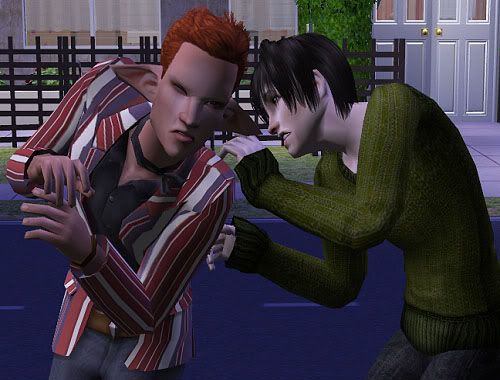 Thus, an angry-tickle-face was born.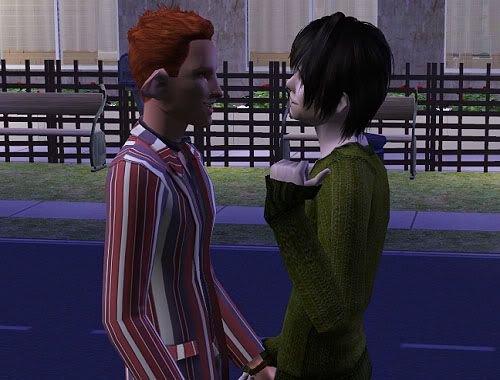 After a while, he finally agree to go out for a date with Carlos.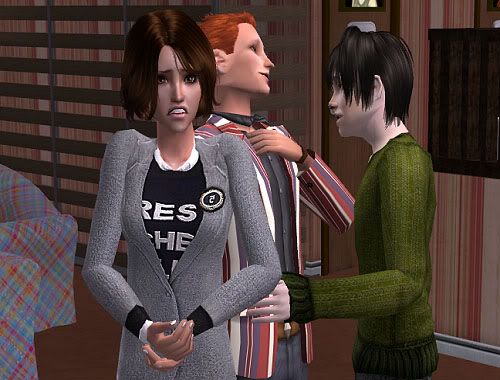 Everything seems to be working well. Although Collete doesn't look too happy with it.
Collete:
He got another new boytoy?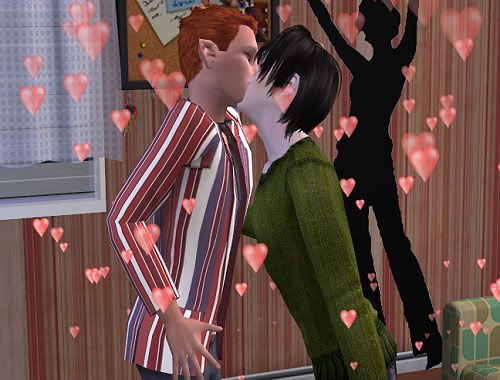 First kiss = smashing you lower part of your face together.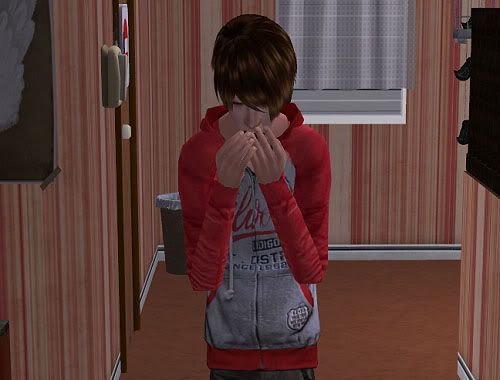 And I heard someone crying, turns out it was Micah. After I checked his memory, he actually just lost another fight with Collete. But not only that, he also had his virginity taken by the RedHair. And I MISS IT.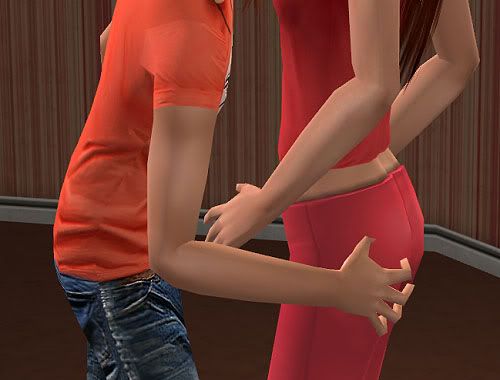 Lukas also have been quite a naughty boy with his RedLady.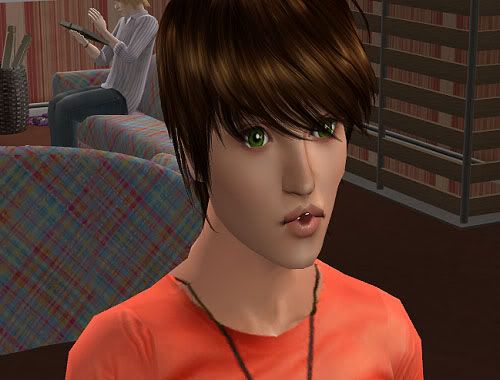 He also makes the cutest kissy-face ever.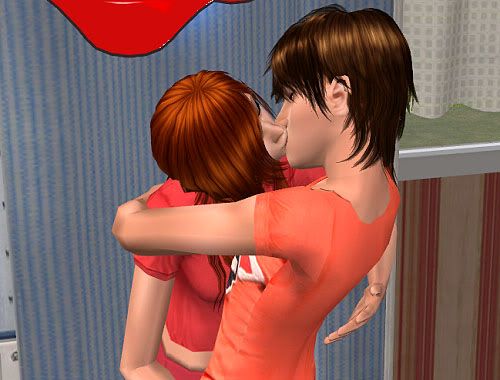 Everyone grow up so fast. *sobs*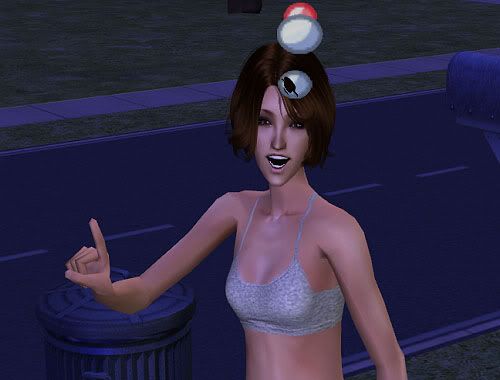 Collete also have someone that she's actually attracted too.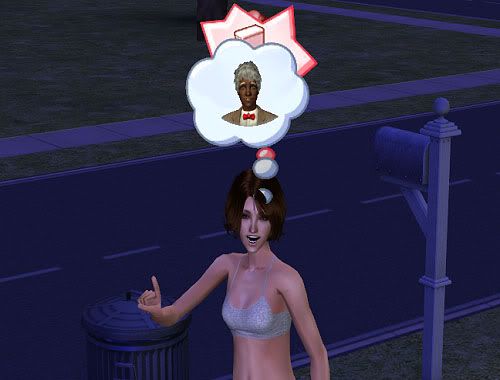 Apparently it was her professor. And just by thinking of him made her bladder needs goes all the way down to the red.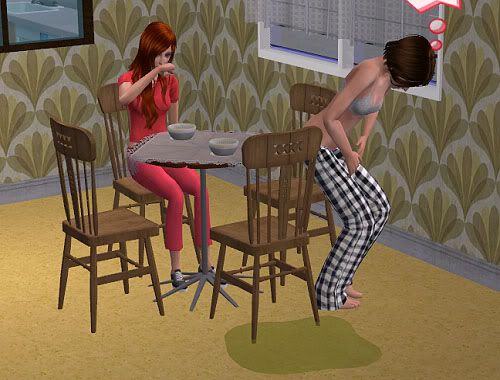 Oh, Collete. Thank God the professor didn't live in the dorm, or you probably will
wet
pee yourself everytime you see him.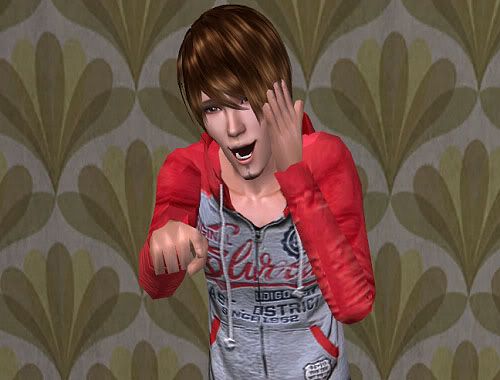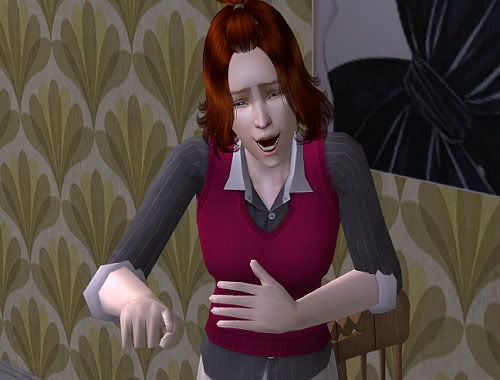 Now I know why you two are fated for each other.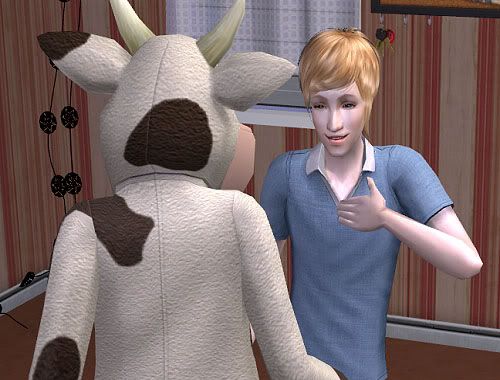 And the cow mascot is still the same as ever, though the blonde there seems to enjoy being poke in his nipple.
BlondeGuy:
Wow, nobody has ever touch me like this. More please!
More fights!
Carlos:
What song you guys want me to play while you're at it? Beethoven? Chopin? Mozart?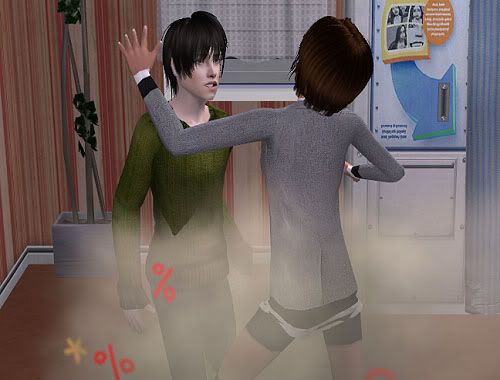 Collete:
FUCK YOU! I DON'T EVEN LIKE CLASSICAL MUSIC!

And then I got a pop up.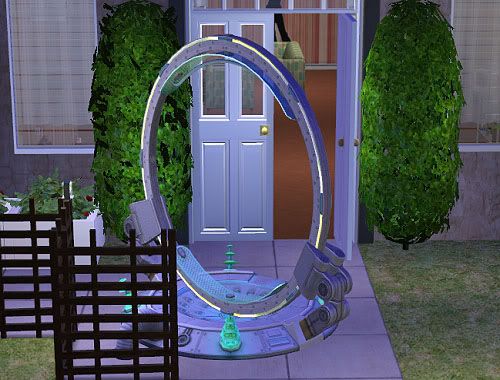 Why, thanks. Next time give something that can be fit inside this small dorm.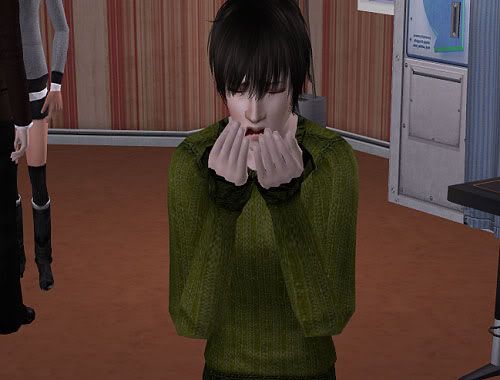 It seems that Collete's win.
Carlos:
IT'S BECAUSE SHE SAID SHE'LL BREAK THE PIANO IF I FIGHT BACK! MY CLASSICAL MUSIC! *bawl*
You're actually a sports sims you know. Go do something sporty for once.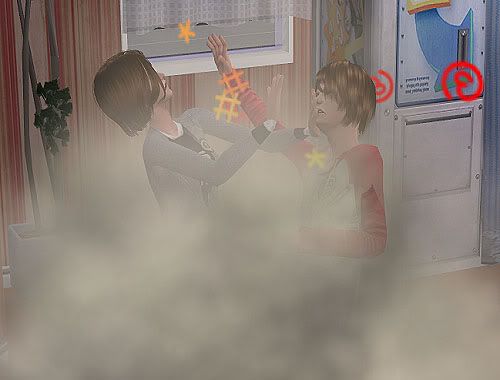 Once they start fighting, they'll never stop. *sigh*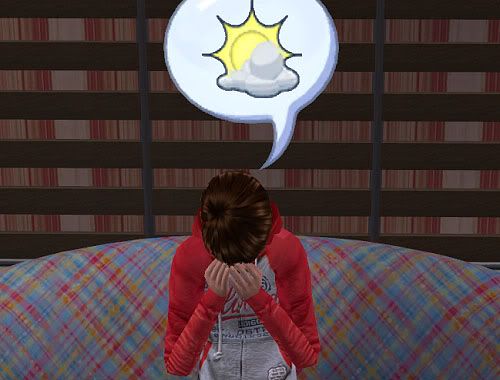 Micah:
Give me back my sunshine!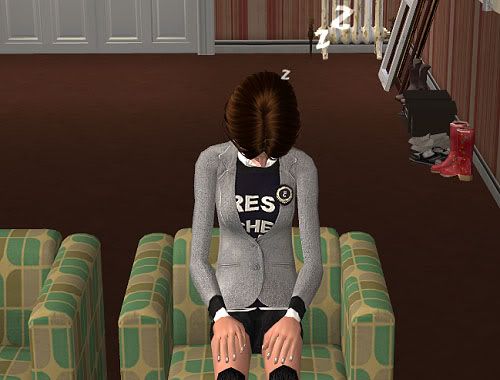 I never seen any sim other than elders do this. Collete, you're really something.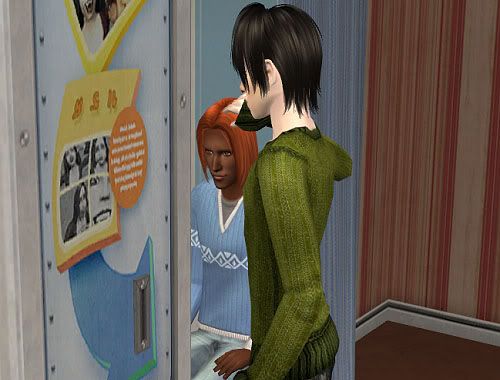 Someone is going to lose his virginity~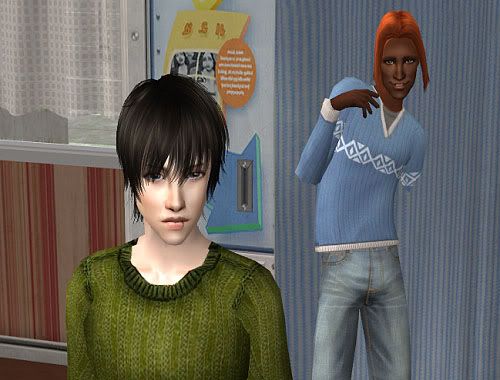 So how was it?
Carlos:
*pokerface*
BlueSweater:
It was awesome! *swoons*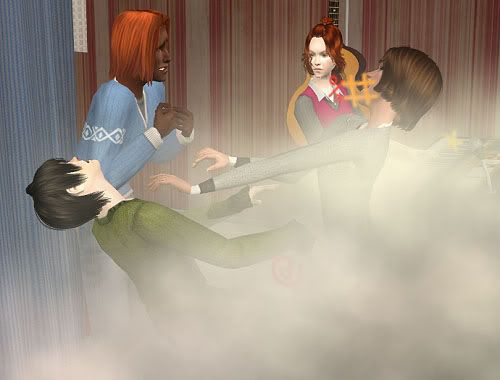 This time, it was the RedHair turn to play classical music during a fight.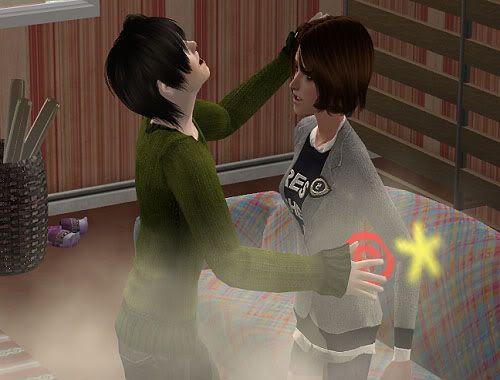 Uggh. So many fights.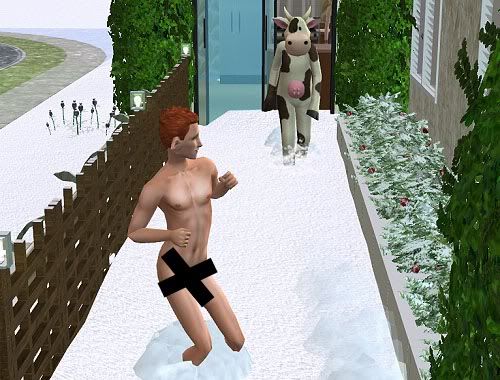 What is this, I don't even ...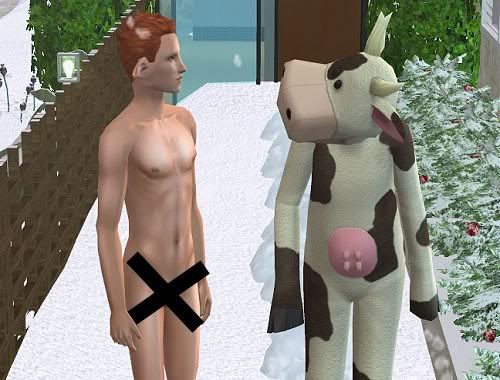 CowMascot:
Don't give me that look. I'm not gonna lend you my suit.
Apparently, the elfie-boy is actually a streaker. Interesting. I never had any of my sims marry a streaker before. I've read a lot of funny story about them, definitely gonna have him in this legacy somehow.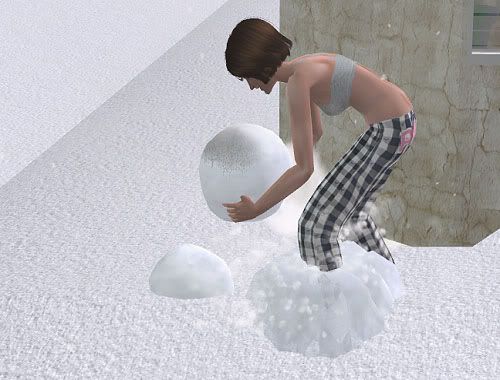 It's time for snowman building spam!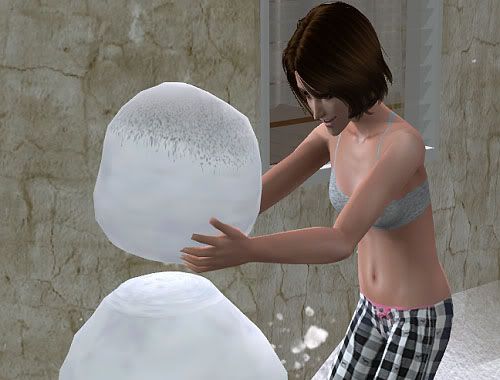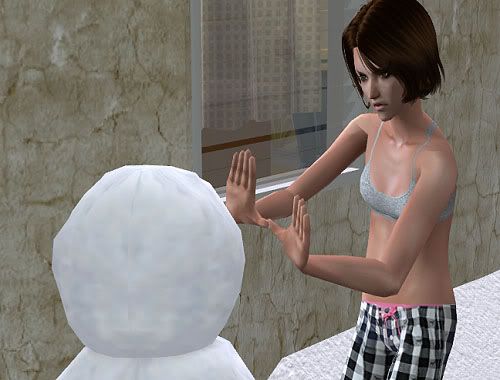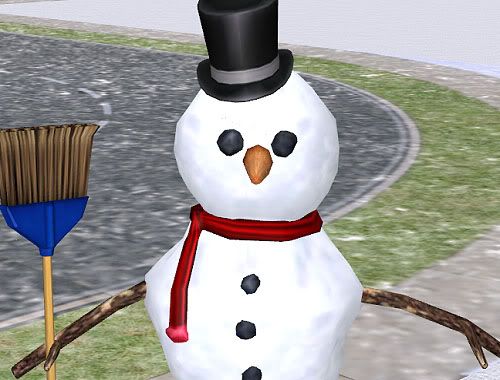 /end spam!
The finished product wasn't expected though, I thought she's going to build an evil snowman.
I see the sign of mental problem.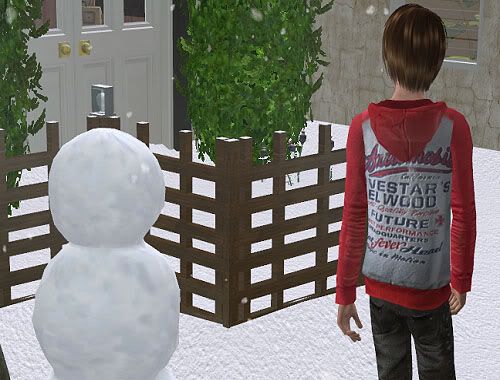 Micah also build a snowman, but he never finished it, because he was struck with an ADD.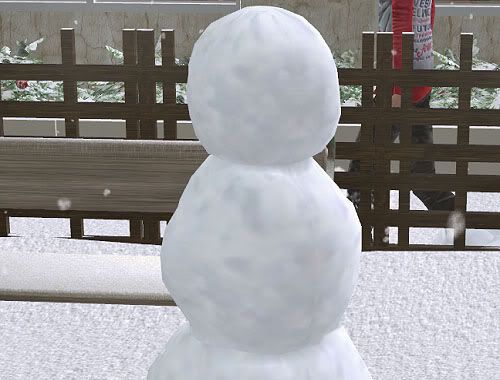 So I named him Mr. Empty-face.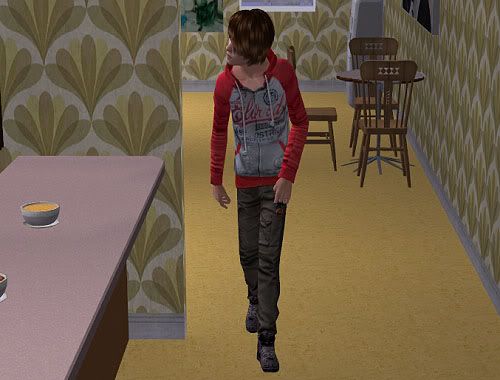 He also glitched himself while looking out the window, and the animation stuck on him.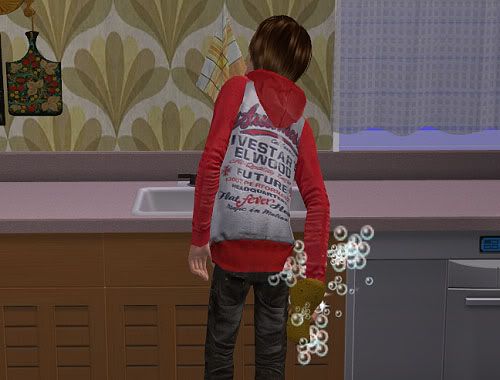 Not even cleaning the sink can fix it.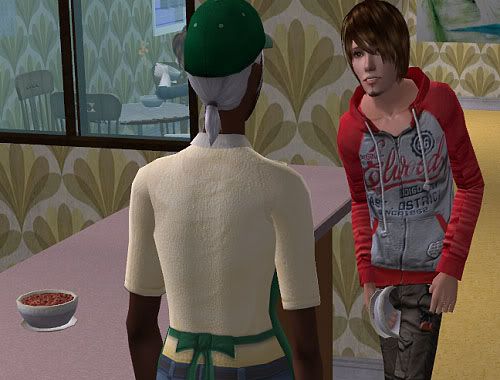 Lol at the bowl on his crotch. This is why you shouldn't be cleaning when you're glitched.
Sleeping outside in a bench covered with snow, dreaming about your lovely professor, near an empty-face snowman ... doesn't looks all that wonderful to me.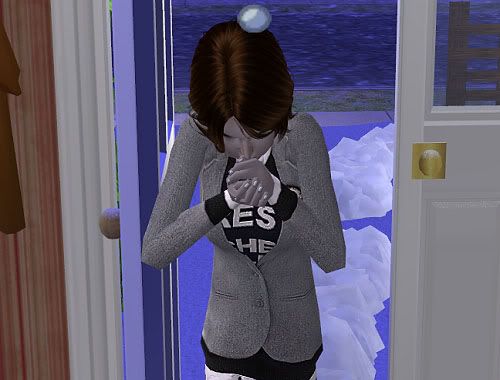 I hope you learn your lesson.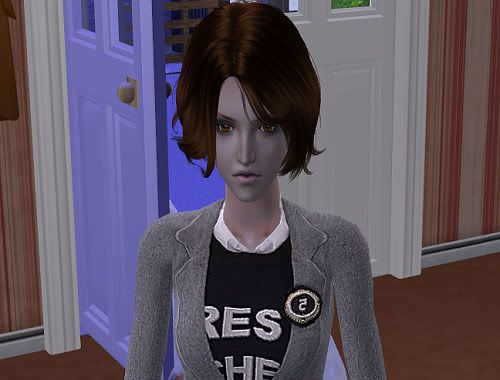 She looks good in that frozen state, like a vampire. Maybe I should turn her into one someday.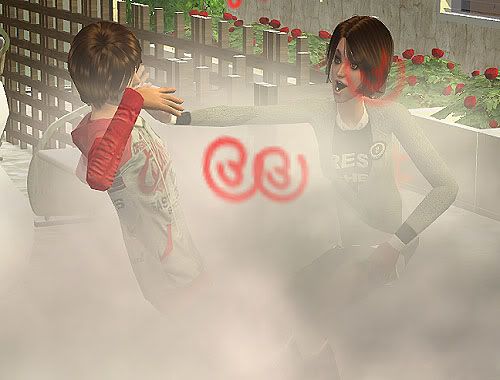 They were fighting way too much that they no longer care about winning or losing, all they want is to enjoy it. Look at that smile.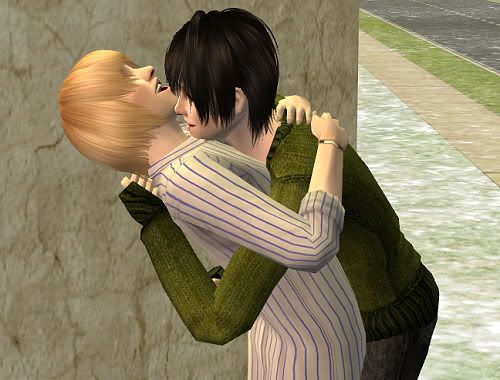 BiebClone also was unable to resist Carlos's charm. Thank you Carlos, for making it's hard for me to choose your spouse.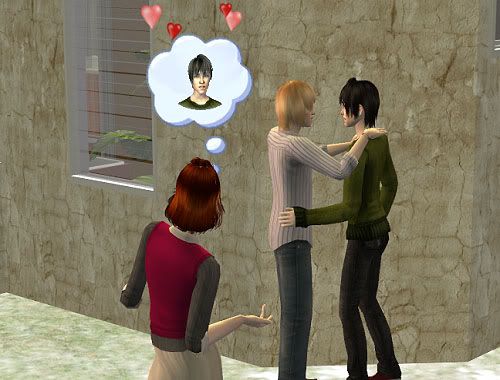 Looks like Micah's girlfriend would also love to hit on Carlos.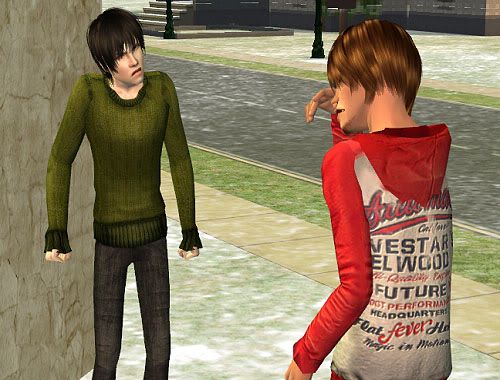 Micah:
Don't steal my girlfriend, please. Sobs.
Carlos:
I don't even want her!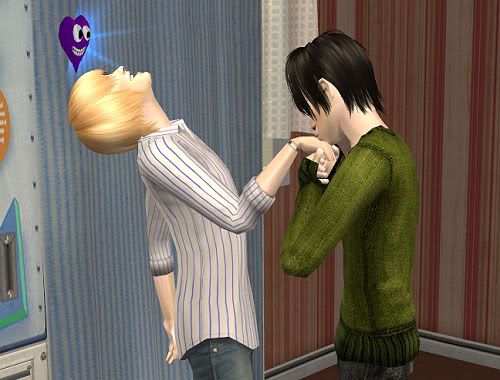 Horny. They are.
Friends with benefits. I see.
I've play them until the end of sophomore year, and all of them had their aspiration changed. So hopefully, some more exciting things will happen in the next update. Now, enjoy this fail picture of Carlos dancing: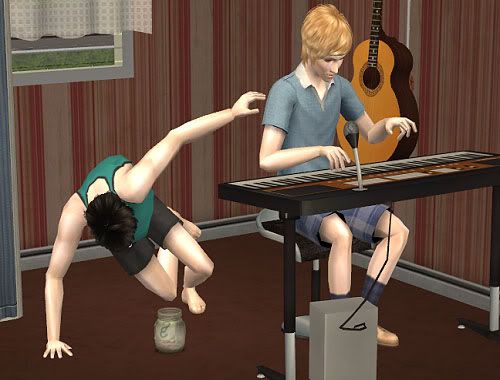 That's all for now, and I'm sorry if there's any typo, I'm really tired when I was writing this. Anyway, thanks for reading!
Current Legacy Stats:Torch-Holders(founders/heirs):
3
Perma-Plat Sims: 1
Shrink Visits: 7
Social Bunny Visits: 4
Fires: 4
Self-Wettings:
25
Pass-Outs: 34
Fights:
61
Deaths: 2
Social Worker Visits: 0
Alien Abductions: 0
Current Mood:

tired

Current Music:

Asian Kung-Fu Generation - Flash Back