129 jpgs under the cut.
Last Update:
Birthdays, pees, lots of passing out ... and the founder died :(
We start this update with Lukas falling asleep in the most convenient place within the house.
Lukas:
Would you please tell her to stop gaming? I need to sleep.
Russel:
Aannd ... Why in the world do you want to sleep here?
Russel:
Learn to use the bedroom, will you? >:[
Lukas:
There's not much difference between the bedroom and the living room ...
He's right.
Micah:
I'LL. BITE. ANYONE. WHO. STEP. INSIDE. THIS. ROOM.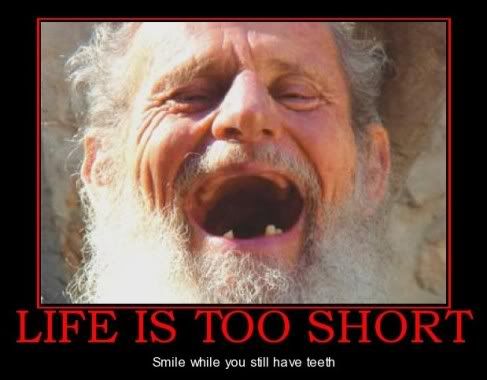 Is what I was thinking at that time. But then, after staring long enough at Micah's teeth,
this is what I feel.
Why don't you sleep in the other 3 bedroom?! Why did you have to pick the noisiest place full with gaming sound?!
Not to mention the extra sound made by your brother!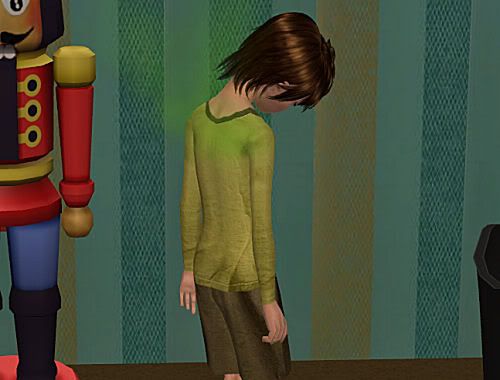 Then he go to the bedroom just to pass out standing again.
At least it's better than falling flat to the floor like this one.
And Micah is still having
nightmare.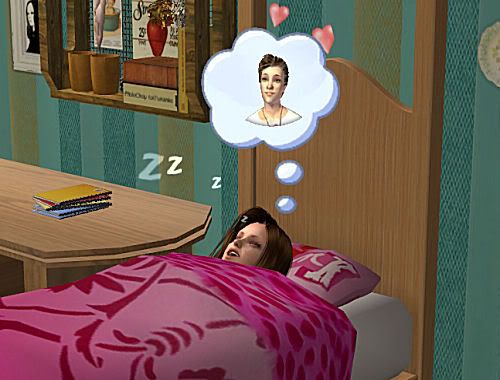 Heart farting over YOUR OWN DAD is not healthy!!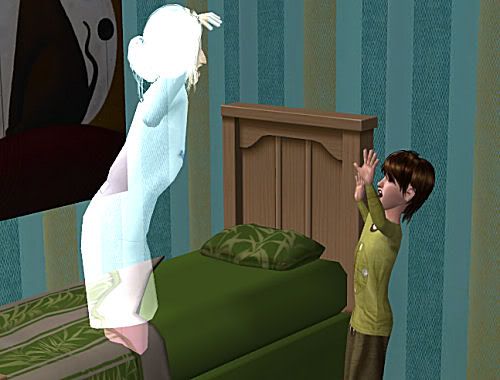 He finally able to find his own bed, and yet you have to ruin it?! GRRRR! Lizetteeee!!!
*sigh*
Lukas:
WHEN WILL I EVER BE ABLE TO SLEEP???!!!! BAWWWWW!!!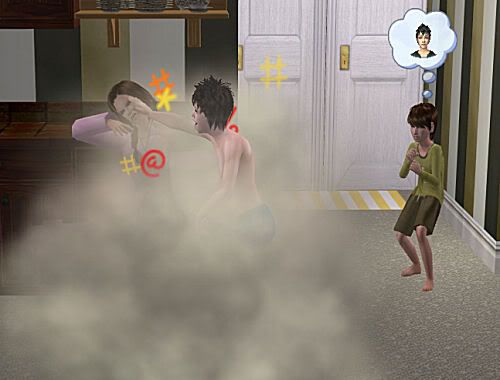 Peaceful sleep is hard to find in this house, not when there's fight with extreme dust every now and then.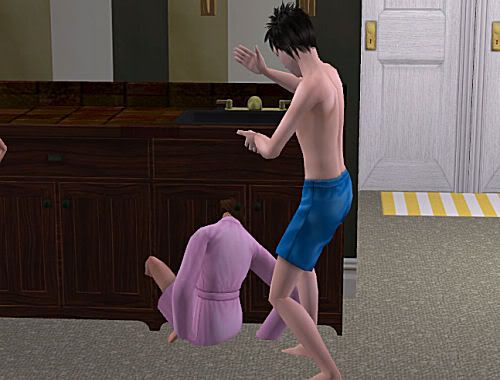 Carlos win almost 80% of the fights so far, I believe.
Collete:
JUST BECAUSE YOU KICK MY ASS DOESN'T MEAN I'M AFRAID OF YOU! *pokes*
Rosalind:
*is oblivious of the violence behaviour of her own children*
Hudson:
Why don't both of you chill out already and get along with each other.
Collete:
HELL NO.
Carlos:
OVER. MY. DEAD. BODY. >:[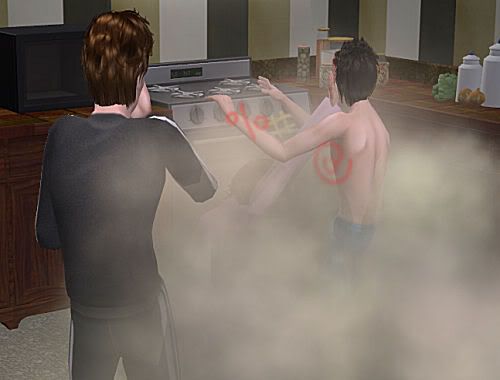 Hudson, you're one useless father. You can't even persuade them to stop ripping each other soul.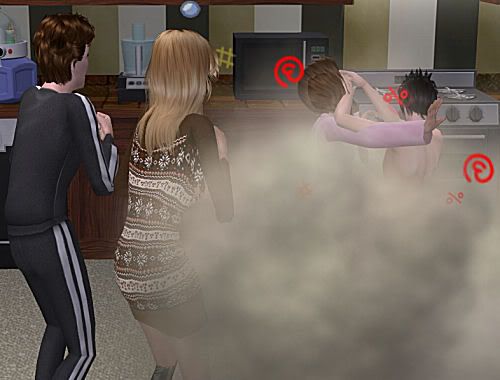 MAKE IT A PAIR OF USELESS PARENTS.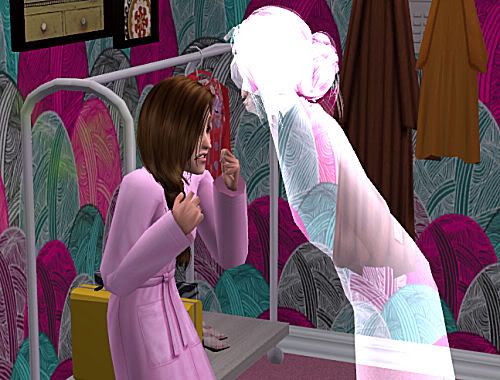 It's not like their grandparents is much better anyway ... especially their grandmother.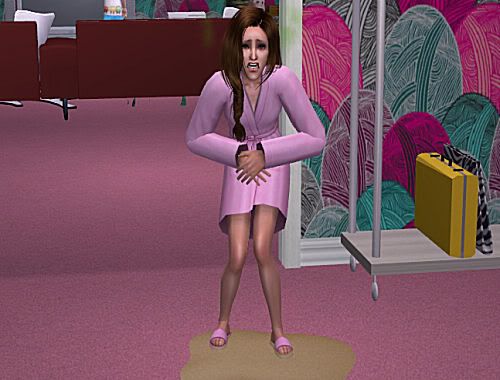 *sigh*
Lizette:
BAHAHAHAHA!! I CAN'T NEVER HAVE ENOUGH OF THIS SCARING THINGS.
Glad to know that you still have something fun to do even after you die.
One thing I learn from sims is that niceness does not apply for objects.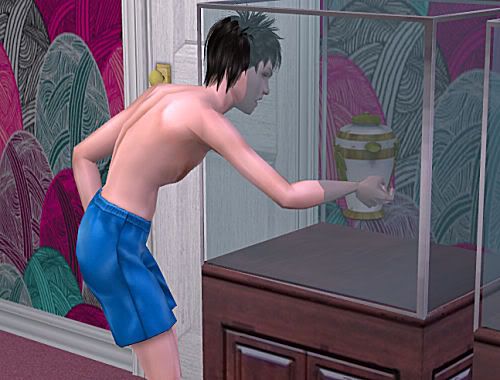 Who knows sims could pass through glassess just to grab whatever it is on the other side of it ...
... just to destroy it -_-" ... though I'm kinda glad he did it because after I put the urn inside the display table, I can't for the life of me get it out again.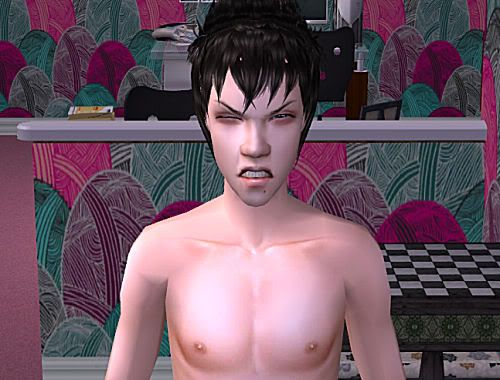 Thank you very much for taking out the ur-
Carlos:
I didn't do it for you >:[
Now, I just have to wait for Lizette's urn to be taken out from the display-case-of-doom.
Kitchen. Their favourite place to fight.
A once in the blue moon chances for the girl to win.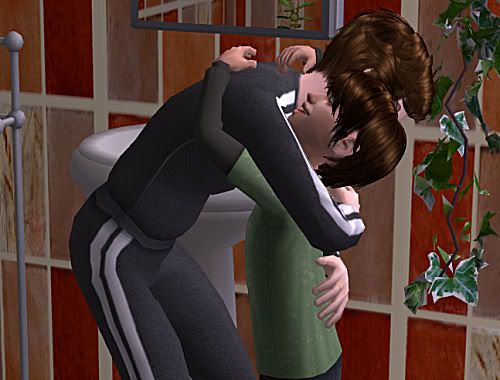 Lukas:
I love you dad :)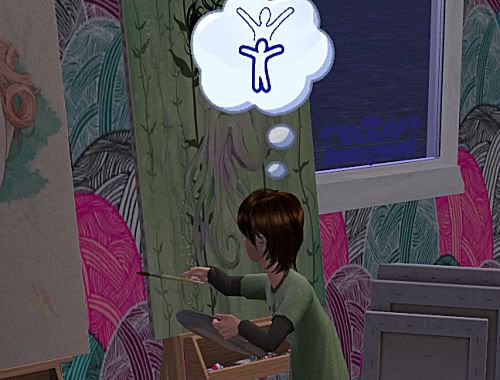 Lukas:
Take this! And that! And this! >:[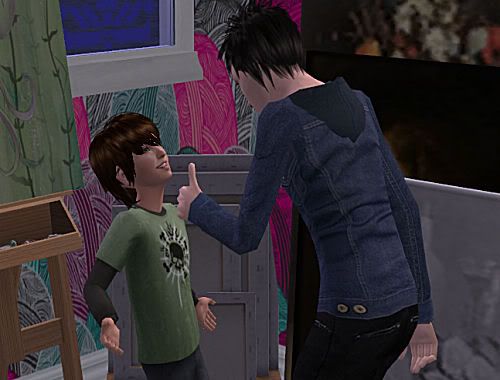 Carlos:
You're the best, little brother. I'm so proud of you *thumbs up*
Lukas:
Why, thank you, you're the best big brother ever :D :D
ZZZAAAPPPPPPP!!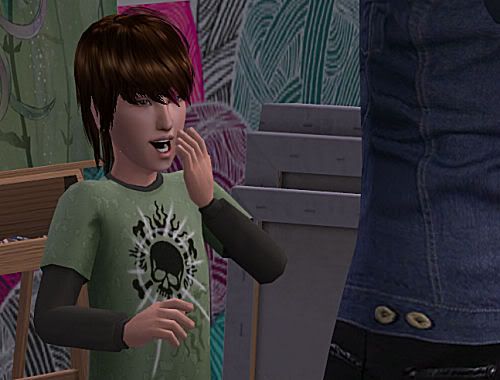 Lukas:
Hehehehehe ...
Dude, do you have multiple-personality or what?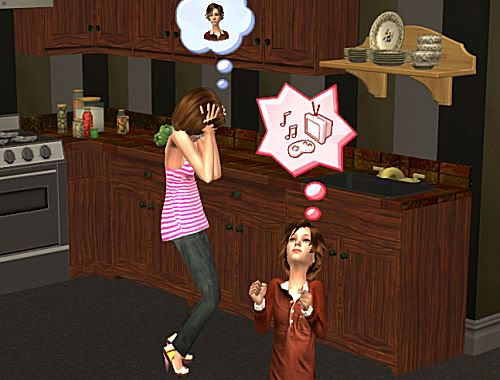 Micah:
B.O.R.I.N.G!!
Collete:
Shut up! Shut up! Shut up!!
*sigh*
Dude, watch you hair O_O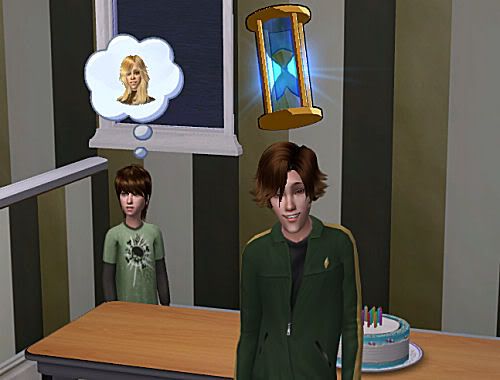 Lukas:
I wonder where's mom. Her son just grew up well and she didn't even care.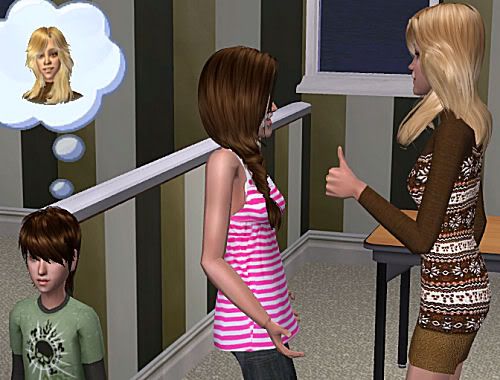 Lukas:
I see. Way to go to congratulate someone else who grew up ages ago, mom. *walks away*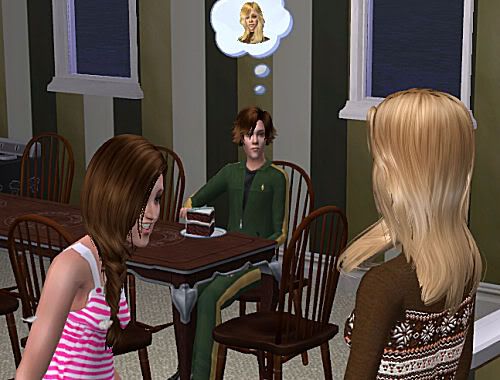 Micah:
Does mom know that it's my birthday today?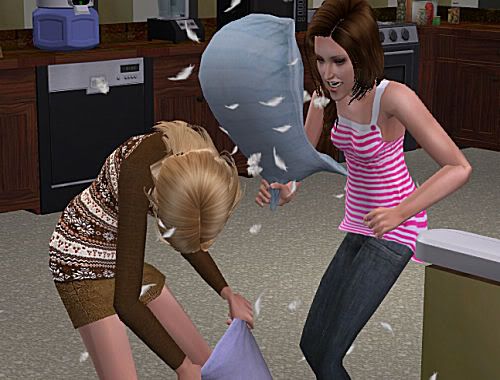 Doesn't looks like she care about you, Micah. She's too busy having some girl's time with her one and only daughter.
Here's Micah as a teen. He's okay, I supposed ...
Now, what is your problem, girl?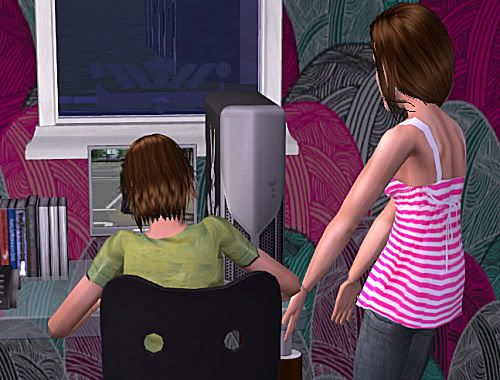 Collete:
THE COMPUTER!!! HE'S PLAYING WITH THE COMPUTER!!!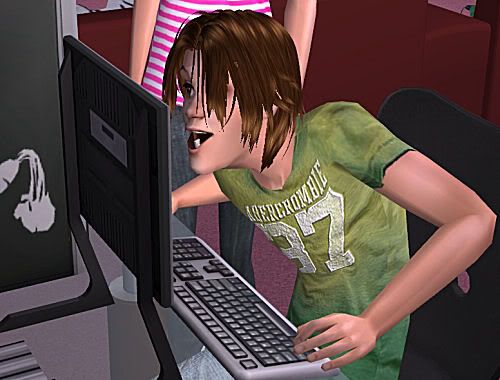 Micah:
The computer say "First come first serve" sis!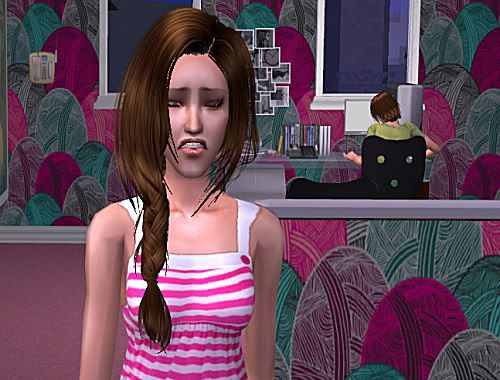 Collete:
I hate him.
Learn to share, bb, learn to share.
Collete:
Dad, would you do something about the computer ... anything? Like buying another one or two? Ughhh! I'm so stress!!
Hudson:
Kids these day ...
Sims. Teaching you to nag at your parents while they taking a poo.
Lukas:
My teacher told me that
high heels has lots of bad effect for our body
, but no worries, since none of us are wearing one, right?
Hudson:
Uh ... your mom does?
Micah:
Lol mom, you're so in trouble.
Rosalind:
O_O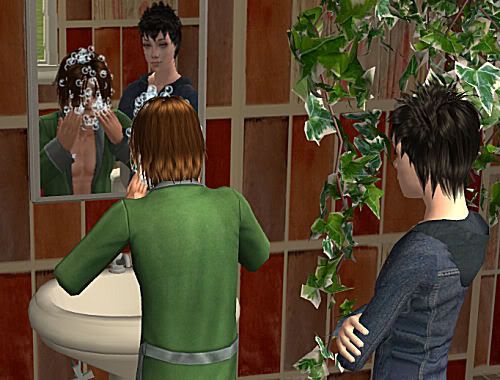 Carlos:
Hurry up. I need my mirror time.
Micah:
Go find other mirror.
Yeah, there's like 3 more mirror in the house, why did you have to pick this one?
Unlike his dad
, Lukas know the importance of money, even in his dream.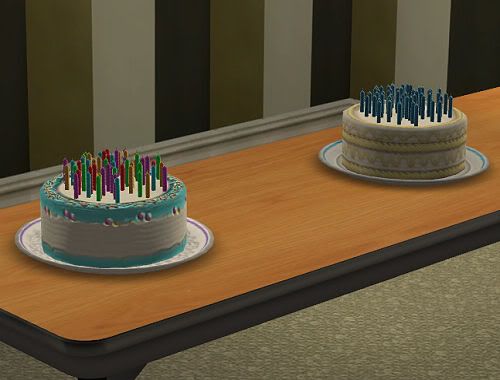 Birthday time!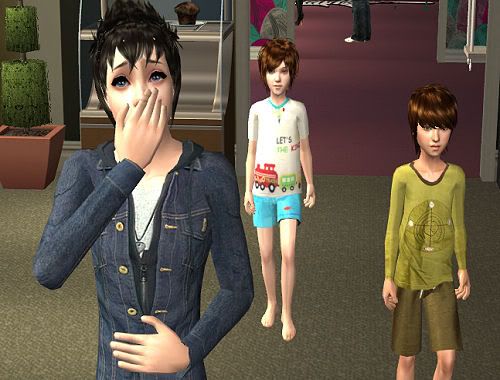 Carlos:
Cake? Seriously??
It's not like you never have one before!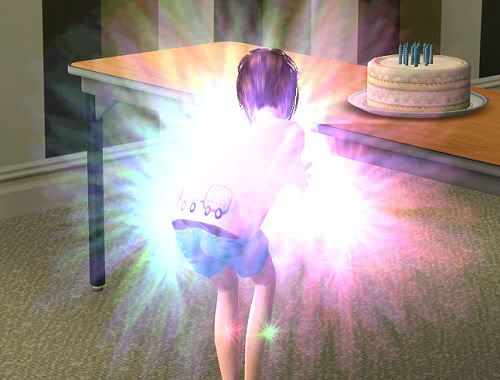 Sparkle boys!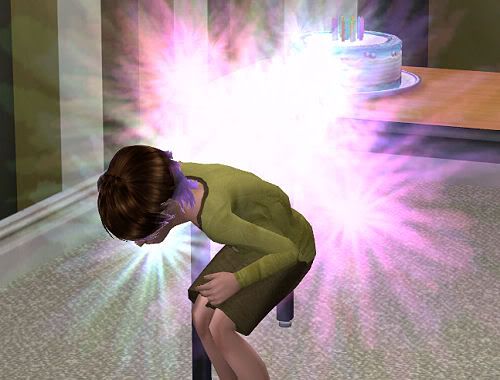 Sparkle!
Carlos:
I hate birthday.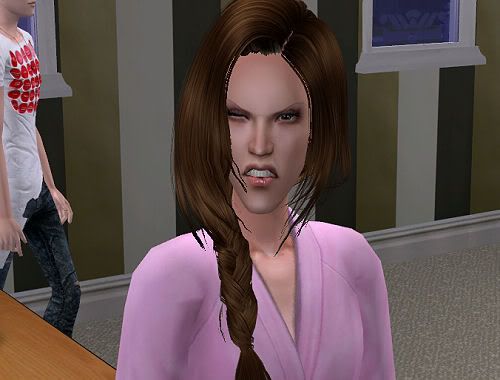 Collete:
I hate the fact that I have to celebrate it with him.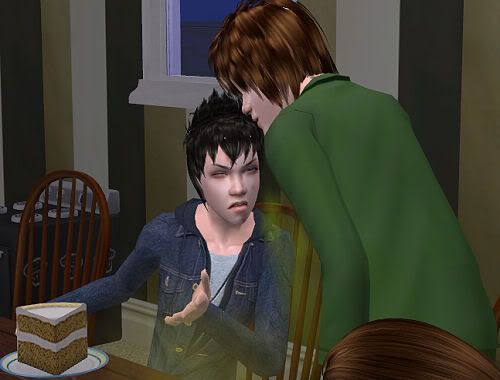 Carlos:
Here I am, trying my best to eat your cake, and what did you do?? Adding an extra gases flavour in my nostril?? Thank you very much you asshole. >:[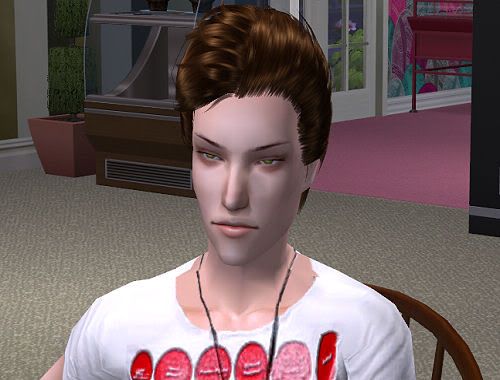 Hudson:
Kids these day ...
Anyway, here's Russel, with his awkward long face ...
And Lukas!! aghdgfhgdhjjj!! I don't even know what to say, but ... *love*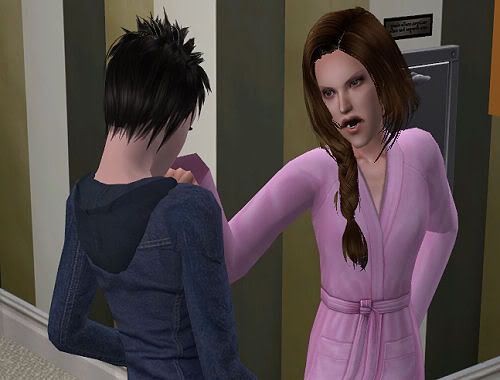 Collete:
I am the only one allowed to glare during any birthday party in this house! *pokes*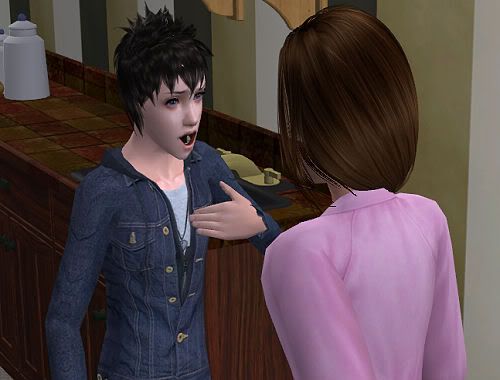 Carlos:
Oww ... Yeah, sure, whatever. It's suit your face anyway.
Collete:
Why you- *slaps*
Carlos:
Hehehe ... butthurt much? :D
Hudson:
Uh ... don't you think that our children is kind of mess up or something?
Rosalind:
If you have time to nag, help me wash the dishes.
Hudson:
But-
Rosalind:
Do. The. Dishes.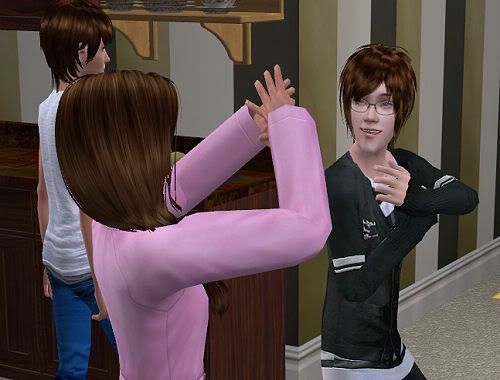 Russel:
Hey sis, why so serious? Here, I'll take all your anger, punch me any way you like.
Collete:
Hell no!!
Collete:
I'm not into violence!
Carlos:
Hehe ... oh really? I have all the proof of your violent behaviour :)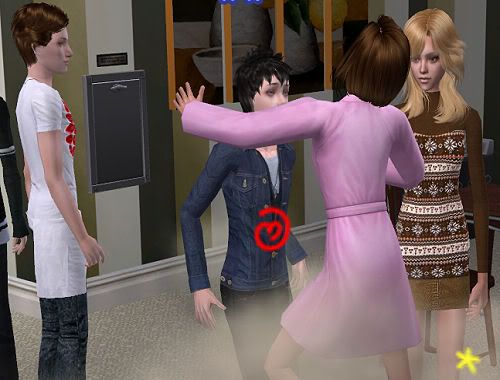 Collete:
YOU'RE THE ONLY REASON FOR MY VIOLENT WAY!!! *attacks*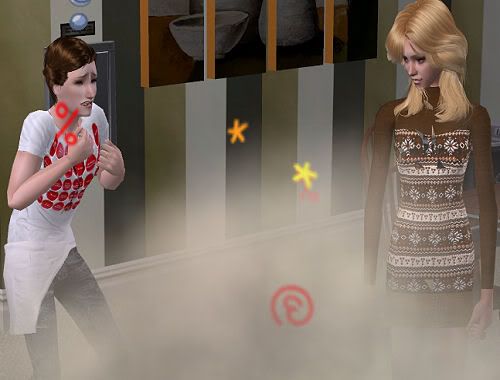 Hudson:
See! I told you there's something wrong with them!!
Rosalind:
Oh. Isn't that ... normal?
Yeah, normal ... considering that
she used
to be
just like them before.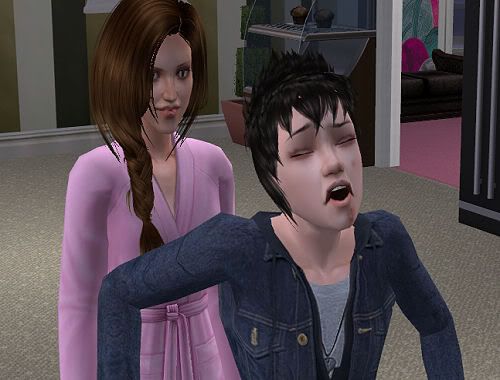 Carlos:
OWW ...
Collete:
That's what you get for provoking me.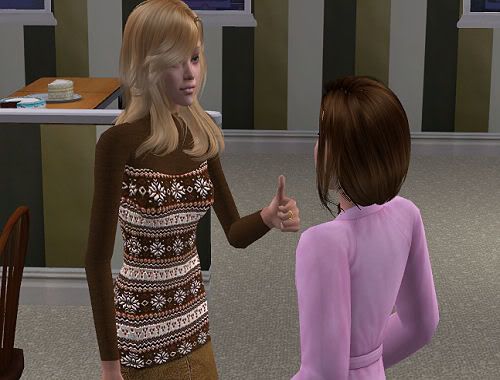 Rosalind:
Good job, girl. Show them the girl power of yours.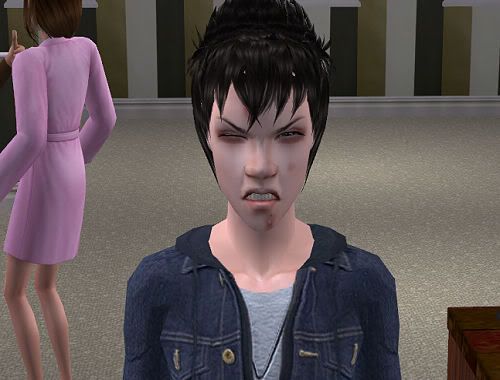 Carlos:
Oh, just she wait. I'll make her eat her own ~girl power~ >:[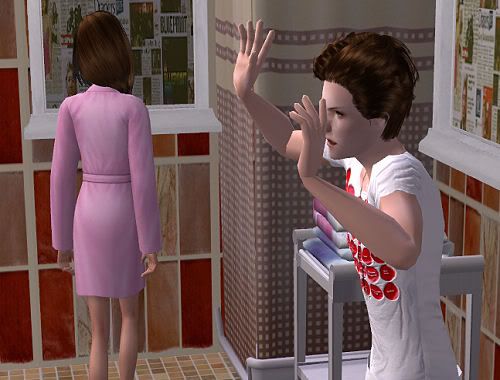 Hudson:
Ok, get out! I'm not listening to your nagging while I'm taking a piss again!
Collete:
No, you get out, dad! Haven't you ever heard the rules of "ladies first"?
Another day, another fight ... in the kitchen, again ...
Collete:
Oww ... my hips ...
Carlos:
Losing your ~girl power~? Hehehe ...
Lol at Russel facepalming there.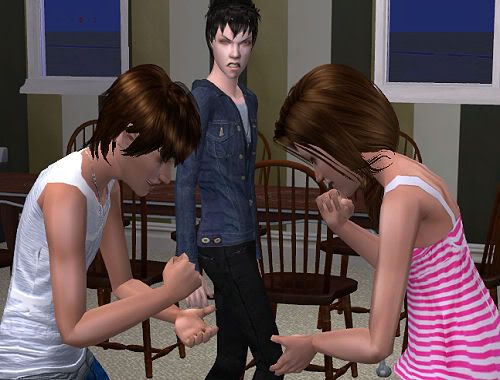 Oh, Carlos ... don't be jealous that she has another brother that she can actually get along with.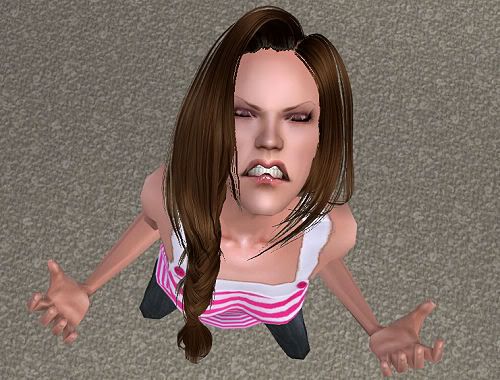 Or maybe not.
I love you, Lukas.
Collete:
*insert crying words about losing a fight here*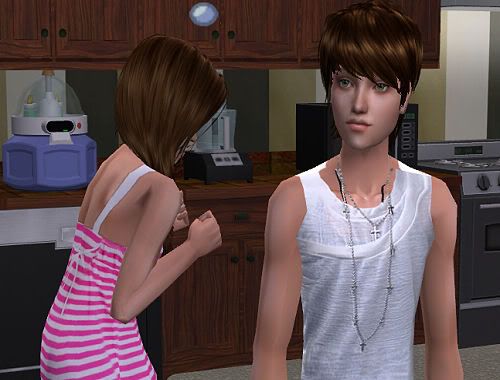 Lukas:
Uh ... I don't deal with crybaby. Kthxbai.
Collete:
BAWWWWWWWWW!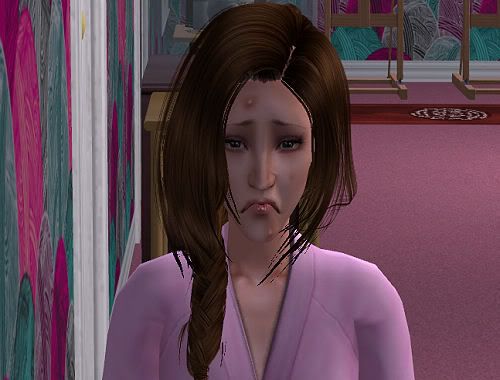 Aww bb, don't be so sad.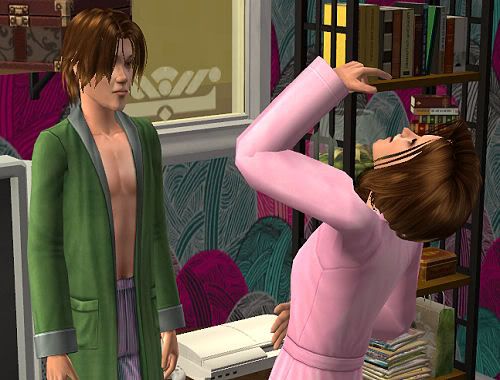 Collete:
Cook something for meee!!
Micah:
That's not my job, silly.
Rosalind:
Where are all those ungrateful children? Tell them there's a fucking pancake here. >:[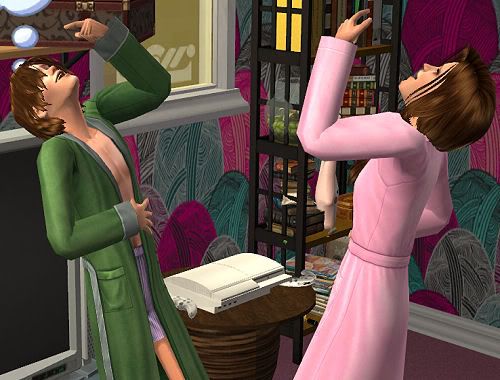 Guys ... Your mom just cook a pancake!! Go and eat it!!
Collete:
Don't touch me, you asshole!!
Micah:
But, I just want to tickle you ...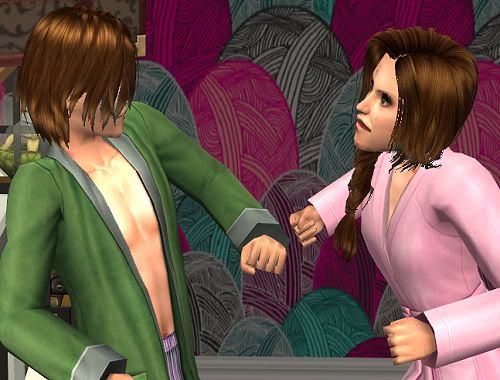 Collete:
DO I LOOK LIKE I'M IN THE MOOD?! GO TICKLE YOUR ASS!
Alright, enough you two ... go eat your pancake.
Collete:
Where's my pancake? Why aren't there any for me?
Rosalind:
Your brother already ate it, since you're so slow.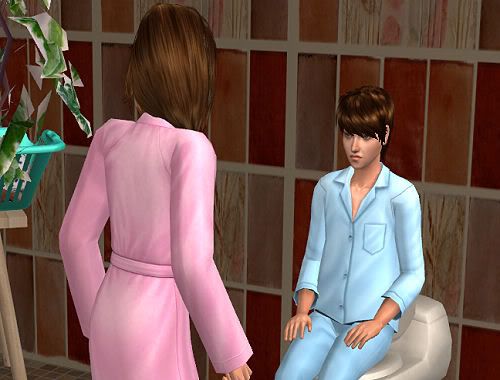 Collete:
You! How dare you eat my pancake!! Don't tell me you-?! Did you just-
Lukas:
Ahem. Privacy. Please.
Collete:
YOU ATE IT AND DUMP IT JUST LIKE THAT?!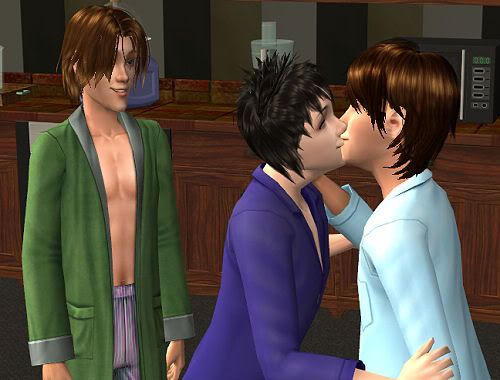 Ahem. Boundary, people. Boundary. You don't go around kissing your brother straight to the mouth!
Lukas:
Well actually, I adore you a lot more than Carlos. You're the bestest big brother ever.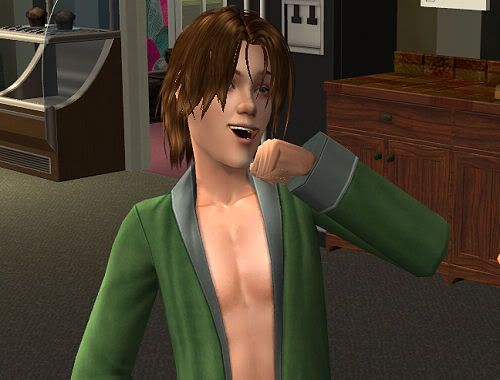 Micah:
Hell yeah, of course I am!
Carlos:
Oh come on, I'm far more superior than he is.
Lukas:
Why, of course you are, no one can compare to you.
Micah:
Wait, what?! So you're lying to me just now?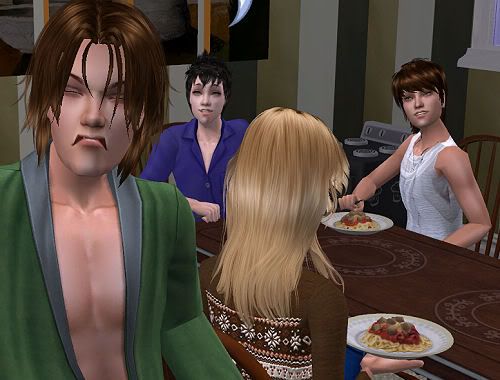 Carlos & Lukas:
Come and sit with us~
Micah:
Like hell I want to sit with you lot, you two-faced. Hmph.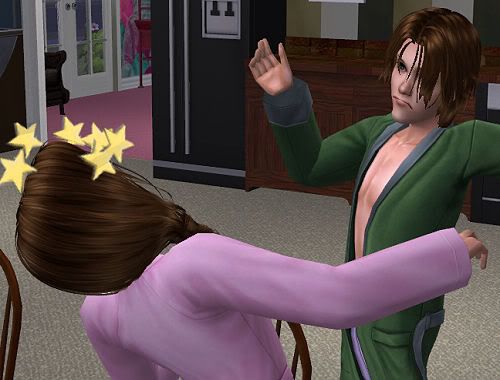 And so, he go and slap his frustration onto Collete's face.
Collete:
WTF is wrong with you??!! *slaps*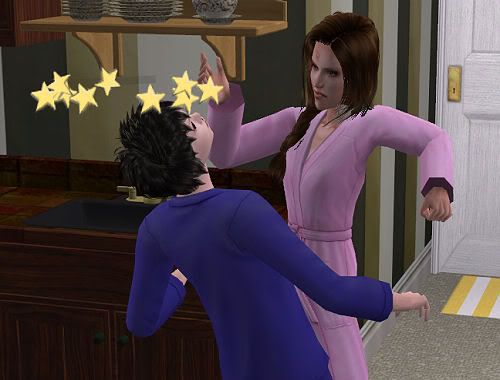 Collete:
THIS IS ALL YOUR FAULT, YOU IDIOTIC BROTHER!!! *slaps*
Yeah, take out your frustration to the urn. And thank God, he took Lizette's urn out from the display-case-of-doom.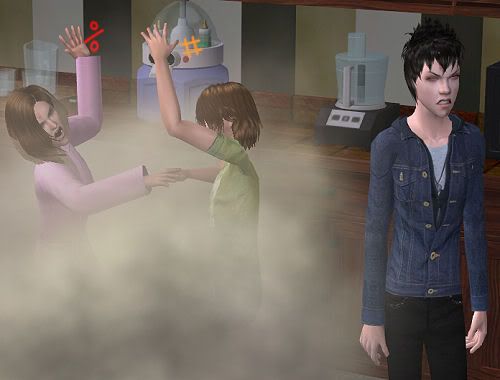 Why are you guys always picking a fight with Collete?! Is it because she's the only sister you have?!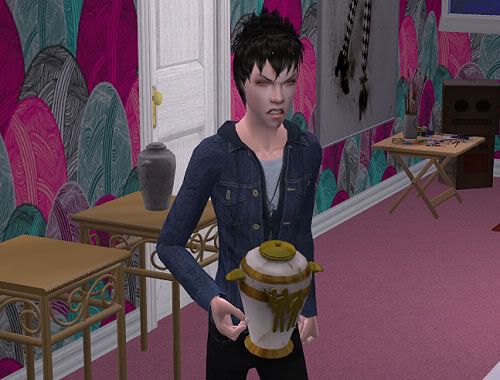 Again?!!
Seriously, you are abusing the urn way too much, Carlos.
Give it a break you guys!!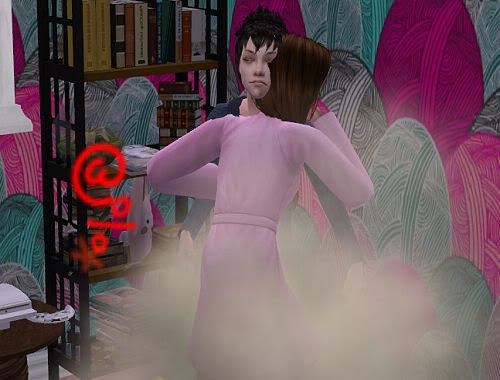 But no ... They have to continue fighting whenever they can.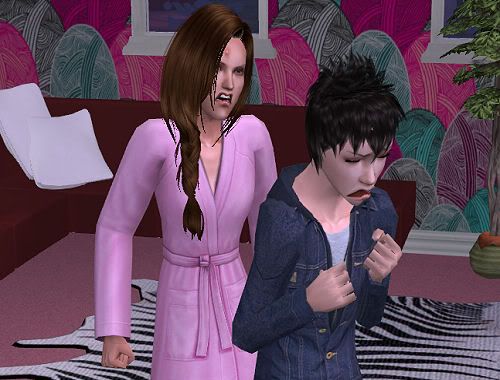 Collete:
YEAH, CRY, CRY TILL YOUR TEARS REACH THE MOON!!! LIKE I CARE YOU ONE BIG ASSHOLE OF A BROTHER!!
Uh ... Rosalind? Do something about your children!
This is where I was thinking "I'm so not gonna repair that again", but I later realized that it was such an idiotic decision which I really, fully, and deeply regret.
Because not only does it cause half of the household population to bitch about the environment.
BUT ALSO BECAUSE HUDSON PICK IT UP AND THROW AWAY THE URNNNNNNN!!!!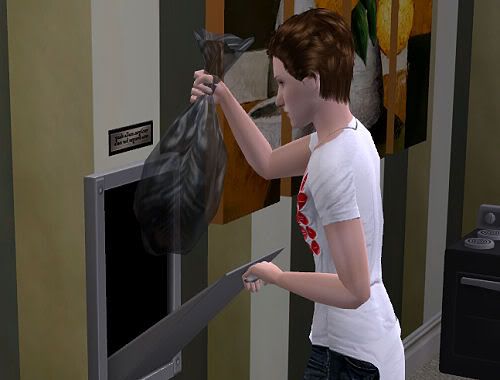 NOOOO!!!! LIZETTTEEEE!!! I'm so sorry *sobs*
STOP DESTROYING THE URN ALREADY!!!!
This is where I put the urn in Rosalind's inventory because I just can't keep it up with all this urn-abusing behaviour.
Meanwhile ...
Micah:
I'm.
Micah:
So.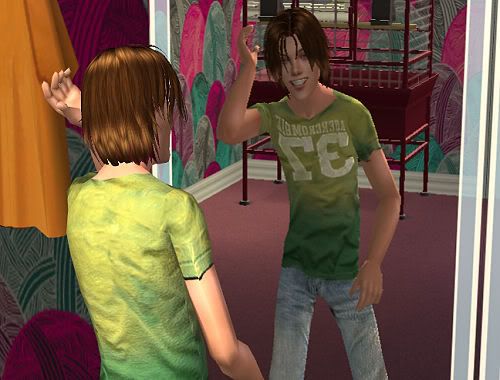 Micah:
Sexy.
You won the mirror, Micah.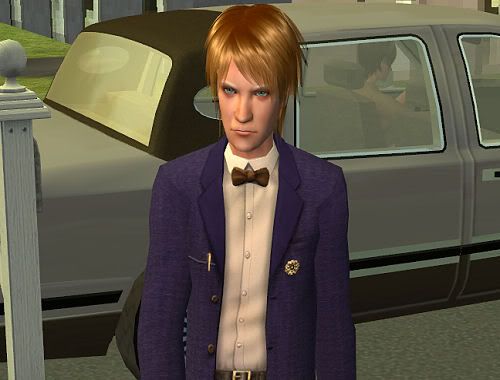 I invited the Headmaster again, with hope that the children will somehow gain a few aspiration points if they got in.
Which they did. BUT NOONE GOT ANY ASPIRATION POINTS AT ALL! GRRR!
Rosalind:
Now, what do we do? How can we make them stop destroying things?
I don't know!! D: D: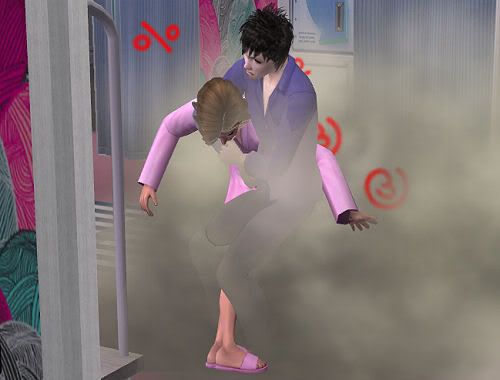 *sigh*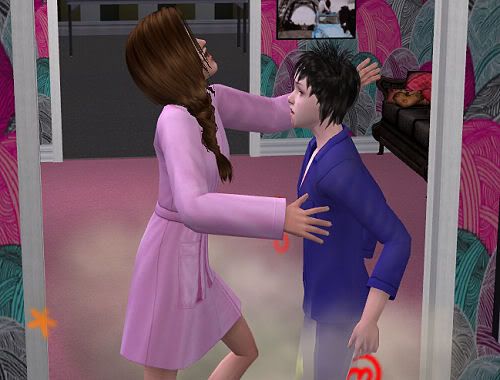 They can never have enough of this shit.
What is wrong with your man-parts?!
Russel:
BAWWW!! I peed myself!!!
Collete:
*resist the urge to throw spoon*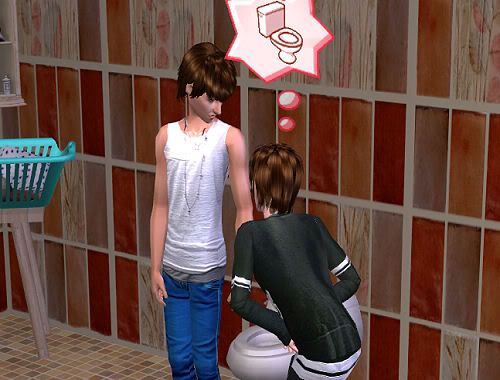 Russel:
Wh-where the hell is the toilet?!
Lukas:
...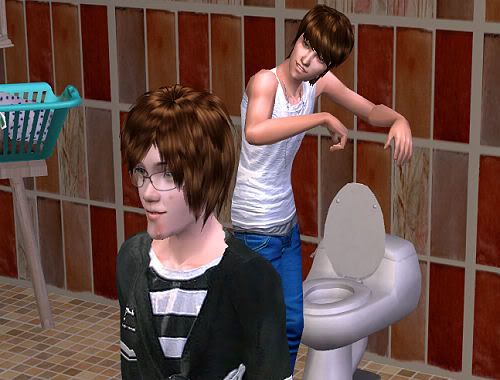 Lukas:
Well, if you can't see it, then this is not the place for you. Kindly gtfo.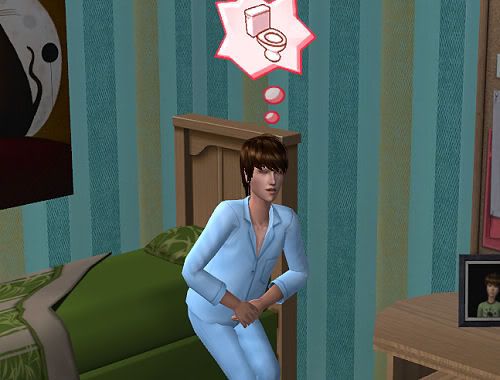 And you'd think he'd finish his business in the toilet.
Mm ... yeah, it's not like there's another empty bathroom right next to the one he's waiting for.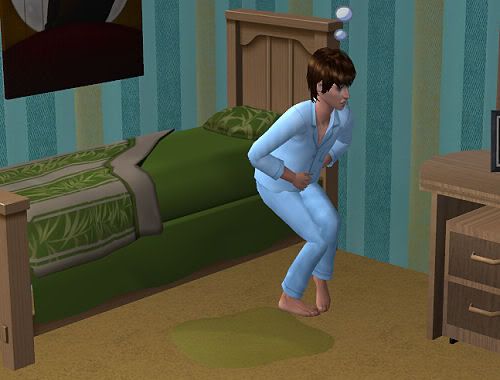 Don't make me doubt my love for you, Lukas.
That's all for now. Next update everyone will have new appearance, and new house as I just replace my CC with a shiny new one.
Thanks for reading!
Current Legacy Stats:
Torch-Holders(founders/heirs): 2
Perma-Plat Sims: 1
Shrink Visits: 7
Social Bunny Visits: 4
Fires: 4
Self-Wettings: 22
Pass-Outs: 32
Fights: 47
WOW
Deaths: 2
Social Worker Visits: 0
Alien Abductions: 0
Current Mood:

artistic

Current Music:

Yuki Kimura - Itsudemo Nandemo